Tonight we'll examine by far the
tits-iest
of an otherwise pretty piss-weak series. To be honest, as much as I
wanted
to like it, the original never did much for me over here.Now, tonight's entry on the other hand, is a horror horn o' plenty.Produced by Dino DeLaurentiis, directed by Damiano "A Bullet for the General" Damiani, and Carpenter alum Tommy Lee Wallace handling the script(Dardano Sacchetti had a hand in it,too) with Burt "Rocky" Young dishing out vituperative belt-driven abuse at every juncture to a family that includes long-time rotten actress, Rutanya Alda, eighties easy lay, Diane Franklin, and Jack Magner as the rebellious walkman-toting(wasn't this supposed to
pre-date
the original movie somehow?)elder son, Sonny.Of course, this is a cinematic supernaturalization of the actual DeFeo family murders based ever so loosely on the Holzer novel Murder in Amityville.The whole demonic possession defense angle might not have worked for Ronnie, Jr., who's serving life for the slayings, but it sure does make for a disjointed, continuity-free, yet entertaining hour and a half in this case.
The excellent possession makeups, handled here by genre vet John Caglione Jr., are more than a little derivative of maestro Dick Smith's work on The Exorcist(1973), but effective none-the-less.The soundtrack, probably the only high point in the '79 film in my estimation, is again tackled by Lalo Schifrin, and from the sounds of it, he put his shoulder into it, Barnaby Jones-style.Interestingly, the vast majority of the movie was filmed on a set in Mexico, with the familiar Dutch Colonial exteriors again coming from the Toms River,NJ residence that doubled for the original Long Island house in question in the first film.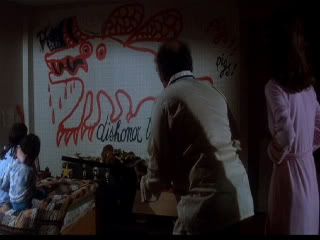 Impending Burt Young Belt-o-palooza in four...three...two...
We meet the Montelli's as they happily move into their new Long Island home, well, except for antisocial patriarch Anthony(Burt Young), who's more concerned with serving up belt leather to his eldest, Sonny(Jack Magner), for not directly following his mother(Rutanya Alda) to the new house.At first, it's hard for the family to notice that the house is haunted over their own dysfunction, with Sonny and Trish(Diane Franklin) teetering on that incestuous line siblings rarely cross(outside West Virgina,anyways), while Anthony is avoiding church, beltwhipping his two youngest kids for an awful wall mural that paints itself, or pushing pater-driven palm-law in his submissive wife's face.Before too long, a presence makes itself known to Sonny via hellish suggestions through his Walkman(Back in the day, I could barely get mine to play my Ted Nugent "Scream Dream" cassette, I want a refund, Sony.)and soon crucifixes are being covered up by lengths of fabric, 12 gauge shotguns are floating about the place, moving men(including Danny Aiello's late stuntman son) are pelted with mud and flies in the secret room/basement tomb,priest's sprinklers spit blood instead of holy water, and Sonny's paying late night visits to Trish's room.It takes Trish all of
two seconds
to decide to lose her nightie in front of her own brother, even after he produces a heisted pair of her panties he's obviously been whiffing at on the side, for added kicks.And with Father Adamsky(James Olson) off on a fishing trip with Father Tom(cult icon Andrew Prine), Sonny takes it upon himself to butcher the entire family with a shotgun one evening.Satan doesn't take vacations, priest.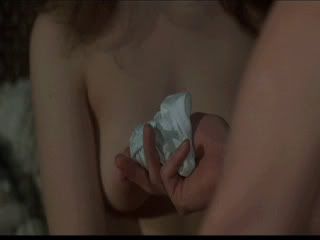 Greg and Marcia's relationship goes from "keen" to "creepy".
Adamsky's awful premonition comes one bait cast too late, and he arrives at the house just as the bodybags full o' dead kiddies are being carried out.Despite protests from his holy higher ups, the priest somehow convinces a detective(Moses Gunn) to allow him to try to exorcise the demons from the boy, but out of police custody at Adamsky's church.Sonny doesn't even display very telling signs of possession in front of the detective, he just instantly
buys all of it
for some strange reason and releases a multiple homicide suspect to the priest's care with little more than a forced gun butt k.o. to cover his tracks.At the front steps of the church, Adamsky gets fist-slammed in the back for his efforts, with the young murderer retreating back to the Amityville house for a final boffo showdown between good n' evil...or at the very least, several minutes of a priest searching a darkened house for the boy, and pleading out loud for the demon to release his soul from its infernal clutches.The hellspawn puts up a slight battle, blowing all the windows in the house with bursts of flame then symbolically revealing itself through the peeling off all of Sonny's outer levels of flesh, sort of like an orange from Hell.Adamsky convinces the demon to enter him instead(gee, where have we seen that trick before?),and the boy re-enters police custody with Father Tom's approval.As for Adamsky, he's got throbbing veins and swelling boils on his face and arm the same way Sonny did early on in the picture.Probably should have had a backup plan, padre...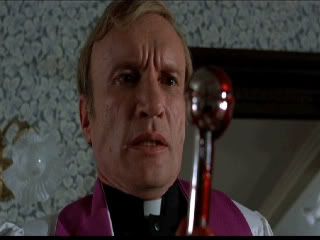 If you're experiencing a priaprism, blurred vision in one eye, or blood oozing from your sprinkler, stop taking Cialis right away and call your healthcare provider.
Olson went on to score a role in 1985's Commando and some television parts before dropping off the radar around 1990.As for Rocky's brother-in-law,Burt Young hasn't slowed down for a second, working steadily in television and film all along.Eyyyy-YO, Pau-lie!The over-the-top Alda does mostly television these days.Diane Franklin's early propensity to break out the teen bobblers seems to have paid off judging by the vast body of acting work she's done since this, her second feature.She was definitely a cute lil' thing,for sure.Caglione Jr.,who cut his effects teeth on
Henenlotter's Basket Case
, has worked on everything from Amityville 3-D and C.H.U.D. to Dick Tracy and The Dark Knight, scoring two Oscar nominations for makeup, and winning one.Like I said earlier, this is pretty good stuff compared to the other Amityville flicks, especially the more recent direct-to-video dollar grab shit they've put out recently.On the scale it scores two solid wops.Look for it.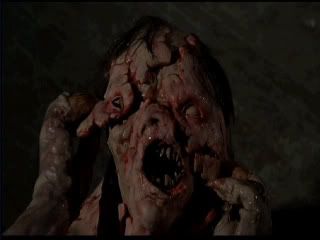 In my neighborhood, any demon that happened to be the same color and texture as uncooked sweet sausage would be stuffed into a casing already.Just sayin'.