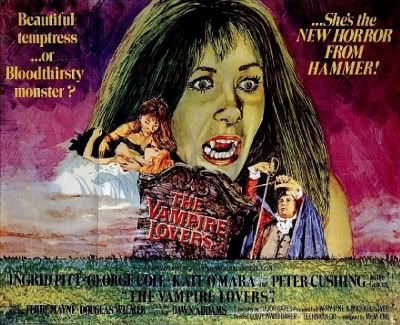 With their studio doing erratic business as the sixties drew to a close, Hammer turned to a former rival, American International, to finance their latest production, a gothic mix of vampires and lesbianism based upon a novella by Joseph Sheridan Le Fanu called Carmilla, first published in 1872(predating Stoker's Dracula by a quarter century).The end result being The Vampire Lovers, the first of the studio's Karnstein vampire trilogy, starring exotic Polish beauty, Ingrid Pitt, of Hammer's Countess Dracula(1970) fame, as the pale-skinned temptress who, like in the book, takes the form of a massive cat and prefers bare breasts to exposed throats.In tackling controversial material with such sensual undertones, Hammer moved away from implied violence and sexuality to keep up with the rest of European cinema, enlisting several breathtaking buxom actresses in their genre stable to emphasize their point, like Kate O'Mara, Madeline Smith, Pippa Steel, and Kirsten Lindholm.Also on board are familiar faces like Peter Cushing in a breviloquent supporting capacity, John Forbes-Robertson, and Ferdy Mayne.In the director's chair is Roy Ward Baker, who had previously helmed the studio's excellent Quartermass and the Pit(1967), and would go on to direct several genre films for Hammer afterwards.As it stands, the movie remains surprisingly devoted to Le Fanu's oft-interpreted text, mixing some good atmosphere and scares with even better skin, fast pacing, a classic orchestral score, and impressive set designs.Though the MGM double feature dvd with Countess Dracula has since gone out-of-print, there is a region 2 Italian PAL disc available that utilizes the same transfer you might want to look into.As far as I'm concerned, Lovers is
classic
Hammer fare, with everything that fans have come to expect out of one of their productions.You should have this one on your shelves already.Let's get to it.
"...cause this is it, and I'm hot roooooockiiiiiiiiiiin!"
After Baron Hartog(Douglas Wilmer) exacted righteous sword-decapitory vengeance upon the last of the evil Karnsteins some years ago in Stiria, General von Spielsdorf(Peter Cushing) has his blueblood ball gatecrashed by an enigmatic countess and her statuesque daughter, Marcilla(Ingrid Pitt), who proceeds to charm the broadfall breeches off of every gent in attendance.When her mother is suddenly called away on urgent matters, she imposes upon Spieldorf to watch over Marcilla until she returns, to which he chivalrously agrees.Bad move, herr general.It's not long before Marcilla and Laura(Pippa Steel), his daughter, enter into a friendship with benefits together, and an equally brief time before Laura turns her toes up with a tell-tale fang-hickey on one of her cones, and before the general can question the elusive Marcilla, she breaks the fuck out like impetigo, forcing him to ride off in search of answers from a man named...Hartog.Shortly afterwards, Roger Morton(George Cole) and his doe-eyed offspring, Emma(Madeline Smith) encounter the very same countess with daughter-in-tow after their carriage breaks down, with Morton agreeing to watch over Carmilla(see what they did there?) until she can retrieve her.Carmilla is instantly taken with the busty ginger, imposing her will upon her through ample hypno-charms until a groggy, anemic Emma finds herself frequently haunted by nightmares involving a giant cat that creeps into her bedchamber and wounds her ninnies in the process.Carmilla traipses around naked or next to it, an awful lot.Not to be outdone, Emma breaks 'em out on several occasions herself.
Jumpin' Jee-zus! Those are some impressive chest circles.
Emma's governess, Mme. Perrodot(Kate O'Mara), soon finds herself under the woman's spell, concealing fangholes in her neck from an inquisitive butler who brings the local doctor(Ferdy Mayne) in on his suspicions as the local townsfolk have begun dropping like flies with the same m.o. In the distance, what looks like Casey Kasem in a pilgrim's hat on a horse, grins approvingly.Carmilla is repulsed to find Emma's bedroom adorned with garlic flower bouquets, but convinces the butler that Perrodot must be the vampire, then seduces him into removing them so that she can again cross the threshold.Once inside, she tells a fading Emma that she must leave, but that her young lover/meal will accompany her.Before they can vacate the premises, a clingy, sickly Perrodot pleads with Carmilla to take her on the journey.Instead, the vampire speeds the governess into the afterlife in front of Emma's disbelieving wide eyes.Carl(Jon Finch),a local courter vying for Emma's attention, breaks in in the nick of time, using his dagger as a makeshift cross, temporarily neutralizing the blood drinker long enough to rescue his fancy, while Carmilla flees to the ruins of her ancestral tomb.At this point, Spieldorf, Morton, and Hartog, now an old man, make the scene with stake-driven retribution in mind.When the general drives the wooden plank in Carmilla's busom, Emma somehow feels it from the safety of her bedroom.Spieldorf then beheads the vampire for good measure, as a vintage portrait of the beauty on the crypt wall begins to decay into a skeleton with some impressive eye teeth...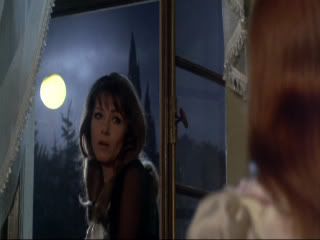 "You say you came to Baltimore from Ole Miss, a class of '7-4 gold ring."
Lovers is a noticeably more solid and satisfying effort than it's two sequels, Lust for a Vampire(1971) and Twins of Evil(1972), more balanced with stronger characterizations, better direction, and more blood n' boobs, of course.Baker would direct Scars of Dracula the same year, then Doctor Jeckyll and Sister Hyde(1971), Asylum(1972), The Vault of Horror(1973),...And Now The Screaming Starts!(1973), and Legend of the Seven Golden Vampires(1974), genre-wise, while Cushing would go on to appear in The House That Dripped Blood(1971) and Twins of Evil(1971) the following year.O'Mara would contribute one helluva bustier in Horror of Frankenstein(1970) as a swan song to her work in horror, whereas Smith would next appear in Roddy McDowall's The Devil's Widow(1970) before lending her ample assets to Vincent Price vehicle Theatre of Blood in 1973.The exhilarating Pitt, who passed away in 2010 at the age of 73, would appear in 37 movies all told, with her last genre role coming in 1973's The Wicker Man, as a librarian(!).Naturally, Lovers scores three B-Dubs on the scale and comes very highly recommended.Sexy.
"Hand me the breasts, uhh, errr, mallet and stake, Hartog(Douglas Wilmer)."