From a half-completed "Day in the Life" musical comedy about Joan Jett's former band, The Runaways, comes this rarely seen hodgepodge of video clips and Polaroids that stars Ray Sharkey and Derf Scratch, bassist/founder of L.A. punk band, FEAR, was co-written by Marc Sheffler (or "Junior" Stilo from Wes Craven's Last House on the Left), and boasts of a soundtrack that features some early tracks by Social Distortion, topped off with narration by director Sacks, Scratch, and El Duce of the Mentors. I'm pretty sure you could put the Three Stooges in a room full of aristocrats and banana cream pies, and the result would be less of a friggin' mess. The adrenaline rush of finally nailing down a copy after twenty-plus years of hunting was long over even before the opening credit sequence, truth be told.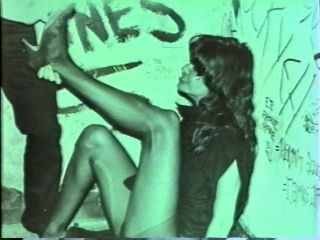 SEE! Sleazy photographs! Uhr-HURRR!
duBEAT-e-o(Sharkey) is an underground filmmaker with just thirty-one hours to complete his latest project, a documentary about the next big thing in the music scene, Joanie Jett(!), or face the possibility of getting another clip-on earring torn off by Hendricks' (Len Lesser) hefty henchman, Wolfgang (Joe Herrera), or worse. Sharon (Nora Gaye) stumbles in on her way to a Weight Watchers meeting, and is double-talked into duBEAT-e-o's entourage, then later given a punk makeover and subsequent horizontal bop by the ambitious and abrasive would-be director. He rescues his editor, Benny (Scratch), from a homeless squat, and soon the trio is desperately scrutinizing lip-synched footage of Joan on stage with a fake backing band (The actual Runaways called it quits long before the original movie was dreamed up), running around the crummier-looking parts of Los Angeles, and squaring off in a moving school bus against a gang of butch lesbians.
"Duce suggested that I ask you to be my stupid, air-headed girlfriend..."
Many black and white montages of back alleys, roadkill animals, passed out winos, and chicks booting heroin, set to narrated bickering and horribly mixed music tracks, later, we see a clip of Duce (with hair!) rambling down the boulevard, sickened by the advent of new wave/glam rock faggots, then suddenly sloppily twirling drumsticks for the Mentors (yeeeaaash), while rotten things happen, montage-style, to women: the face of a chick on a leash is booted repeatedly into a bowl of dog food, as another sucks a dildo full of prop-spunk, and yet another gets her fingers chopped off. Ultimately, duBEAT-e-o completes his movie just in the nick of time, as Hendricks joins a small crowd packed into theater seats to watch another fake performance clip of Jett and company, demanding another film from the director, who rejects the offer, unveiling a clip of the low-life producer making out with a guy on a mattress, while Duce and Scratch add their own coarsely colorful commentary in voice-over. Roll credits.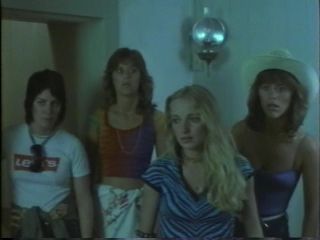 "Joan, did anyone ever tell you that your drummer bears a striking resemblance to Cinderella?"
You'll remember Ray Sharkey from The Idolmaker (1980), Wise Guys (1986), or his legendary coke/heroin habit, whose dirty, shared needles would result in the actor contracting AIDS and dying prematurely at the tender age of forty, just nine years later. You'll remember Eldon "El Duce" Hoke as the frontman/drummer for hooded rape rock trio, The Mentors, or perhaps, from his premature alcohol-soaked death on the railroad tracks at the ripe old age of thirty-eight. Yeeeaaash. Derf Scratch would also pass away in 2010 from liver disease, only fifty-eight. Cheryl "Rainbeaux" Smith lost her life to complications from hepatitis in 2002, at the age of forty-seven. This wrap up is turning out to be one helluva bummer, huh. Joan Jett's still alive, though, so put anothah daaaahhhhme in the jukebox, baybuh! Worth a look if you're into drug abuse, the eighties L.A. punk scene, or a big fan of Joan Jett, I suppose, but otherwise, you'll probably just come away from this wreckage with a killer migraine. Solo woppo.
"Actually fucking", as a title card informs us, amidst drunken cackles from a hooded narrator.