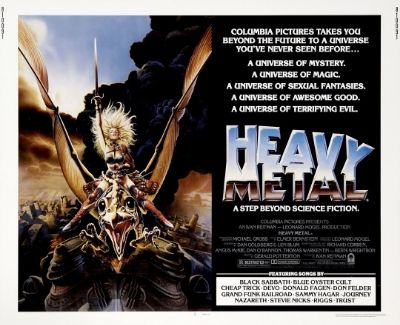 ... or as the Nick Adams-tongued denizens of the Wyoming Valley would say, "
Evvy Meh-ull
". To spice up my regular cardboard boxed haul of reads, my old man would throw in issues of Epic Illustrated and Heavy Metal, whose hallowed pages often contained the stuff that any prepubescent boy's dreams are made of ; naked, pillow-chested damsels-in-distress thrown over the shoulders of muscle-bound warmongers in the act of saving their world from saurian terrors, or power-mad wizards, while wielding a hernia-inducing weapon of destruction against an alien blood-red sky...
that
sorta thing. I always envisioned those publications to be like a long boat full of master artists I grew up on, like Berni Wrightson and Richard Corben, being whipped like galley slaves to the sounds of Dio-era Sabbath into creating jaw-dropping scenes of fantasy, horror, and sci-fi. Then, they went and made it all into a movie.
"Freddy doesn't own me, Shaggy. Now get those bell bottoms off..."
The film opens with "Soft Landing" (O'Bannon/Warkentin), where a space shuttle orbiting the planet releases a convertible 1960 Corvette, driven by an astronaut, into the atmosphere and segueing into "Grimaldi" where a returning astronaut brings his daughter a present, the Loc-Nar, a green, glowing orb of great evil that melts the space traveler where he stands and connects the fantastic stories that follow. Next is "Harry Canyon" (Goldberg/Blum), concerning the two day exploits of a New York cabbie in 2031. This is followed by my favorite segment, "Den" (Corben), where a timid earth-nerd accidentally transports himself to the land of 'Neverwhere', transforming himself into a bald, muscle-bound warrior, in the process. Next comes "Captain Sternn" (Wrightson), as we see a Bruce Campbell-esque space captain on trial for numerous unforgivable charges.
No jokes here. Corben's stuff leaves me at a loss for words.
Next, we see "B-17" (O'Bannon/ Ploog), as the Loc-Nar affects a World War II B-17 during a bombing run with heavy casualties, resurrecting dead soldiers into walking zombies. "So Beautiful And So Dangerous" (McKie) follows, a humorous short that involves sultry red-headed Jewish stenographers being abducted by a spacecraft captained by stoner aliens and seduced by horny robots. Taarna (Goldberg/ Blum) concerns a beautiful female warrior atop a pterosaur mount and her vengeance upon a barbarian army that has wiped out her people under the influence of the Loc-Nar. Finally, we return to "Grimaldi", where the astronaut's young daughter endures the destruction of her mansion home and the orb alike, only to replace Taarna from the previous story, as the next Taarakian champion, flying off into the sunset.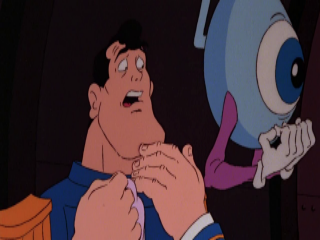 If it ain't Wrightson... it's just wrong, son.
Attaining cult classic status as a 'Midnight Movie', Metal's VHS release was delayed some fifteen years due to licensing headaches over the high profile bands who lent their music to the soundtrack, like Journey, Donald Fagen, DEVO, Sammy Hagar, and Black Sabbath. An SCTV-heavy list of actors lent their unmistakable voices to the production, with the likes of John Candy, Joe Flaherty, Eugene Levy, Harold Ramis, and longtime Bakshi vet, Richard Romanus all giving memorable performances within their respective stories. Some thirty-three years later, Heavy Metal remains one of the greatest original showcases of artistic creativity that the motion picture industry has ever produced, a few uneven moments aside. This is a must-see, obviously, a lush explosion of scintillating imagery, both sensual and violent. A diversion at it's worst, at best, a highly evocative piece that deserves a place among your all-time favorites. Four wops and my highest recommendation.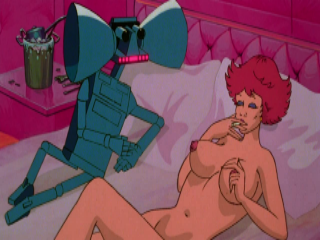 If you're gonna force me to look at goofy robots, you've gotta throw a naked, smoking chick in there, as an incentive.