Following up their successful adaption of Mary Shelley's Frankenstein, Curse of Frankenstein (1957), Hammer Studios reassembled director Terence Fisher, screenwriter Jimmy Sangster, and lead actor Peter Cushing, who'd all only just completed the studio's legendary take on Dracula together, for this interesting and entertaining direct sequel. Sure, there's no Christopher Lee this time around, as he was otherwise occupied with things like Corridors of Blood, Missiles From Hell, and the aforementioned Drac, but the movie doesn't suffer much from his absence, so you won't hear too much bellyaching from the peanut gallery where this one's concerned. It all starts like this...
"We British have never hesitated to take up arms. Take this one."
At the outset, we see Baron Frankenstein (Peter Cushing) awaiting his appointment with the guillotine for his prior crimes against humanity, only to cheat the blade with the help of his assistant, and the priest who gives him last rites ends up a full head shorter, and buried in his place, for his troubles. Years later, we note that the Baron has become a successful and highly popular physician/ surgeon in Carlsbruck, working under the alias, Dr. Stein, much to the dismay of the local medical council, save one member, one Dr. Kleve (Francis Matthews), who recognizes him to be Frankenstein, but only wants to assist him in his controversial experimentation with life and death. He agrees to take the savvy young doctor under his wing, and those outrageous experiments are soon underway, with assistance also provided by Karl (Oscar Quitak), a disfigured hunchback the Baron has promised to provide a new, healthy body for in exchange for his years of unflinching loyalty. Among the first things on Karl's "to do once I'm no longer a pitiful gimp" list, is Margaret (Eunice Gayson), the comely new brunette assistant at the hospital, who's only seen the pitiful gimp variant, thus far. I think you can figure out where this is all leading...
"I'm sorry, Karl, the hunchback turned me on more. Just saying.," says Margaret (Eunice Gayson).
Karl's brain is soon transplanted into a healthy bod (Michael Gwynn), and he's immediately struck with wanderlust, despite the Baron's orders that he remain strapped to a bed in a locked hospital room. Meanwhile, there's the issue of Frankenstein's chimpanzee, his first successful brain transplant, that seems to have developed cannibalistic traits, having eaten his mate after being fitted with an orangutan's brain. That's gonna come back to haunt these guys, I think. Karl hears of his savior's plans to tour the world with him as a medical wonder and attraction for the crowds, and convinces Margaret to spring him from his binds. What's the worst that could happen? Karl's new frame starts to show signs of rapidly reverting back to the gimpy hunchbacked one, leading him to commit several homicides before slumping dead at Frankenstein's feet in the middle of a social function, even calling the doctor out by his former name for all ears in attendance to hear. What transpires from here, I believe I'll leave for you eager Hammerheads out there to discover on your own. You'll appreciate it, alright.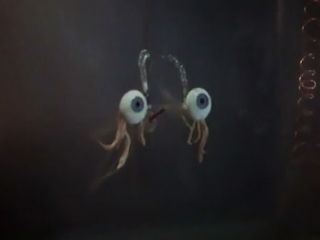 The eyes have it. Especially this particular pair.
Eunice Gayson, you'll remember, was the first Bond girl, appearing opposite Sean Connery in Dr. No and From Russia With Love. She's acceptable lens candy here, too. Francis Matthews scored roles in Dracula: Prince of Darkness and Rasputin the Mad Monk, for the studio in 1966. As for Gwynne, he showed up later on in things like 1966's The Deadly Bees and Scars of Dracula in 1970. Everything about this iconic offering from Hammer is top shelf: from Cushing's performance (as always) and his surrounding cast, to Fisher's ever-exemplary direction, to the gothic sets (that you'll remember parts of from Horror of Dracula, also shot at Bray), to Leonard Salzedo's score, often considered his finest work. Popular among critics and fans alike, it's efforts like this that established Hammer as one of the premier studios for genre cinema of the era. On the scale, anything less than Three big ones would be beyond criminal, and I'd never have that where this one is concerned. So, three Wops it is. Snare yourselves a copy immediately!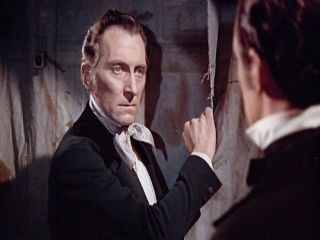 "After we're found out here, I'll be Franin Kenste in the next city."