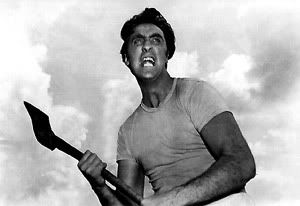 'What I want I gonna get and no dirty Yonkee from swell country is gonna take it away from me!'-Ulysses(Tim Carey),"Bayou/Poor White Trash"(1961)
Easily one of the greatest method character actors of all time,the late Timothy Agoglia(!)Carey left behind a legacy of memorable B-movie villain characterizations,a play (The Insect Trainer)about a deadly fart,and one of the most original,underrated,independent films ever made,"The World's Greatest Sinner".He spent his cinematic career scenery-chewing and upstaging co-stars at every juncture,which hurt his memorable body of work in the long run,being passed up in Coppola's "Godfather" trilogy after shooting Coppola with a gun filled with blanks that he'd pulled out unexpectedly from a lunch box during a meeting with the film's producers(one can only imagine what Carey would have brought to the screen as Luca Brasi),Tarantino's "Reservoir Dogs"(the script of said film partially DEDICATED to him,Harvey Keitel,executive producer,eventually snubbed him in the Lawrence Tierney "Joe" role,because Carey was unfamiliar with Keitel(!)),and being cut out of Coppola's "Apocalpyse Now" as a marine who petted and talked to his dogs' fleas(!!).Always an amazing,unforgettable presence on camera,Timothy was a favorite of Stanley Kubrick(The Killing,Paths of Glory),John Cassavetes(The Killing of a Chinese Bookie,Minnie and Moskowitz)and Francis Ford Coppola,discovering Frank Zappa,who scored Carey's own World's Greatest Sinner,racking up parts in "East of Eden","One Eyed Jacks","Bayou/Poor White Trash",The Monkees' "Head",and countless television appearances up until his death in 1994.
"Me, I fart loud - I can't be a hypocrite. I get these parts, but I never get to play 'em because I fart out loud. Why can't we all fart together ? Let thy arse make wind!"-Timothy Carey at a screening of "Worlds Greatest Sinner"
Tim vs. Peter Graves,in Bayou(1961):
Tim being outrageous on Art Fein's Poker Party,1989: