Softcore porn is a lot like a dry hump.If you're twelve or thirteen years old and you shoot shorts-syrup while grinding through your jeans on some unfortunate young sex object,it's a historic evening.Once you've experienced that first slide into the orgasm chasm though,dry humping becomes pointless kid stuff.I first saw the German sex comedy we're focusing on tonight back in the cable box days of the late seventies,so I wasn't exactly jaded by softcore fare just yet.Sybille Danninger,who would later become Sybil Danning,80's exploitation queen and catalyst for teen boners worldwide,saves what otherwise would be another penetration-free day at the orifice.Before her acting ambition led her out of the sexploitation roles she was scoring herself early on,her breathtaking beauty,remarkable figure(36-24-36),and ease with nude scenes made her one of the most striking subjects to ever appear in front of a camera lens.If the corny English overdub later added by sexploitation god David Friedman and company grates on your last nerves,and it probably will,just take solace in knowing Sybil will be appearing shortly,and chances are,she won't have any clothes on whatsoever.Splendid!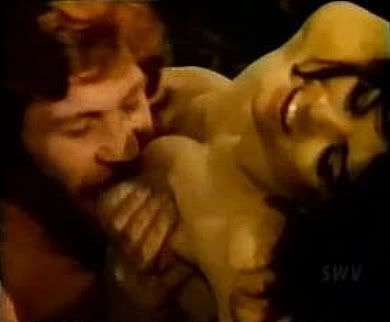 Siegfried(Raimund Harmstorf)namnams some beautiful bobblers.
I'm sure you're all well-versed in the Nordic/German national epic saga of the Nibelungs by now,right?The movie version tells the amorous adventures of the young Prince Siegfried (popular German actor Raimund Harmstorf,who passed away in 1998) who, between duels and ambushes, will conquer the heart of beautiful Kriemhild (Danning).But,in order to win the fleshy favors of curvaceous Kriemhild, Siegfried must use his incredible erectile endurance to help King Gunther win the hand of Brunhild.Simple enough?Replace the terrible dragon in the beginning of the story with a buxom cast of supporting Teutonic nymphs,and omit the end where Kriemhild seeks vengeance for Siegfried's death,throw in a Sancho Panza-esque sidekick,some tongue-in-cheek character names like "Macy" and "Gimbel,some psychedelic guitar score,orgies a-plenty,a few half-hearted fight choreographies("All this action...and these guys wanna FIGHT?"),a light sapphic tryst,some period costumes with the titties cut out,and Wagner's "Ride of the Valkyries" and that's "Siegfried und das sagenhafte Liebesleben der Nibelungen" in a nutshell.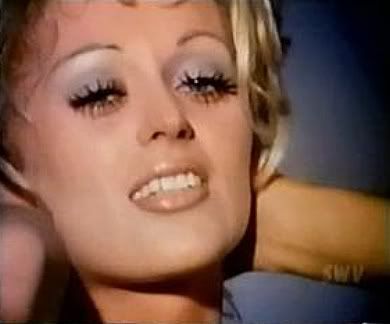 Mein gott! Kriemhild(Sybille Danninger/Sybil Danning),very nude and very choice,as usual.
Of
course
now I'm gonna drone at great lengths on about Ms. Danning here.From the instant the viewer is introduced to her Kriemhild character,as she is bathed by her beautiful young servant girls,and the camera lovingly pans her wonderful wares,we're in for a rare treat.Whether she's completely nude or in full costume,she is breathtaking beyond words.I know I've made public my preference for brunettes time and again,but one exception HAS to be Sybil Danning,dammit.If she has a single flaw anywhere,I haven't found it,and trust me,my eyes have covered every cinematic inch of her for decades!She might possibly be at her very loveliest here,so endurance of the other tedious set-fodder is not only recommended but necessary to get to the pay off.She is the breathing,living embodiment of female sexuality in this entry,so make sure you have a towel handy beforehand to clear the steam coming off of your television screen or computer monitor when she's center stage.And maybe an extra towel for...well,I'll take the high road here!
With special effects like this,there'd better be plenty of sex going on to make up for it.
Director Hoven,once a German sweetheart due to roles he played in kitschfilms of the fifties and sixties,made the jump to softcore sex comedies in the seventies to drastically change his image for the sleazier.For more Sybil(could there ever be enough?),check out Bluebeard(1972),The Three Musketeers(1973),gialli like L'Occhio nel Labirinto(1972) and Dama Rossa uccide Sette Volte/The Red Queen Kills Seven Times(1972),Chained Heat(1983),Howling II(1985),and a myriad of others.Most recently she's appeared in Grindhouse(2007) in the Werewolf Women of the SS trailer(of course),and in...ecccch..Rob Zombie's pisstake on Halloween.But who could hold anything against that gorgeous face!Muah!Ich liebe dich,Sybil.Siegfried scores(pretty much on Danning alone):
Fellatio the way it oughta be, with the emphasis on slapstick comedy.