Animated features on Wednesdays it
is
then, blame my sleep schedule.The weekly "bonfire of irresponsibility/BBQ" at Casa Smith-tips drained me this week for some unknown reason,causing me to retire ridiculously early last night.Even the best of 'em have off days, I guess.Once a week we'll be examining apropos animated features,which is to say,that which is NOT Bambi,although I've always had a soft spot in my heart for characters like Maleficent.They don't make broads like
that
anymore,boys.Tonight's entry is the big-screen adaption of a Richard Adams book,and was a box office smash in dear old Blighty.Hard mugs:mafiosi,skinheads,bikers,gangbangers,prison inmates...add bunnies to that list.That's right.Bunnies.After this cartoon,you might wanna think twice about getting your girlfriend a fluffy,cuddly little companion as an Easter present.It could be an Owsla-officer,or worse yet,General Woundwort himself.Eegads.
Doom,blood,and death.Another cheerful prophecy from Fiver.
Fiver is a meek little bunny who has premonitions of death,so when he passes the info on to his brother Hazel,the two rabbits gather as many of their kin as will listen and flee their warren,which happens to be on land scheduled for development, in search of greener pastures.The bunnies that stay behind eat steam-powered bulldozer death.While stopped to rest in a nearby field,Violet,the only female,is killed by swooping Hawk talons of retribution.And then there were seven.After narrowly escaping motorcars on a road made by man-things,a hunting dog,and an ossuary full of pissed-off rats,they meet up with a friendly bunny named Cowslip who invites them to enjoy food and shelter in
his
warren,which unbeknownst to them,is kept by a farmer who occasionally snares a bunny or two out of it,for digestive purposes.Fiver senses the danger,of course,and Bigwig,the burly officer rabbit of the group(!) mocks him before getting snagged in a snare,himself,which Hazel and cohorts free him from in the nick of time,just as he bleeds,froths from the mouth,and is surrounded by buzzing flies(You might wanna hold off on letting your younger kiddies viddy,obviously).Serves you right,clever trousers.
Bigwig shows Hazel his first road pizza.
The rabbits then plot to free a hutch of female rabbits from a nearby farm,outwitting a formidable dog/cat team who also take up residence there.They nurse an injured-but-chatty seagull named Kehaar back to health,and as a reciprocated good deed,the annoying bird agrees to search for female rabbits for their warren,returning with news of a militaristic warren named Efrafa,ruled by a chief rabbit named Woundwort,a miserable,bellicose bastard of a bunny with one blind eye.Bigwig infiltrates the warren's ranks,recruiting willing escapees,and through an insidious plot and with the help of the squawking seagull,the Watership rabbits manage to escape Woundwort and hop off to a pasture called Watership Down,a veritable bunny heaven.That is,until Woundwort finds them,bringing forth a bloody,foamy,death-ridden,fur-clawing,slashing incisor,bunny vs bunny,bunny vs cat,bunny vs mad dog fight to the finish.Does Woundwort punish the rogue bunnies for mutinizing his rabbit reich? Does Fiver see him dream warren come to fruition?Will El-ahrairah,prince of rabbits,be forever punished by lord Frith for his cockiness?Or does the black bunny of doom as prophesized in the genesis of life as passed down from bunny to bunny come for his due payment?You'll have to screen this one yourself to find out the answers to all these burning questions,and never look at Bugs Bunny in quite the same way ever again...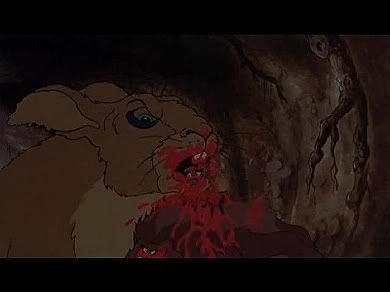 General Woundwort,showing why he's a perennial favorite of kids everywhere.
Though it might be a
bit
much for younger children to take,with a surprising amount of bunny-induced violence on board,this will most definitely make it to your list of favorite animated titles,if it isn't already.The afro-half of Simon and Garfunkel scored a hit with "Bright Eyes" from the film soundtrack,and the film spurred on a moderately successful animated television series,airing 39 episodes in Canada and the UK from 1999-2001,featuring vocal work from the likes of Rik(Young Ones)Mayall,Dawn(Saunders and French)French,Stephen(Young Ones)Fry and John(Alien,I Claudius,Elephant Man)Hurt reprising his role from the film.Next week we'll be looking at bleaker territory still,The Plague Dogs,in detail.As for the Watership warren,I find it best to bestow upon these bunnies a Wopsploitation score of the highest caliber,four wops,as I plan a Woundwort tattoo for myself,sometime in the future...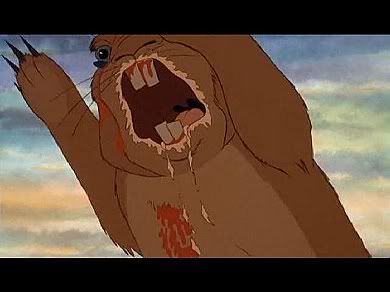 When bunnies go bananas.