Here's one of my
favorites
(no shit!) from the mid-eighties, 77 low budgeted minutes of movie madness featuring everyone's top twisted teuton, Klaus Kinski, who, left to roam free on the pazzo prairie, just might be at his nervous chill-inducing
crackers-est
in this one, which is no small statement if you've seen your share of Kinski's 200 plus movies thus far in life.I laid tonight's review on my trusty roommate, Doc, the other night, allowing for generous portional intake of chocky hallucino-cake to help him mentally cope with the many bizarrely fantastic moments herein, and he
still
wasn't where he needed to be when Kinski lets out a carnal moan before flopping onto the mighty crawlspace/air vent toboggan of death in the movie, effectively blowing his fragile mind.I know I was in the same boat as he the first time I saw such amazing events transpire before my eyes back in the vhs era, too.Where an Empire Pictures title produced by Charles Band would normally signify cheap dimestore thrills at best,a la Laserblast(1978) or Troll(1986), Kinski singlehandedly rescues the picture from its otherwise very pedestrian fate,like so much of the mid-eighties horror fare (
NOT
the greatest era for horror movies,IMHO).John Buechler's gore effects,which look to consist of Sharpie marker and some cheap Halloween store props and appliances, are rightfully understated here; hell, most of the movie's bodycount transpires off-camera and the viewer still comes out of the experience feeling as though they've just bore witness to a much, much sicker little movie, thanks to herr Klaus.Released as a choice lil' Midnight Movies double feature dvd with The Attic by MGM years back, Crawl is a memorably enjoyable ride I'm conscientiously obligated to recommend to all.
Insert your own testosterone-soaked wisecrack about nipples here.
Karl Gunther(Kinski) is a practioner of medicine-turned-voyeuristic serial killing landlord since the day his psyche brought him to the realization that his father had proudly donned the uniform of the German Schutzstaffel under the 'Stache, and was executed for war crimes, and that he, a former Hitler Jugend himself, had saved
enough
lives as a doctor in Buenos Aires, and it was high time he started
taking
some himself.In his apartment building full of handpicked young eighties girls, secret passages, caged n' shaved slaves, and innovative booby traps, he carries out his blood-caked bender; an occasional round of Russian roulette being his only self-dictated karmic implication for his crimes, which he shrugs off with a creepy smile and "So be it." each time the hammer clicks into an empty cylinder chamber.When he's not crawling through the duct system and spying on his tenants:an eighties-tastic blonde would-be composer whose ballads produce tears for all the wrong reasons(is it any wonder she's got Barbara Streisand albums framed on the wall?) that enjoys stalker-rape roleplay fantasies with her boyfriend, a bubbleheaded soap opera star too vapid to form her own opinions, a man-starved secretary, and an innocent college student(take a wild stab in the dark who makes it alive to the last reel), he's reciting his memoirs aloud to a tongueless chick he keeps in a cage who begs him to kill her.He refuses, of course, because if he did,
he'd have no one to talk to(!).
"I triet viss gurls. It didn't vurk out."
Interrupting his voyeurism, late night tapping, and releasing of rats into the apartments through remote controlled trapdoors that the tenants happen to never notice, is Josef Steiner, the chainsmoking brother of one of the sixty-seven patients with routine illnesses that perished mysteriously under Gunther's care in Argentina years earlier.His repeated meddling soon buys him a fatal sitdown in Karl's specially designed spring loaded anal-spear chair.After screening Triumph of the Will on a film projector while decked out in an SS uniform and garishly slapped on makeup, he declares himself his own god, jury, and executioner, and sieg heils himself.He fills Lori's(Talia Balsam) fridge with live rats, and dumps Steiner's corpse(with obligatory swastika carved in his forehead) in her bathtub, causing the hysterical young student, desperate to escape, to stumble across the other tenants in the building, all swazzied up n' dead-like.When she tries to flee the building, she is thwarted by Karl's spring loaded escape-proof steel bars, and when she tries to escape into the crawlspace, she discovers that it, too, is booby-trapped by a motion sensor activated blade that slices her sneaker in half.When Karl's rats prove ineffective in chasing her through the ducts, he climbs in himself, and hops upon his trusty crawlspace toboggan(!), but the girl manages to escape back into his room and free the captive girl from her cage in the process.Just when it seems Gunther has fallen prey to one of his own motion sensor blades, he surprises the girls in mid-police call, unhurt and wearing a knife harness(!!).Before he can remove these final victims from the equation though, Lori picks up his revolver and aims it at him,clicking empty chambers several times before a gun shot is heard.Karl's voice is heard to say, "So be it".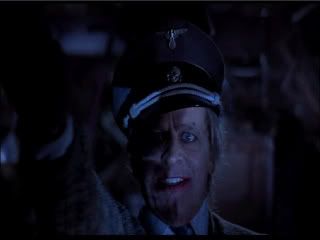 All of your tomorrows are belongs to Kinski, plix.He'll take your eyeliner and lipstick if you aren't using it, too.
Uncredited in a cameo as the rejected male tenant, Schmoeller, who captained the excellent Tourist Trap(1978) and
The Seduction(1982)
prior to tonight's review, went on to direct Puppetmaster and Netherworld for Full Moon.Though I obviously have no problem sitting down to watch some atrocious movies when the mood strikes me, I'm gonna take this opportunity to state for the record that I'm no big fan of Full Moon movies to say the least, from Puppetmaster(as I've mentioned before, Schmoeller wrote all EIGHT of these,ferchrissakes) to Castle Freak, Subspecies on through to Demonic Toys and every last movie tie-in collectible that nobody asked for.You can keep
all
of that craptastic cheesy shit, thank you very much.Cutie survivor Talia Balsam followed this up with 1987's The Kindred, then went on to a very successful career in movies and television with credits in everything from Happy Days and Magnum P.I. to Law & Order:Criminal Intent and Ally McBeal. Kinski worked right up until his untimely end in 1991 in fare like the unofficial Italian 1988 sequel to Herzog's Nosferatu the Vampire, where his legendary difficulty resulted in
three
different directors being credited to the picture.You gotta love Klaus.Three big ones.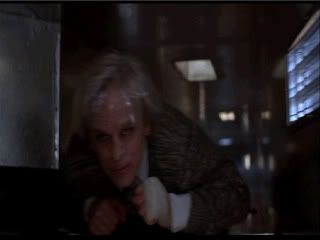 I've got no words for this.There are none.