A couple of spot on British horror anthologies would cap off the week rather nicely, eh wot? This Amicus production based upon stories that appeared in the E.C. Comics titles Tales From The Crypt and Vault of Horror was helmed by renowned genre director, Freddie Francis, who had handled previous anthologies Dr. Terror's House of Horrors in 1965, and Torture Garden two years later.Amicus had unsuccessfully expanded their collective oeuvre in the sixties to include sci-fi and arthouse films, and after 1971's I, Monster, a 3D Jeckyll and Hyde variant starring Christopher Lee that failed to make a lasting impression on anybody, they got back to what they did best, the horror anthology.As a grade schooler with a wealth of British hardcover examinations of horror films to gawk at at my disposal, thanks to 70's mall staple, Waldenbooks, I often came across luscious full page color stills from tonight's movie and the sequel that followed(next on our agenda, I assure you)and couldn't wait to finally see it for myself.While most other boys my age assuredly read comic books involving superheroes, horror anthologies like D.C.'s House of Mystery, House of Secrets, Tales of the Unexpected, and The Witching Hour were my ocular narcotic, and even then, E.C.'s graphically horrific line of comics were the stuff of legends to me.My father, who had worked in book and magazine distribution for years, kicks himself to this day over the number of mint E.C. comics he discarded in the trash back then.Tsk, tsk, Chaz.As for Crypt, a menagerie cast of familiar actors like Joan Collins, Peter Cushing, Patrick Magee, and Richard Greene all signed on for the studio's big return to the portmanteau formula, and the result? Well, you'll have to read on for that, won't you...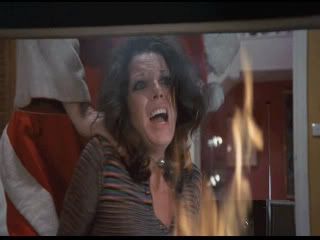 Congrats Joan, you got choked the fuck out by Santa Claus for Christmas.
A tour of some underground catacombs leaves five tourists separated from their group, and sealed into a chamber where a mysterious hooded figure recalls terrifying stories involving each person.
All Through The House
finds Joanne Clayton(Joan Collins)trying to dispose of her recently murdered husband down the fire escape on Christmas Eve, without rousing their daughter from her slumber, or more importantly, letting in an escaped psychopath who happens to be dressed in the guise of old Saint Nick. Things don't work out the way she had planned.In
Reflection of Death
, Carl Maitland(Ian Hendry) checks out on his family for greener pastures with his mistress, but wrecks his car in the process.He awakens in the wreckage, trying to hitchhike home, but no one's interested in stopping for him.At his house, his wife, who's in the arms of another man, screams and slams the door on him.He visits his mistress who isn't taken aback by the sight of him, and finds that she was blinded in their accident, the same one that took his life, as he discovers in the horror of his own coffee table reflection.In
Poetic Justice
,the Elliots, a snobbish father-son pair smear and terrorize their neighbor, Arthur Grimsdyke(Peter Cushing), a retired garbageman whose flat is filled with dogs and visiting neighborhood children, ultimately resulting in the lonely old man's suicide.One night, his corpse pulls itself from the grave and ends the class struggle in the most horrible way imaginable.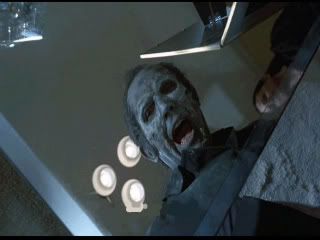 "Have you been snorting lines off the coffee table again??!!"
Wish You Were Here
finds the unscrupulous Ralph Jason(Richard Greene) uncomfortably close to bankruptcy when his wife stumbles upon a Chinese statuette that grants wishes.Her first wish, financial security, comes when her husband is killed on his way to the lawyer's office, resulting in her inheritance of his insurance monies.When she wishes for his return just as he was before the accident, she learns of the heart attack he suffers when he notices Death personified following his car on a motorcycle.I was under the impression Death drove a Mini.
Blind Alleys
has Major Rogers(Nigel Patrick) drastically cutting finances as the new director of a home for the blind, greatly reducing heating and rationing food for the residents, while he enjoys a luxurious existence with his Belgian Shepard, Shane.He ignores all complaints from the residents until one of them dies due to the cold, and the remaining tenants force comeuppance upon him when they build a basement maze with razor blade-laden walls, place him in the middle, turn out the lights, and release his dog, who they've deliberately starved.Ouch.At this point, the hooded man tells the visitors that the tales were not cautionary at all, but events that had already happened.The tourists watch the gate to Hell open then walk inside."And now...who is next?" ponders the Crypt Keeper."Perhaps...YOU?" he asks, looking at us.
Oh,dear.Grimsdyke(Peter Cushing) seems to have left his cheerful disposition in the afterlife.
The stories within all appeared first in E.C. anthologies,Tales from the Crypt, Vault of Horror, and Haunt of Fear, before their silver screen debut here, and all were reworked to different degrees
again
for the popular puppet-hosted cable series of the same name in the eighties.Francis, who had toiled previous to tonight's entry in 1970's Trog with Joan Crawford, went on to helm Tigon's The Creeping Flesh the following year.Joan Collins stayed the genre course over the next few years, appearing in Fear in the Night(1972), Dark Places(1973), and even 1973's Tales That Witness Madness(also directed by Francis), another anthology!Not to be outdone, genre legend Peter Cushing worked on two horror portmanteaus shortly afterwards, Asylum(1972), and From Beyond the Grave(1973).Patrick Magee remained a genre staple himself,in Asylum(1972), Demons of the Mind(1972), And Now the Screaming Starts!(1973),and later with maestro Lucio Fulci.Though one or two of the stories are a little flat, the overall result is excellent, especially due to the Cushing short.Three solid big ones on the scale.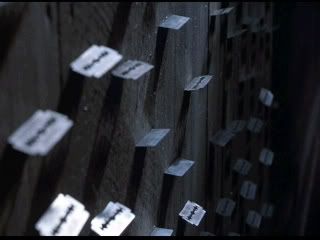 Possessing a ceiling like this above my bed, quick haircuts would come lemon squeezy.