"Bang! Bang! Shoot 'em up, talkin' about crime! Somebody just bought it in a neon sliiiiiime!!!" From the instant your ears wrap themselves around lead antagonist Wings Hauser's uneven voice, cracking, as it dramatically belts out the obvious lyrics of the title tune from tonight's review, you should already
know
you've got a minor eighties exploitation classic on your hands, and one that features one of the great deranged cinematic performances of the era.Nevermind that it was helmed by director Gary Sherman, of
Raw Meat(1972)
fame, or '70s supporting actress extraordinaire, Season Hubley, in the female lead, or even the appearances within by pioneer MTV vee-jay, Nina Blackwood, Fred "Rerun" Berry of "What's Happening", and a nondescript cameo by a nearly unrecognizable Cheryl "Rainbeaux" Smith.It's Wings Hauser you're gonna wanna get a load of in this one, trust me.After toiling on television crime dramas like Baretta and Magnum, P.I. for several years, his breakthrough role came in tonight's entry, in the form of a scumbag named Ramrod, who looks like he might be the illegitimate father of
record breaking Detroit Lions' franchise quarterback, Matthew Stafford,
if
he was a coked-out psycho pimp that wore a turquoise cowboy shirt, drove a personalized monster truck, and terrorized his stable of money bitches with an unpredictable steak of debilitating sexual violence, that is.Hauser's Sunset Strip sociopathic slut-slinger effectively takes the cartoon stereotypical movie pimp with his ostentatious polyester evening wear and catty pimp slaps and sends him scurrying for the nearest street lamp to hide behind.Because of him, Squad is sleazy, tension-packed exploitative gold that'll leave you on the edge of your seat.Onwards...
Sorry, Nina, but the pimpstick didn't wanna see "I Ran", by A Flock of Seagulls twice last hour...
After seeing a lengthy title montage of the colorful pond life that made Sunset Boulevard after hours the sideshow it was famous for being at the outset of the eighties(no big deal these days, as any 3 am trip into WalMart will illustrate, really), we're introduced to "Princess"(Season Hubley), a single mother forced to send her tearful, young daughter off to stay with a relative while she overapplies her makeup and wears a lotta purple, pissing on strangers and getting her toes shrimped for cash as a Sunset Strip outlaw(def: sans pimp) streetwalker.She receives a distressing phone call from fellow hooker, Ginger(Nina Blackwood), who's bolted on her sugar daddy, a sociopathic hillbilly named Ramrod(Wings Hauser), who gleefully takes it upon himself to mutilate her money-making mound with a folded up wire hanger for jacking his ends (and not being as adorable as Martha Quinn), resulting in her premature death at the local hospital.Walsh(Gary Swanson), a vice cop, coerces Princess to partake in a sting operation to snare her friend's killer(by repeatedly shoving her face into Ginger's lifeless cadaver on a gurney), but Ramrod is no easy collar, headbutting the arresting officers with the whore's forehead, and generally making a nuisance of himself before being hauled off in an unmarked cruiser, where he cowboy boots one officer in the face and slaps a submission choke on the driver from the back seat with his legs(!), escaping into the night from the accident scene, unbeknownst to Princess, the target of his suicidal vengeance.Meanwhile, it's sex trade business as usual on the streets, and after wolfing down a friendly hot dog with Walsh, Princess is back at it, herself, turning tricks for amputees, attending mock funerals for rich old pervs, getting her piggies tooted on by wallflower foot fetishists, and robbed by finicky overweight convention attendee/johns, oblivious to the fact that Ramrod is on the loose, getting his handcuffs sawed off, and scoring the weapons that he plans to use in paying her back a thousand fold, from tattooed fetishistic perverts.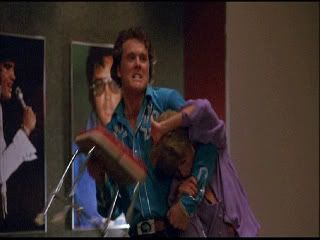 "Does Wings Hauser have to foot rest a bitch's head in, in front of the King, to get his point across?!! Well, DOES HE?!!!?"
From here on in, it's a race to Princess, with Walsh, laden with guilt over allowing the psycho-pimp to escape, filling the strip with a rainbow platoon vice unit to find her as she makes her nightly rounds, while Ramrod beats the snot out of one of her Asian colleagues, Coco(Lydia Lei), dumping her in the street like a bag full of discarded Burger King wrappers, and even removing her former sugar pimp's(Fred Berry) jewels with a switchblade in zeroing in on her whereabouts(I always wanted to see somebody do that to Rerun, unimpressed by his jiggly poppin' n' lockin' for laughs and silly beret on What's Happening, for the record.).There's a crowded precinct sequence, for those who expect that sort of thing in movies like this, complete with brazen white prostitutes(Cheryl Smith), sassmouthed teen smack-veins(Stacy Everly) handcuffed to benches, and giant negroid cops inquiring about the whereabouts of their missing paper clips.Then Ramrod snatches Princess up into his stolen vehicle and the film races towards it's commodious climax where Ramrod blindly fixates on laying the pimpstick treatment to the cash-for-gash thorn in his side, nonchalant to the vice cops that have him hemmed in on all sides.Will Walsh save his flat-chested new gal-pal before the monster mack can add her to the growing list of uppity bitches he's brutally iced just for kicks?How much abuse can Ramrod's turquoise cowboy shirt endure during his mad dash to final judgment before he decides to put something else on?Most importantly, once it's all been said and done, will we be graced with a reprise of Hauser belting out "Neon Slime" over the end credits?I'll leave the experience to you, the readers, this time around.Give it a look yourselves, would you, ferchrissakes...
Pimpin' Hint #117: Neuter Rerun with a stiletto to show bitches you mean business.
The gritty script was co-written by Robert Vincent O'Neill, the writer-director of the first two "Angel" movies(Angel(1984), and Avenging Angel(1985), respectively), interestingly enough.Most of you will remember Season Hubley as the Chock Full'O Nuts girl who gets pulled through the floor by the cannibalistic 'Crazies' in front of then-husband Kurt Russell's eyes in Escape From New York(1981), though she's also appeared in Hardcore(1979), the Humanoids From the Deep remake(1996), and various cash-in horror franchise sequels like Children of the Corn V:Fields of Terror(1996), and Stepfather III(1992).Wings, who supplies one of my favorite on-screen villains of all-time here, a long-time television staple, also showed up post-neon slime in John Bud Cardos' Mutant(1984), direct-to-video sleaze Bedroom Eyes II(1990) with Linda Blair, and recent horror-comedy, Rubber(2010).Sherman also directed 1981's Dead and Buried, Poltergeist III(1988), and even an episode of the Poltergeist:The Legacy tv series.For me, this one goes back to the cable box days, where I must have watched it twenty times if I saw it once.On the scale, Vice plays the lamp post three Wops worth, a ballsy effort, full of the realistic grit that fans of exploitation flicks crave.Recommended.
Mamas, don't let your babies grow up to be cowboy/psycho pimps that swim in the neon slime, like Ramrod(Wings Hauser).