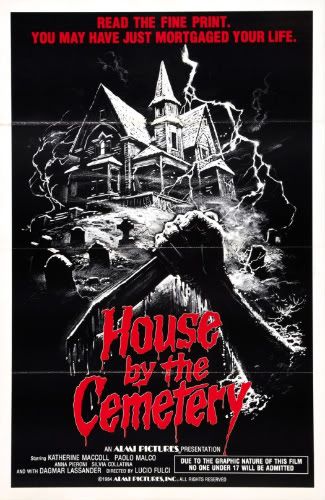 Tonight, in examining the coda of grue guru Lucio Fulci's unofficial "Gates of Hell" trilogy, 'Quella villa accanto al cimitero', an opprobrious video nasty known internationally as 'House by the Cemetery' that has been alternately banned/censored pretty heavily in the U.K. over the years, we'll find an eerily atmospheric-if-discordant effort with enough gothic punch and inventive kills seasoned with bucketloads of trademark De Rossi red stuff to rightfully vault it into the favorites lists of many enthusiasts worldwide.Though the story, written in part by Dardano Sacchetti, is somewhat disjointed and sluggish in areas, it's aided by the able lens of legendary Sergio Salvati and a baroque Rizatti score in creating an effectively genuine prescience of dread throughout the brisk eighty-seven minute running time.Catriona MacColl, who previously lent her vigorous tonsils to Fulci's Paura nella città dei morti viventi(1980), again proves an adept screamer here, backed by genre regs Paolo Malco, Dagmar Lassander, and Italy's 'coppia di ragazzi dall'aspetto strano' of the eighties, Silvia Collatina and Giovanni Frezza, whose woefully mismatched female-ish ADR voice blows the needle off the creep-o-meter here.Though Fulci, who cameos as a professor, had indeed mastered many diverse genres of film over his career spanning thirty-plus years, his extraordinary grasp on supernatural horror is clearly perceptible during the four year period in which he directed Zombi 2(1979) through to Lo squartatore di New York(1982) without the financial, emotional, and health setbacks that would blemish his work later in the decade.As for tonight's offering, it's a non-linear tale of children and monsters with a dream-like quality amidst the graphic violence that few directors could hope to pull off.But then, that's one more tribute to Fulci and his legacy.Onwards...
For Daniela Doria, it's the end of the story-ah.
After watching a young girl(Daniela Doria), impaled through the back of her head by a knife that juts out of her open mouth, then lifelessly dragged into a cellar after finding her boyfriend's disemboweled body in an abandoned house, we meet Dr. Norman and Lucy Boyle(Catriona MacColl, Paolo Malco) as they relocate from New York to New England with their young, shrill-voiced moptopped offspring, Bob(Giovanni Frezza), into the home of Norman's former colleague, Dr. Petersen, who had mysteriously murdered his lover then hanged himself, while researching old homes.While Lucy packs for the move, Bob is warned by a girl in a photo of just such a home to stay away, and while his parents collect the keys to the Freudstein House, errr... 'Oak Mansion' from Mrs. Gittelson(Dagmar Lassander), who vows to find the couple a babysitter, she appears across the street, telepathically warning him again.The Boyles find Oak Mansion in a state of disrepair, with obligatory creepy babysitter, Anna(Ania Pieroni), taking the time to unblock the foreboding cellar door during the night.The next day, Norman scrutinizes Petersen's findings at the library, where the assistant librarian(Giampaolo Saccarola) informs him that his late colleague's study of area disappearances was private, and creepier still, that he and the other New Whitby inhabitants somehow recognize Norman from a previous visit that he's never made.Meanwhile, little Mae(Silvia Collatina) shows Bob Mary Freudstein's tombstone on the grounds, remarking that she's not
really
dead, while his mother subsequently discovers the tombstone of Jacob Tess Freudstein...embedded in the floor inside their home.Upon his return, Norman reassures his wife that some old houses contain indoor tombs due to the area's impenetrable ground during the winter season(!).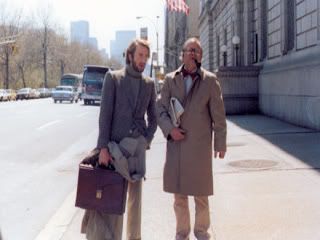 Questo è Fulci! Dov'è il tappeto rosso, bastardi!
When Norman is attacked by a real blood-bomber of a bat after investgating the cellar, the unnerved family drives to the real estate office and demands to be put up in a slightly less haunted house, but are told the switch will take several days to complete...dah dah
dummmm
.While the doctor is being treated for his bat attack at the hospital, Mrs. Gittelson lets herself into their place with news of a potential new property, where Freudstein's tombstone crumbles into pieces and trapping her ankle in the process.A shadowy fiend emerges from the darkness, shivving her in the throat with a fireplace poker, then dragging her down into the cellar.The next morning, Lucy finds Anne cleaning up a conspicuous bloodstain on the floor that the babysitter deftly skirts around answering any questions concerning.Norman begins to relate the mad tale of Dr. Freudstein(Giovanni De Nava), the Victorian era surgeon that he must travel back to New York to further research, to his wife.At the library, Boyle finds a cassette of Petersen that tells of Freudstein's family's brutal murder at the patriarch's evil hands.Meanwhile, Anne, who's in the cellar looking for Bob, gets decapitated by Freudstein.The boy sees the disembodied head and runs out screaming, his mother in disbelief at her son's bizarre story.That night, Bob sneaks back into the cellar to look for Anne, when his mother hears his eardrum-piercing screams from behind the heavy door that she's unable to pry open herself.Norman makes the scene, laying into the door with an axe as the rotting hands of Freudstein subdue the (still)screaming boy until his father manages to lop one of them off, forcing the surgeon-turned-monster to retreat into the darkness of his grue-splashed laboratory full of instruments and eviscerated cadavers, still holding the boy with his one good(?) hand.After Norman gets his throat ripped out and Lucy gets her dome slammed hard into the concrete floor, Bob struggles to escape up a ladder that leads to the tombstone as Freudstein closes in.The boy is suddenly pulled upwards through the crack to find Mae and her mother, reborn into a dreary, grey undead realm, into which they walk off.A (most likely) false Henry James quote("No one will ever know whether children are monsters or monsters are children.")leaves us to ponder further as the end credits roll...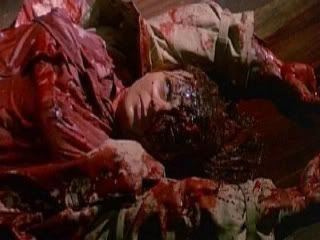 Pulverized, you say? Clearly, the girl's been contriturated.
Giovanni De Nava, who plays the monstrous Freudstein here, also appeared in Fulci's
Murder Rock(1984
) as a hotel receptionist, and more memorably, as L'Aldila(1979)'s ill-fated plumber, Joe.Doria was one of Fulci's personal favorite vics, having been colorfully offed in
Paura nella città dei morti viventi(1980)
,
Lo squartatore di New York(1982)
, and
Il gatto nero(1981)
, and even appearing in Di Leo's
Avere vent'anni(1978)
along the way.All of these friggin' hyperlinks...at least you can use them to fathom a guess as to which Fulci we'll end up tackling next, eh?Sacchetti and Fulci would stop collaborating in 1983, culminating in accusations of plagiarism and theft over a story idea for a sequel to The Postman Always Rings Twice.Regardless of which camp you believe, it's undeniable that the men worked best together, and their output suffered greatly after the split. As is the case with so many Italian genre entries of the period, one needs to leave his logic in the foyer and focus primarily on the glorious visuals and lush atmosphere instead, to truly appreciate tonight's review in it's full deliriously horrific glory.I've seen some venom online directed at Fulci recently, and this movie, specifically, from a few sassy, against-the-grain hipster-pukes, and besides the ignorance of their inattentiveness disturbing me greatly, it's an opinion I could
never
share.On the rating scale, three big ones for Cimitero, another cult classic from Lucio, and required viewing for any fans of the genre.Recommended.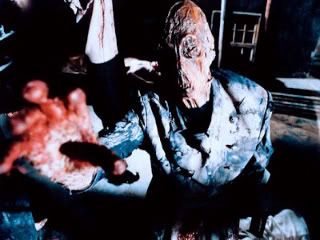 "See if this grabs ya, Bob...", says the decomposing-yet-imposing Freudstein(Giovanni De Nava).