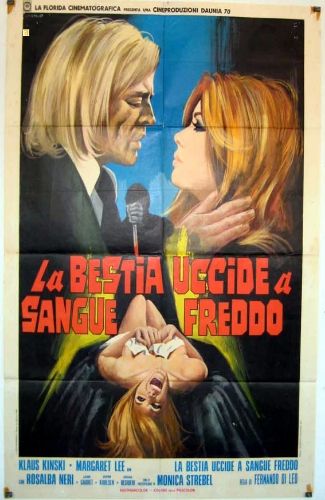 More Kinski? If you're into gialli, and who
isn't
these days, how about
this
one: A dubbed, chain smoking Klaus Kinski as a doctor in an asylum fulla oft-nude seventies Euro-eye candy the likes of Margaret Lee, Rosalba Neri, and Monica Strebel, as directed by none other than the late Fernando Di Leo, the man responsible for such enjoyably sleazy genre-fodder as I ragazzi del massacro, aka/ Naked Violence(1969), and Avere Vent'anni, aka/ To Be Twenty(1978). Di Leo, a director seemingly unfamiliar with the concept of "high roads", spills plenty of painty-looking stage blood and fills his lens with explicit crotch shots of no less than three of his actresses, in weaving this sometimes sluggish, always visually lush whodunit that's far too vile to not be a dynamite viewing experience for any genre nut worth his or her weight in shadowy, exotic weapon-wielding, black-gloved maniacs.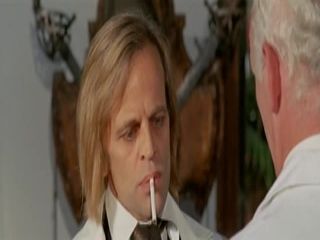 "Zis fahkink zigaret isss goink to taste zo zo gute."
At an out-of-the-way psychiatric clinic that seemingly only caters to (and hires, in some cases) young women, some more nymphomaniacal than others, Professor Osterman (John Karlsen) runs an odd boat, indeed, with an impressive open display of various medieval weapons in an easily-accessible lounge, for those moments when a cloaked villain in black gloves fancies repeatedly clobbering a writhing naked woman with an ornate battle axe. It happens. The patients, errr, guests are free to come and go as they please, but seem content to play croquet, drink cocktails, smoke cigarettes, cop sensual nude rubdowns and sponge baths from attending staff members, like the petite ginger Nurse Helen (Monica Strebel), or simply fuck the groundskeeper in the greenhouse, like the sex-mad Anne (Rosalba Neri). Near constant masturbation also seems to be one of the rehabilitative techniques encouraged by the staff, like Dr. Keller (Kinski) who chain smokes and rambles psychoanalytically, when he isn't administering his own, personal brand of treatment to Mrs. Hume (Lee) in private.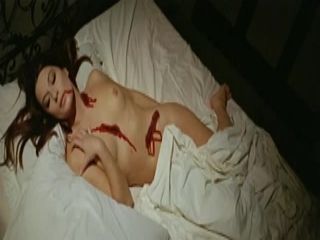 I think phonetic Kinski dialog may have replaced preserves jokes here at the big W.
Anne takes an unbelievably groovy shower, and tries to seduce her own brother... like old times (blech), while Nurse Helen sets race relations back a hundred years with an interracial chicken dance with a black patient that naturally progresses into lesbo sex, but play time's undoubtedly over when one of the other nurses gets her head scythed off. Oh yeah, there's a killer afoot. Strangulation, followed by some sensual dagger-play, dude-in-an-iron-maiden, then oversexed Anne gets a post-masturbatory axing, beckoning the shadowy killer to fuck her first(!). Mrs Hume professes her eternal love for Dr. Keller, while the killer is revealed as he's trying to slip a noose around her neck. With the authorities hot on his trail, he locks himself in a room full o' chicks and a flail in hand(!!), and goes Richard Speck on the cornered lot of them, before getting stopped dead in his murderous tracks by some dramatic slo-mo squibs and a final head shot. The end.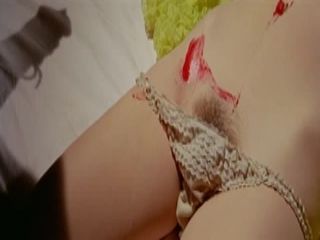 Spoke too soon. Heyyy, you smeared some jam in close proximity to yer clam...
While most directors merely flirt with or skirt around the baser instincts of mankind, Di Leo never seemed to have a problem displaying it in his films, cinematically rolling around in it on occasion like a contented sow, hoof-deep in filth. We love him for that, here at the Wop, really we do, regardless of whether the hardcore quim-diddling shots here were inserted post-production, or not. Bestia was only one of eleven credits in 1971 for Kinski, which included Antonio Margheriti's Nella stretta morsa del ragno aka/Web of the Spider, and Giuseppe Vari's Prega il morto e amazzo il vivo aka/ Shoot the Living and Pray for the Dead. We could probably cover a different Klaus Kinski movie every day here until the end of the year and end up with leftovers.My obvious favorites on board, Rosalba Neri worked with all the top genre directors of the day, from D'Amato to Franco, while the lovely Margaret Lee you'll probably remember from The Bloody Judge(1970), and the firey Monica Strebel would go on to play Death in Brunello Rondi's Racconti proibiti...di niente vestiti, the following year.On the scale, the Cold-Blooded Beast garners a warm reception, two wops. Check it out!
Love to ruin it for ya. I, Spoiler.