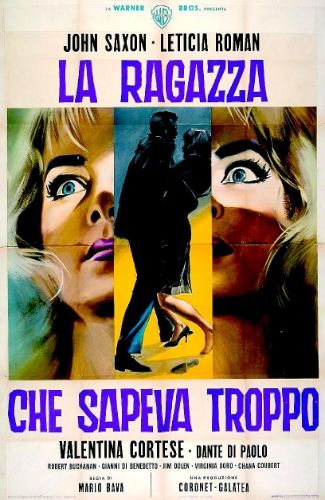 Let's momentarily climb out of the cinematic sewers to examine what's widely regarded as the very first giallo, La ragazza che sapeva troppo aka/The Girl Who Knew Too Much, the last film that genre giant, Mario Bava shot in black and white. While Bava looked back at the film and called it preposterous, unable to remember the names of his lead actors (John Saxon and Leticia Roman, for the record, Mario, it's right at the top of the promotional poster, ferchrissakes, haha!), I see a gorgeously framed historic and effective Italian genre film that's no less stylish than many of Bava's other efforts, with lots of great lighting and trademark close ups, and one that serves as a fine viewing experience to
anyone
interested in good movies, whether they be Bava completists, lovers of the 'whodunit', or even mainstream moviegoers (we call these folks ' reggler-type humps', here at the W, having defecated nothing but frozen dairy products for nearly a half century, and never once hesitant to remind ya at the drop of a cabbie). The film's detractors often point out the light tone and silliness of the plot herein, but it should be noted that Girl is not
nearly
as silly as Cabin in the Woods (2012).
"Sapevate che gialli vanno meglio con la cocaina e le sigarette di marijuana..."
Nora Davis (Roman) is a gialli-addicted ( the murder mystery novels from which the film genre was born, in this case) blonde that's flying into Rome to pay a visit to her elderly aunt who's become gravely ill. On the plane she's given a spare pack of cigarettes from a friendly fellow passenger, smoking one before she watches the authorities take him into custody at the airport, having smuggled cocaine in his luggage. And marijuana, disguised as regular cigarettes. Hmmm. Things don't get any easier for the pretty young tourist, as her aunt passes on just moments after her arrival, and as she's rushing to retrieve Dr. Bassi (Saxon) from the hospital, she witnesses a woman getting brutally murdered with a butcher knife, passing out in the pouring rain, from the shock of the events, in the process.
Uno...due...una torta fatta di tette. Non riesco a credere a quello che sto vedendo!
Naturally, her testimony is slagged off as the overactive imagination of a mystery loving alcoholic, as she meets Mrs. Torrani (Cortese), a close friend of her late aunt, who offers Nora free room and board in her shadowy house in the Piazza Di Spagna during her stay, so long as she manages to stay out of her husband's locked study. You know, the husband that Nora saw pulling a long blade out of a woman's back and dragging her lifeless form off into the darkness that night? Yeah, that one. Bassi vainly tries to occupy the giallo fanatic's mind with thoughts of romance, but only manages to get himself injured physically while she follows leads in the case, which coincides with a series of murders dating back over a decade, committed by the self-avowed 'Alphabet Killer', who, by all speculation, is up to the letter 'D', Ms. Davis...ahem.
"This Mr. Han seems gracious enough, we should check out his island." says Dr. Bassi (Saxon).
The prolific elder Bava, having also completed I tre volti della paura aka/ Black Sabbath and La frusta e il corpo aka/The Whip and The Body in the same year, would next release Sei donne per l'assassino aka/ Blood and Black Lace (1964).The likeable and familiar Saxon would go on to appear in cult classics from genre directors like Bob Clark (Black Christmas) to Antonio Margheriti (Apocalypse Domani) and Umberto Lenzi (Napoli violenta) in a long, successful career that spans seven decades. Hell, he even threw some pretty stiff looking kicks next to the legendary Bruce Lee in 1973's Enter the Dragon. On the scale, three Wops adequately purveys to you fellow woprophiles that I found 'Too Much' too much, indeed. Recommended.
"There's nobody named Amidala here, now go away. And get your lungs checked..."