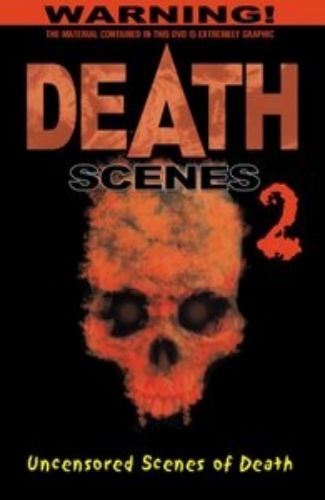 Just to let you know, rather than
really
exploring the depraved depths of my usual brand of black humor, I took the highest possible road where the screenshots are concerned for tonight's review, as is usually the case with every "real death" documentary there's plenty of opportunity for hardcore
bleeeech
, and director Nick Bougas' follow-up to his
1989 epic direct-to-home-video release
takes full advantage of every single friggin' one here, lovingly serving up notorious famous death footage not just once, or even twice in slow-mo, but frame by brutal frame detail of the carnage in one particular case... I can still remember the night they stocked this one on the shelves at one of my local video haunts on 'the Ave', I snagged it, and when I returned it, I ordered an original copy for myself straight away, having been much more of a serial killer/real death/shockumentary completist kinda guy back then, as unsettling as that probably sounds to some of you. I say 'some', because Death Scenes remains one of the top ten most viewed reviews of all-time here at the Wop. Go figure...
Show me all the horrible footage and pictures you want, just don't let Anton sing 'Golden Earrings' again...
After a gruesome recap of the first video for those that missed it, it isn't long before the screen is engulfed with the horrors of war, and WWII is well represented, as usual, with photographs of battle-maimed soldiers and footage of smoldering corpses hanging out of tanks as the norm. Next, the focus is 1950s-era death, with teenage hot rodders, drunk drivers, and road hogs meeting fiery ends in several graphic high school driver's ed films of the day. Death doesn't bypass Tinsel Town either, as we soon find out, and the deaths of Hollywood stars like Tyrone Power, Bela Lugosi, Marilyn Monroe, Lenny Bruce, and Elvis Presley are touched upon, usually accompanied by grim morgue table, crime scene, and/or casket photographs. Dying naked on a bathroom floor with a syringe still in your arm hardly constitutes "glamorous" in
my
book... During the segment on the tumultuously groovy decade that followed, after some Vietnam footage and race riots, we're introduced to the crimes of Albert DeSalvo, Richard Speck, and the Manson family, with crime scene photos and autopsy slab shots of all of the Tate-LaBianca victims included.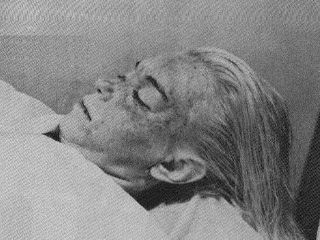 "B.W. is my favorite movie reviewer on the internet, and my favorite candy is barbiturates."- Marilyn Monroe
While the focus remains on serial killers, John Wayne Gacy is discussed, and even the sickening contents of Milwaukee cannibal Jeffrey Dahmer's bathtub and refrigerator are shown briefly. Then it's back to Hollywood where actor Vic Morrow and two Asian child actors tragically lost their lives on the set of Twilight Zone: The Movie during the night filming of one of director John Landis' segments, when a helicopter loses control due to misfired pyrotechnics, and spirals down, killing all three instantly. If the horrible accident was difficult to make out from the initial camera angle, rest easy, there's two more to choose from, including a close up that's slowed down to frame by frame analysis. We close with a well upsetting montage of gore from the video era that includes suicide jumpers, mass bombings, Pa State Treasurer R. Budd Dwyer's televised .357 suicide in it's entirety, gory color Mexican newspaper photos and footage, and even a late-term abortion. Stay classy, Death Scenes 2...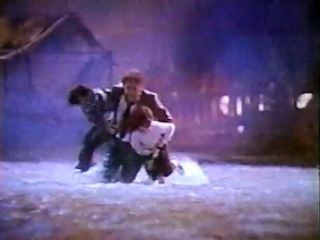 Get those kids to safety, Vic, in case that helicopter is forced to make an emergency Landis...errr, landing. Sorry.
As nauseating as this series can be (and usually is), tonight's review in particular, they've been long since surpassed by internet access, where you can sate the most morbid of your curiosities, and watch mankind outdo itself in terms of brutality and violence,
worldwide
, on a daily basis, if that's your bag. It certainly isn't everybody's, and those who are easily affected by such imagery and subject matter should obviously steer as clear of this one as possible. On the other hand, it stands as a frank reminder of how unchanged we remain as a species, despite our self-awareness and general belief that we occupy a higher rung of the scala naturae than the other life forms on the planet. If you share in that particular belief, watching Death Scenes 2 just might force you to reconsider your position. Four Wops.
"For my next trick, I'm going to put an embezzler's brain to sleep..."