Tonight, we'll take a look at the only British film to be found among the original seventy-two (and even the revised thirty-nine, for that matter) on the notorious "Video Nasties" list that inspired gestapo-style police raids on video shops back in the eighties in the name of "decency". Looking back, the sheltered and stuffy film censors only really managed to succeed in bringing masses of violent film lovers together, the world over. Hell, even cobwebbed-up Damned frontman Dave Vanian caught, caught the proverbial Horror Taxi and fell in love with 'em. This effort, from the director who brought you a World War II-based musical sex comedy in 1978's Let's Get Laid, is an engaging little psychological thriller that stars cult icon, Udo Kier, as well as popular seventies British sex star, Fiona Richmond, and sexy genre staple, Linda Hayden.
"I am goink to zlip away to ze country zo I can start writing sings again..."
Paul (Kier) is a troubled novelist who rents an isolated estate in the British countryside, so that he might focus on writing the eagerly anticipated follow up to his first effort, with a secretary named Linda (Hayden) hired on from a temp agency by his agent, to accelerate the creative process for deadline's sake. Paul's lingering case of writer's block doesn't seem to discourage Linda at all, as she's packed away a handy dildo in her luggage, and plans to masturbate furiously over the coming weeks, sometimes in the middle of a nearby corn field in broad daylight, drawing the attention of two yokels on bikes, who stop to rape her at gunpoint... only she invitingly caresses the shotgun barrel, mid-violation, as a harbinger of where this chick's head is
really
at.Afterwards, she turns the duo's firearm on them, raping them of their miserable lives, and strolls back to the cottage as though nothing ever happened...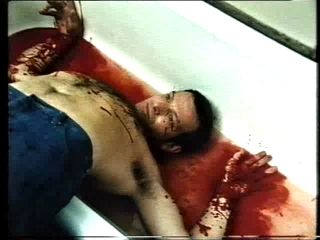 And the award for Least Masculine-looking Death Pose for 1976 goes to...
Meanwhile, the wide-eyed (and laughingly-overdubbed) Paul is so overstimulated that he's forced to wear latex gloves when making love to his girlfriend Suzanne (Richmond), who initially dislikes his new homicidal typist, who, in turn, adds the housekeeper to the meager body count along the way, but later warms up enough to her to wear a Joan Crawford-style lez-beanie with the young murderer while Paul is busy losing control of the vehicle on the winding country road back to the house, a victim of secretarial sabotage, no doubt. In the end, Linda turns out to be the vengeful widow of a suicidal author whose work Paul had plagiarized in bringing his first book to life, and a bloody, knock-down, drag-out finale, complete with a shock or two that I'll leave for you to discover for yourselves, is what follows...
"How'd you guess I was from Bristol?"
Hayden, who'd later voice regret concerning her participation here, could be found in memorable genre films throughout the seventies, in things like Hammer's Taste the Blood of Dracula(1970), Tigon's Blood on Satan's Claw(1971), Night Watch(1973), Madhouse(1974), and even Queen Kong (1976), while Richmond would appear in lighter fare like 1971's Not Tonight, Darling, and reunite with director Clarke on Hardcore aka/ Fiona(1977) and the aforementioned Let's Get Laid, the following year. As for tonight's review, which was originally released as Expose', and alternately as Trauma, it's a worthwhile watch for fans of Udo, Linda, and/or Fiona, and Video Nasty completists alike, and as such, I'm gonna drop the deuce upon it, so to speak. Check out the Blu-Ray-dvd combo, available from the fine folks at Severin.
"I vos practissink zhooting jam jars off of ze garden wall...."