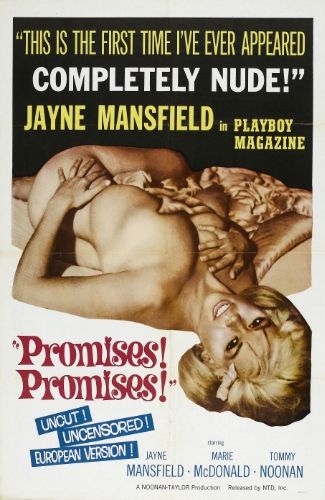 A lot of folks these days are rediscovering Marilyn Monroe, albeit mostly through misquoted junk mail memes on social networks, but I digress...She was never my bag, personally, I was always more into Jayne Mansfield, the busty star of tonight's review, the movie that saw her become the first American actress to appear fully nude for Hollywood cameras. Publicity shots from the set appeared in the pages of Playboy in June of 1963, earning some consequent obscenity charges for Hugh Hefner. The film, on the other hand, was a big success for the bubbly-yet-brainy blonde with a party girl personality and 40-21-35 measurements. Phew. Also owns the distinction of having been banned in Cleveland, of all places.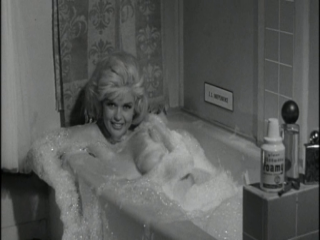 Rub-a-dub-dub, bubbly bub boobles, errr, boob bubbles...
Two married couples, the Brooks' and Banner's, respectively, share a romantic cruise together, with Jeff Brooks (Tommy Noonan) downing Wild Turkey by the fifth in dealing with his wife Sandy's (Jayne Mansfield) obsession with having a child, despite four years together and nary a rug rat to show for their combined efforts, even though Sandy perpetually frolics around their cabin utterly nude. In the adjoining cabin, Claire Banner (Marie McDonald) has her hands full with her husband, King (Mickey Hargitay), a muscle-bound, health food nut/ perfectionist who plays tennis and lifts weights for kicks. Jeff, who may or may not be impotent since his time in the service, has been seeing the ship's doctor (Fritz Feld), who prescribes him some aspirin as a placebo to finally impregnate his wife, though an alcohol-fueled mix up sees all four down the pills by mistake, leading to a blurred evening where spouses seemingly get swapped, or so Jeff believes and fixates endlessly upon, irl, and in fog machine-enhanced dream sequences.
I'd have that look on my face, too, if I didn't have any scenes with Jayne, sans gear.
Sandy, under the impression that Jeff has gotten her pregnant, lip syncs a few forgettable pop tunes (though one she performs covered only in soap bubbles in the tub...Madonna!) and throws an extravagant baby shower where her swishy stylist, Babbette (T.C. Jones) models wigs and does impressions of Tallulah Bankhead, Bette Davis, and finally, Jayne Mansfield (get it?). Meanwhile, Jeff is convinced that King is the baby's real father, and further drowns his sorrows, alienating his busty spouse, in the process. After that particular joke has been beaten into the low budget set floor with spiked baseball bats, Claire discovers that she, too, is pregnant, having just set Jeff's mind at ease, filling him in that King, is most likely impotent, himself. Oh, these zany early sixties cruises that folks apparently used to take. So, who's fathering who's babies on this damned ocean liner, and where the fuck is Merill Stubing for these hijinks? Shaken, not stirred on that AMP martini, Isaac...
"I'm pitching an a- frame tent at the thought of cha cha-ing next to those chachabingos, baby!"
Jayne's bra-battering bobblers, once a gig killer early in Jayne's career, look fantastic here, without regressing
too
much into a wild eyed Neanderthal, pounding his hairy chest with a rock bat and screaming "Urrrrgghh!!!" into the Paleolithic night air, hopefully. I'm a man, though, and when a man like me sees women of such aesthetic beauty, I can only admire them in my own...
many
, inimitable ways and twirl the hair in my goatee. There's only one reason you're gonna wanna see tonight's movie, and that's Jayne, who, in turn, rewards the viewer with every last of her natural assets here, at their very peak and at the best possible angles, no less. The late movie critic Roger Ebert venomously dissed her for doing this one in his Chicago Sun-Times column...prior to his collaboration with Tit King Russ Meyer, I'd be willing to wager (two years prior, if you're splitting hairs). Never really appreciated any of that guy's opinions, but I appreciate that he
had
opinions, in the first place. Rare, these days! Since I also have a few opinions of my own, here are mine on tonight's review: Two wops on the scale, not many laughs delivered in the end, and heavy on the corn, but lots of Jayne to make up for it. Insert wolf whistle here.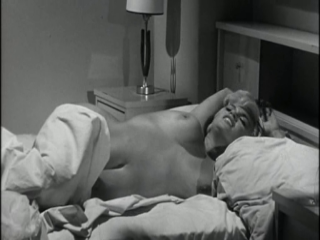 Seeing you rolling around like that is getting my Mickey all Hargitay.