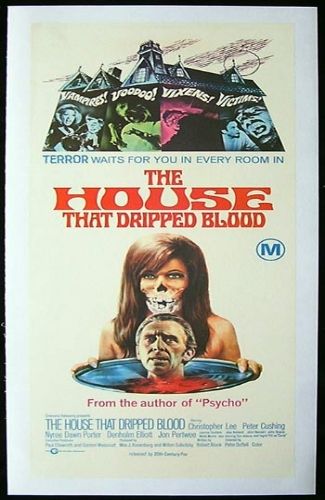 As we usher in August, normally a tentative month here at the Wop for whatever crazy unforeseeable reasons emerge at the time, having only posted four out of seven years during Augustus' tribute from Julius Caesar, when he created the Julian calendar way back in 45 B.C. .That's probably because somewhere in my deep subconscious, I still honor Romulus' ten month Roman calendar, or maybe I've just been honing my sloth skills, Deadly Sins-wise ( holy rollers: does physical/mental laziness count?). I'm not entirely sure at this point. Speaking of points, there really wasn't one just now, as this review, a classic horror anthology from Amicus Studios starring no less than Christopher Lee, Peter Cushing, Denholm Elliott, Jon Pertwee, and Ingrid Pitt and consisting of four excellent short stories from noted horror author, Robert "Psycho" Bloch, technically makes it five outta eight, and two years in a row, now. When yer hot, yer hot.
"Here's the bastard what done in Mr. Green Jeans and strangled Mister Moose for his ping pong balls..."
As a police inspector's investigation of a missing actor leads him directly to a house with a varied history of bad fortune, misery, and death, we meet the prior tenants of the residence through flashbacks. In "Method For Murder", we meet a horror author (Denholm Elliott) trying to bang out his latest novel, about a creepy guy with bad dental hygiene that can't keep his hands to himself, and his wife (Joanna Dunham), who looks more and more like the next victim when her husband starts seeing his character, come to life.
Next, "Waxworks" finds a man named Grayson (Peter Cushing) pining for a bygone love of yesteryear, until he stumbles into a local wax museum to find one of the ghoulishly realistic figures inside bears a striking resemblance to the very woman in his thoughts, a woman who's also no stranger to a visiting chum named Neville (Joss Ackland).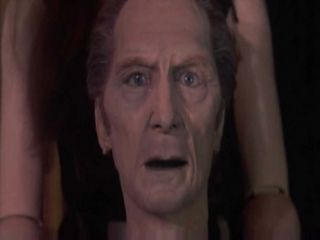 Prop Peter Cushing head? Check.
In "Sweets To The Sweet", we meet a strict, cruel man named Reid (Christopher Lee) who hires a nanny (Nyree Dawn Porter) for his young daughter Jane (Chloe Franks), who he disallows any contact from other children, and toys, heh, toys are
right out
, as well. It's just that, all of the candles, save for four, have gone missing. Jane, do you know anything about their sudden disappearance? Next, in "The Cloak", we are introduced to a flamboyant genre actor named Paul Henderson (Jon Pertwee), who's trying to lend an air of authenticity to his latest B-movie concerning vampires, having bought a cloak from a mysterious shop to help him sink his fangs into the role, except he feels suddenly compelled to sink his fangs into his co-star Carla (Ingrid Pitt) instead, the moment he puts it on...Afterwards, the inspector decides to check out the house in question, for himself, against the warnings of the real estate agent. See what happens next, for yourselves.
Having negated the Silurian threat, Doctor Who had become the sweetest mack in the universe.
Duffell would later return to genre work, directing two episodes of the excellent Roald Dahl's Tales of the Unexpected series on television. Jon Pertwee was the first actor I remember seeing as Doctor Who, a role he portrayed from 1970 on through to 1974, when he was replaced by the toothy Tom Baker. His son, Sean, you'll remember from things like Dog Soldiers (2002) and Wilderness (2006), among others. Chloe Franks, whose first role would be in Joan Crawford mess, Trog (1970), would also appear in Tales From the Crypt (1972) and Whoever Slew Auntie Roo? (1972), before later turning up in 1977's The Uncanny. Joss Ackland has never stopped acting, to this day, most memorably (to me, anyway) providing the voice of the Black Rabbit in Watership Down (1978). Despite the title, there is not one single solitary drop of the red stuff shed upon the screen here, though the results are excellent and highly watchable, just the same. One of the best of its kind. On the scale, House earns three wops, and comes strongly recommended.
Ingrid Pitt is gonna chew on my neck? Oh. Please. Stop. Don't.