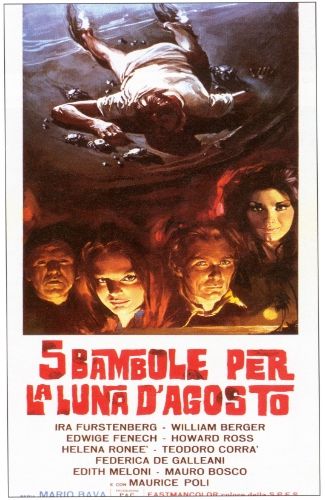 From Fulci, we turn to the great Mario Bava, in one of his few mortal moments, directing an obscure, mostly bloodless giallo that he'd call the worst of his career, methodically churning out what stands in actuality as a quirky, humorous, Christie-inspired, lounge-soaked lampoon of what audiences had to come to expect from gialli at that point in time, at least prior to Argento's reinvention of the genre. As such, it's not difficult to enjoy Bava's stylish lens in a succulent beach locale, and easier still when it's focus happens to be upon Eurosleaze queen and Maltese-Italian sexpot, Edwige Fenech, and familiar genre faces like Ira von Furstenberg, who you may recall from Giornata nera per l'ariete aka/ The Fifth Cord (1971), and William "Django" Berger, of Mio caro assassino aka/ My Dear Killer (1972) fame, as well. The swinging score was provided by none other than Piero "Mahna Mahna" Umiliani, also responsible for the scores of one hundred fifty other films, covering every imaginable genre, in total. Let's get into it...
"Why won't Jane Wiedlin stop sending me paintings of herself?"
When an industrialist named George Stark (Teodoro Corra') invites five of his opulent business pals to his ultramod beach digs on a Mediterranean island getaway to coerce the formula for a new, industrial resin out of one Professor Farrell (William Berger), using a scheme of ludicrous leisurewear and groovy sexy-parties to break down the young chemist's hesitance to sell, the planned decadent weekend doesn't take long to become a kooky murder mystery. This sexy-party method proves fruitless, though it should be noted that Farell's wife Trudy (Ira von Furstenberg) sometimes gets it on with Stark's wife, Jill (Edith Meloni), and swinging tycoon Nick (Maurice Poli) also has a wife named Marie (Edwige Fenech) whose catting about sometimes advances her husband's career, while Jack (Howard Ross) and his girl, Peggy, might have the lone non-problematic relationship of the lot, or one could be lead to think...
Between Edwige Fenech in a bikini and cigarettes, I'm gonna go ahead and call this flawless composition.
It just so happens that Jill discovers the houseboy has turned up, iced on the beach and smothered with sand crabs, and with the motor launch having been sent away to prevent Farrell from leaving before selling the formula and exit for anyone made impossible, the group is forced to wrap his corpse in plastic and hang it in the refrigerated meat locker until the lone phone is fixed (wouldn't ya know it...), and they can alert the proper authorities. Things are destined to heat up when an anonymous killer starts erasing the remaining players, one by one, leaving the survivors to sleuth which of the group, morally bankrupt enough to begin with, has added systematic homicide to their sizable sin sheet. Will the killer or killers succeed in snuffing the competition and securing the formula for their own greedy end? Or will the would be victims be otherwise occupied destroying themselves and each other in the panic? All of this and more will become known to you when you screen this one for yourselves...
"That's some heavy beat poetry you're laying on that reel-to-reel...if you'd make me an eight track cartridge of it, that'd be outta sight."
If you're one of the other Italian directors wondering why your lesser works don't score three Wop reviews, a trip to the mirror should clarify for you, once and for all, really, if you don't see Mario Bava in the reflection. The elder Bava stands along with Argento, Fulci, Soavi, and Deodato at the top of a list of personal favorites, and that he could make such an enjoyable experience for the viewer out of a less than enjoyable shoot such as this one, is just one more tribute to his greatness. So yeah, chalk it up to bloody favoritism. When you've been watching movies as long as I have, you're bound to have quite a few of them, and these have been my favorites for many years, and thus, the reason I pass them unto you with hope that you'll enjoy them as much as I do. I've also been blogging long enough to realize that those of you who've stuck it out with me here over the past eight years through the veritable ocean of trials and tribulations (that have veered me off course on occasion during that time), you're pretty much on the same wavelength as I am, entertainment-wise, and there's still more than a few of us out here to celebrate our fascination with these films.So, let's keep doing it until we can't anymore, huh? Check this one out.
Not concerned with breaking it, Marie (Edwige Fenech) shakes it in gold lame' bells, no less.