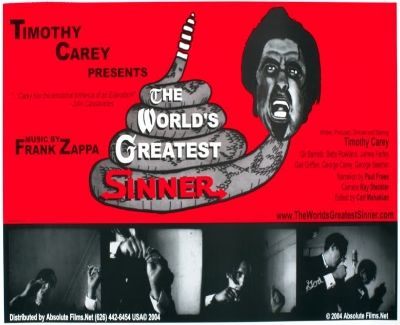 Coming off the most prolific October for reviews since the outset of Wopsploitation (seventeen entries! Chi minchia!) when my chin had no grays on it, the question soon arose, what could I do to top that? Well, I could always write about a movie that some have called the greatest ever made, slagged off on national television by legendary musical oddball, Frank Zappa, who coincidentally provides the film with it's soundtrack, after having musically played a bicycle (!) on the Steve Allen Show in 1963. The lost film, championed over the years by such cinematic luminaries as John Cassavetes and Martin Scorsese, was the five year labor of love of one Timothy Agoglia Carey (forty year, really, if you consider that, unable to afford a proper director, he edited and re-edited the film himself, over and over up until his death in 1994), an unforgettably crazy and creepy supporting actor par excellence whose amazingly original screen presence and style dictated that all audience focus was upon him, whether he was picking a fight with Brando in One-Eyed Jacks (1961), kidnapping Linda Evans and taking her back to his boobie house in Beach Blanket Bingo (1965), or having an axe fight with Peter Graves in Bayou (1957).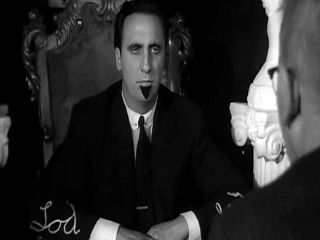 He must be God, he's got it embroidered on his blazer sleeve.
A forty-something insurance salesman named Clarence Hilliard (Tim Carey) who's become jaded by his mundane existence, is fired from his job after having given all of his co-workers a sudden day off. Tired of being a nobody and seeking recognition and power, he then has a revelation that God and man are one and the same, changing his name to "God". With the help of his trusty gardener(!), "God" Hilliard creates his own selfish religion, practiced by super human beings who once underestimated their own greatness, before realizing that they are immortal thanks to Hilliard's sermons, which come in the form of "God" himself, first shouting into a bullhorn on crowded street corners, spurring them to go out and destroy property, then later, decked out in an Elvis-ish gold lame' suit and molto fake goatee, fronting a tone deaf, rhythmless rock and roll outfit, while itching for fleas, rubber legging, wriggling on the ground like a spastic, and repeatedly screaming, "Please! Please! PLEASE! Take....my hand!", to the frenzied audience, while his printed gospel is handed out by assistants to the crowd.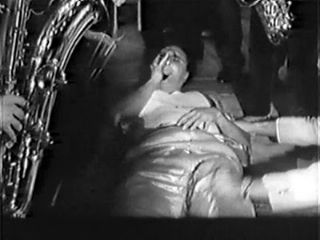 The "I've got fleas / Rubberleg dance" is featured here.
With his crazy rock shows, Hilliard attracts the attention of an unscrupulous political manager, who convinces him to drop the band, and instead run for the presidency. On the campaign trail, "God" seduces teenaged girls and old biddies, the same, even exclaiming, "You remind me of my mother...", before swapping spit with an octogenarian member of his constituency, even advising non-believers to commit suicide. His new spirited outreach program to groupies sours his wife towards his ambition, sending their daughter in, with bible in hand, to try to reason with her father, who's only angered at their failure to recognize his obvious divinity. He sends them both packing. Once self-doubt arises inside "God", his political campaign starts to lose steam, with claims that he is not who he claims to be starting to be heard amidst the flock. He utilizes a church visit to reaffirm his own greatness, noticing the parishioners attention to the communion ritual, leading him to stealing one of the wafers and perforating it repeatedly with a pin. When no blood runs from the host, he becomes disillusioned with his own divinity and religion, in general. In the end, he fails as a God, but manages to secure himself a personal pitchfork as the world's greatest sinner, property of the horned fella downstairs.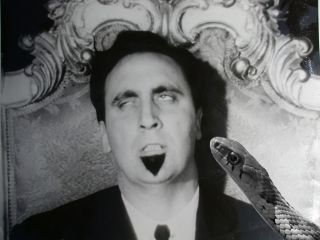 "Does the dark lord and master require another frozen rat?"
From the second I first saw him, I was instantly transformed into the biggest Tim Carey fan in the universe, hunting down even his most brief appearances in movies, and mammoth body of television work, encompassing memorable turns in everything from Rawhide and Gunsmoke to Baretta and Starsky and Hutch. That's the thing about him, whenever he's in the frame, no matter what he may be saying, in his remarkable New York teeth-gritted slur, he owns it. Sinner is no different, though the production values are penurious to say the least, and the supporting cast ranges from abecedarian to neophyte at best, you will be absorbed into every frenetic frame by Carey's astonishing performance. That he's not yet the cult star of all cult stars only proves how unevolved the current cinematic climate is, and how far we have to go. Here's hoping that Carey's son, Romeo, who owns the rights to the original director's cut of the film, releases it someday so that the world can fully appreciate his father's vision. On the scale, four Wops, and required viewing for midnight movie maniacs everywhere.
"Please, please, PLEASE...TAKE...MY...HAND!"