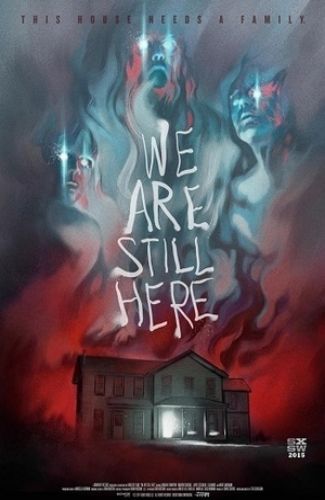 ...Actually wore my glasses out yesterday while running some errands, and despite looking like an egghead the whole time, I'm sure, I managed to pick up a handful of movies along the way, tonight's review included in the day's bounty. I'd put it back on the shelves once or twice on previous outings, thinking it was maybe just another ghost-laden haunted house movie, heavy on the cg, light on the scares, because frankly, that sort of thing really does nothing for me and many of you, I'd imagine, and is nearly as unimaginative as fucking zombies by now. My horror preference is primarily vintage seventies and eighties fare, and due to that, I'm reluctant to give anything new much of a chance, like a high chair baby sending a bowl of broccoli crowns spiraling to the floor with a well-placed shove.Not the case with this, the first full-length film directed by Ted Geoghegan, a well-crafted, splattery modern homage to one of my favorite directors, Lucio Fulci (of course), and very reminiscent in style and atmosphere to his own Quella villa accanto al cimetero aka/ The House by the Cemetery (1981).
Leanna felt a strange calm wash over her as she planted the claw hammer in Victor Newman's skull.
The Sacchetti's, Paul and Annie (Andrew Sensenig, Barbara Crampton) but no Dardano/ Danny, have recently moved into a new home in a remote New England village, still coping with the sudden death of their son Bobby in a car accident some months earlier, but things go from bad to worse in the former funeral parlor of a man called Dagmar, who's own luck went tragically south over a century earlier, when the villagers suspected that he was burying empty coffins and selling the cadavers to Chinese in Boston (!), according to visiting neighbors, Dave and Cat McCabe (Monte Markham, Connie Neer). Despite nearly getting Joe the electrician (Marvin Patterson) electrocuted in the cellar, the Sacchetti's invite close, pot smoking, psychic friends of the family, Jacob and May (Larry Fessenden, Lisa Marie), to stay for the weekend. Their son, Harry, is also driving up with his girlfriend, but the cellar is ungodly hot, and there's something down there in the smoky shadows that's possessive of the old place to the point of brutally violent murder.
"The candles! A perfect note of pear, plum, and grape with hints of spice and cardamom!"
While the folks enjoy a meal at the town's only eatery/bar, complete with xenophobic stares from every other patron in the place, Jacob's son and his squeeze arrive at the house, make themselves at home with some whiskey and FM radio goodness, and get killed, causing May's psychic lightning rod to go haywire. The next day, when the girls go into town for groceries, the fellows stage a secret seance, and unwittingly get Jacob possessed by the spirit of Dagmar himself, who, after eating a sock that Paul has stuffed into his yap as a gag, and spittingly stating his case to the horrified mortals, jams a fireplace poker into Jacob's eyesocket as an exclamation point. When they try to flee, May gets her headpiece Gallaghered by a shotgun-wielding Dave, who's arrived with most of the townsfolk, to make sure that the darkness nestled in the cellar of the old place gets its thirty year hunger sated, one way or the other. The final reel, well, you're going to have to find out for yourselves how it all turns out, and if I'm any judge of these type of movies, I think you'll be glad you did.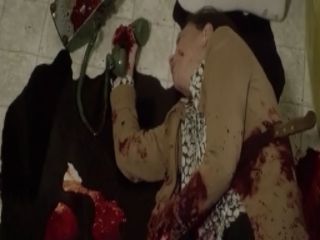 "Bumpus...hounds...got into... our strawberry...preserves..."
You'll remember the delightful Barbara Crampton from things like Re-Animator (1985), Chopping Mall (1986), From Beyond (1986), and more recently, Tales of Halloween (2015), though she'll always be Leanna Love from Young and the Restless to me, thanks to the television set on the bar in the kitchen that Mom always had on while she did her thing everyday. Lisa Marie, on the other hand, is a model/actress you've seen in things like Ed Wood (1994), Mars Attacks! (1996), Sleepy Hollow (1999), Silent Night (2012), and the aforementioned Tales of Halloween, while Lancaster native, Sensenig turns up in Dylan Dog: Dead of Night (2010) and Don't Look in the Basement 2 (2015). Did I just type what I think I typed? Sequel to a big screen remake of a cult tv classic that never had a sequel. What the actual fuck, as they say these days. Anyway, I shouldn't have to tell you (but will, regardless) how much I enjoyed Still Here, it's a potent blend of atmosphere, jump scares, excellent effects work from Cat Bernier and company, effectively moody cinematography from Karim "Subconscious Cruelty" Hussein, and competent performances from the cast, all mashed up into a very good horror movie, indeed. One Fulci'd be proud of. Three Wops. See this.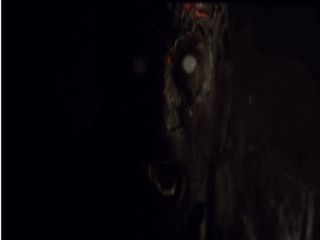 ...I'm livin' for givin' the devil his due, and I'm burnin', I'm burnin', I'm burnin' for youuuuuu