I've gotta admit, by the time director John Landis was busy churning out mainstream comedy fare like Spies Like Us (1985), Three Amigos! (1985), and Coming to America (1988), I wasn't really paying attention, and had kind of lost sight of him altogether after Twilight Zone: The Movie (1983). In fact, I had no idea he'd made tonight's review until I saw the one sheet upon the wall of a certain vampiric witch I had been "staking down", so to speak...ahem, back in the nineties. Another twenty years would pass before I'd give it a look; nothing personal, I'd gotten deeper into obscure Italian directors by then and this effort, also known as "A French Vampire in America" (why stop there, says me, An Albanian Ghoul in Senegal is just screaming to be crowdfunded...) , was just one of those under-the-radar movies that I let slip by, for whatever reason.
Marie (Anne Parillaud), a beautiful French vampire in America, with exquisite taste in food.
Marie (Anne Parillaud), a vampire starving for both sex and blood, sets out to "eat Italian" one night, and in doing so, naturally sets her sights on the local Mob, as headed by Sallie "The Shark" Macelli (Robert Loggia), coincidentally the very same crime syndicate that undercover cop Joe Gennaro (Anthony La Paglia) has been targeting. When she charms Tony (Chaz Palmintieri) out of his precious red stuff, using a shotgun afterwards to remove any tell-tale signs of vampirism and mimic a mob hit, Gennaro gets fingered by the press at the crime scene, effectively blowing his cover. She then targets The Shark himself, while he's putting the make on her at the crew's hideout, but she doesn't finish the job, and the neck-ravaged Don reanimates from his slab in the city morgue. Her further pursuit of the loose end mafisoso is temporarily thwarted by the persistent police officer, who tails her all over town, discovering that she's far different than the average beautiful, under dressed French girl with a yap full of coagulating blood, in the process.
"You call this capocolla?!!? Madonna!! Where's the red peppers?", snarls Sallie the Shark (Robert Loggia).
With his trusty lawyer, Bergman (Don Rickles) in tow, Sallie quickly adapts to life as one of the undead, greedily sucking the blood out of frozen chunks of meat, rapidly healing significant body wounds, and jumping from building tops like an Italian flea. Meanwhile, Marie comes clean about her condition to her police pursuer, and after allowing him to handcuff her from the rear, she finally convinces him to wax, plus tax her, solving her other missing desire from afterlife. She informs Gennaro that she has to re-kill Sallie before he can feed, otherwise his power will equal hers, but unluckily for her, after taking shelter from the destructive daylight in a frozen meat locker, he's already dined on Bergman, and started adding his favorite goodfellas to his undead organization, two by two. Can the cop and the countess reel in the Shark and his thugs before it's too late? Will you ever see a vampiric Don Rickles agonizingly crumble into burning ashes in another movie? The answers to these and other pertinent questions can be answered when you screen this one for yourselves...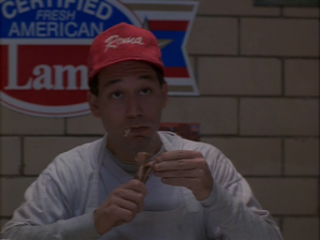 "I'm all outta 'Rack of Campbell' back there, Boss...", notes the Roma Meats Man (Sam Raimi).
Like any Landis movie, there are genre celebrity cameos a plenty. Look for the likes of Tom Savini, Forrest J. Ackerman, Linnea Quigley, Frank Oz, Vic Noto, Sam Raimi, and even Dario Argento himself, among the director's fanged frames here. Besides Loggia AKA/ "Feech La Manna", there's also an awful lot of Sopranos regulars (naturally) like Tony "Paulie Walnuts" Sirico, Tony "Carmine Lupertazzi" Lip, and David "Richie Aprile" Proval, to name a few. John allegedly took on the film after Jack (Alone in the Dark, The Hidden) Sholder left the production, and his own Oscar (1991), a Sly Stallone mafia comedy, tanked like an M4 Sherman at the box office. Landis ultimately replaced that director's choices for the lead roles, in Lara Flynn Boyle and Dennis Hopper with Parillaud, who you'll remember as La Femme Nikita (1990), and Loggia. Though, it'd be hard to mistake Blood for an immortal genre classic, or even one of Landis' best works, for that matter, it certainly never bores in its surprisingly even-handed delivery of the bloodsucking goods. It scores an average two Wops on the scale, but don't let that stop you from checking it out, just the same, you might even like it more than I did.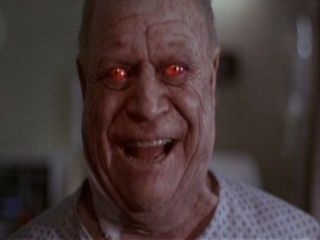 "I haven't done meth this pure since that Vegas bender with Humperdinck in '07!", exclaims Mr. Warmth.