Before he got freaked out by tigers in Apocalypse Now (1979), before Nic Cage romantically rendezvoused with Deborah Foreman in his health food store in Valley Girl (1983), and before he dealt in queer-stomping Vietnam jungle boots in 1993's Falling Down, Frederic Forrest lent himself to this second installment of Larry Cohen's micro-budgeted belligerent baby trilogy, 1978's It Lives Again. Also on board here are Kathleen Lloyd, who you'll remember foolishly swore at Satan's sedan in The Car (1977). She also starred opposite seventies teen dream, Leif Garrett, in Skateboard (1978). John Marley, of The Godfather (1972), Deathdream (1974), and even The Car (1977) fame, adds more dramatic validity to this effort than it deserved, really. Still, we press ahead...
"You see Mork leave the planet last night? Nanoo-nanoo, man...", quips Frank Davis (John P. Ryan).
As the Scott's (Kathleen Lloyd, Frederic Forrest) watch the last of their baby shower guests leave the premises, a lone hanger-on named Davis (John P. Ryan) relates his awful story (see: It's Alive (1974) for details) to the couple, warning that they, too, are on the dawn of becoming parents to a homicidal mutant with a penchant for neck-chewing, and the government has been secretly monitoring their pregnancy with full intent to abort the feisty little rascal with a flurry of bullets the second he enters the world. It would seem that Davis is in cahoots with a group of doctors who see untapped potential in the bellicose babies, and have two other gore-geous little bastards caged up for monitoring and experimentation at a location to be named later. Leading the charge of infant-snuffing cops is a fellow named Mallory (John Marley), who seems to derive special joy from extinguishing the mutant babies' lives for some unknown reason, and his zeal unwittingly gets him held at gunpoint by Davis at a hospital full of cops and SWAT team members before he can carry out another death sentence, even clearing an escape route for the rogue doctors' eighteen-wheeler birthmobile. Of course, the Scott's little fanged darling is miffed-in-a-minute ornery from the outset, and never met a throat he didn't want to pounce on and gouge open with his muscular claws n' teefers.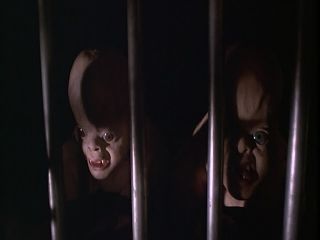 "...I snuck a teething ring in when the c.o.'s back was turned. I'll let you chew on it for a loosey."
When Jody ducks out of a theater (just as Bruce Lee's about to snap Jackie Chan's neck in Enter the Dragon (1973), too. How fuckin' cool is that?) to hop a city bus to meet up with her husband at the aforementioned location, her purse has been bugged by her own mother, who's adamantly anti-monster and working with the coppers, who are zeroing in on the morbid secret nursery coordinates by the minute. Meanwhile, the other two monster babies (Adam and Eve, lulz) aren't much in the mood to crawl through a maze in the hideout basement for analysis, and break the fuck out like the measles, chomping any neck in their path, and causing the usual one or two drops of blood associated with such attacks, by now. The Scott baby martyrs Davis in the woods after he helps the child escape the safe house before they can flood the place with gas, wasting his two mutant siblings in the sudden raid and further polarizing his parents; mom wants to show him love, while pop has sided with Mallory and company, eager to baptize his new son with bullets. How does it all wind up? That's for you to find out when you hunt down a copy for yourselves.
"Scott, this is Kevin...my bike is broken. Can you help me? Ovah."
I picked this one up on a double disc with the even worse second sequel, It's Alive III: Island of the Alive (1988). Must be a sliver of masochist in me, after all. Cohen, who offered up blaxploitation gold in Black Caesar (1973) and it's rapid-fire sequel, Hell Up In Harlem (also 1973), would go on to take the chair on efforts like God Told Me To (1976), Q (1982), and 1985's The Stuff, unforgettable stuff, indeed. You'd definitely think FX God Rick Baker had grown too large for a production like this by 1978, having already tackled projects like King Kong (1976) and Star Wars (1977) in the four year interim between the 1974 original and It Lives Again. Apparently not. Still, the man would again give us jaw-dropping, eye-popping stuff in genre classics like Altered States (1980), An American Werewolf in London (1981), Ghost Story (1981), and even Videodrome (1983), so let's not make too disparaging an adjudication on him here. On the rating scale, It Lives Again matches the score of the original, an impressive feat if said score hadn't been a single Wop. But it was. And it still is. Approach with caution.
"I'll whack you execution style if you don't turn off Anne Murray already...", warns Scott (Frederic Forrest).