Tonight we'll focus on the 1974 cult classic from the filthiest people alive, as directed by he of the pencil moustache and Kleenex box shoes clan, John Waters.After forcing audiences to leave the theater ranting and raving about his prior movie, Pink Flamingos, which ends as Waters' reverse sex symbol, Divine, scoops up a steaming dog turd and pops it into his/her/its mouth.Hard to top that kind of climax, I'm guessing, but somehow, he did just that a mere two years later with another salaciously uproarious excursion into the bowels of poor taste that he originally titled "Rotten Mind, Rotten Face", and dedicated to imprisoned Manson family member, Charles "Tex" Watson, who made a wooden helicopter(!) for the director that appears in the opening credits.As is always the case with a Waters movie, the dialogue is a fucking scream(Waters wrote, edited, produced, directed, and handled the cinematography himself) and the meretricious set pieces and makeups ably handled by Dreamlanders Vincent and Ed Peranio, Van Smith, Chris Mason, and David Lochary, respectively.Speaking of Dreamlanders, this would be the last time that
all
of the original coterie of Baltimore-based creeps would be assembled for a non compos mentis Waters production, as male lead David Lochary would overdose on PCP(!!), allegedly falling on a glass and bleeding to death(!!!) in his New York apartment just three years later at the age of 32.Oh
God
, how heartwarming.The original 89 minute 35 mm print was later restored to include an extra eight minutes, as the film had been seen in Europe all along, with a remixed stereo surround soundtrack, for release as a double feature dvd, paired with 'Pink Flamingos', though this package has long since gone out-of-print and isn't easy to find.Onward!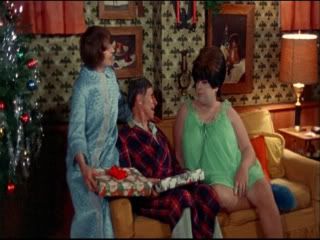 "Won't you join us in a carol before we open our gifts?""Oh, Mother..."
We're introduced to Dawn Davenport(Divine), an overweight juvenile delinquent and shit-kicker with dreams of fame, as she receives failing marks in Geography at an all girls' school in 1960's Baltimore.The rotund troublemaker passes notes, lies, cheats, and fights in class, when a decent girl who's only looking for a good education(!) rats her out for eating a twelve inch meatball sandwich right in front of her terrified classmates.When she receives the wrong pair of shoes for Christmas("What are THESE?!!!"), she throws her own mother into the Christmas tree and sobbingly runs off to hitch a ride from a balding, overweight scumbag named Earl Peterson(also Divine) in an Edsel, who proceeds to fuck her out on a skeevy mattress on the side of the road(!!).After Peterson tells her to get the hook, Dawn is forced to give birth to her daughter alone in a fleabag motel, severing the umbilical cord with her teeth(!!!).We follow Dawn in a late sixties montage through her career choices: waitress, go-go dancer, streetwalker, petty thief.Her daughter, Taffy(!), is an eight year old brat who incessantly repeats nursery rhymes while jumping rope in the house.Dawn does what any good mother would do, first beating her with a car aerial, then chaining her in the attic with the help of her two cohorts, Chiclet and Concetta(Susan Walsh, Cookie Mueller).She soon finds herself amorously bound to a hairdresser named Gator, who's Aunt Ida(Edith Massey) is an obese old fag hag that dresses like a dominatrix and pleads for him to be a homosexual("Oh honey, I'd be so happy if you'd turn nellie.").Gator works for the Lipstick Beauty Salon, as owned by the Dashers, Donald(David Lochary) and Donna(Mary Vivian Pierce), a haute couture couple who inject liquid eyeliner for kicks; Donald pays a fortune for his wife's clothes, while Donna rarely eats any form of noodle.It's not long before the flamboyant pair enlists the criminal mind of Davenport for an artistic venture that begins when their flashbulbs bathe Davenport as she breaks a chair over her daughter's back in a fit of dysfunctional rage and poses atop her unconscious frame like a victorious big game hunter.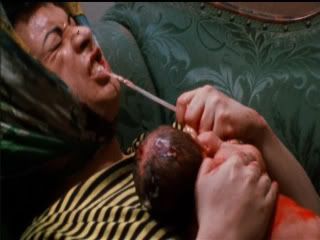 Dawn Davenport(Divine)-1, umbilical cord-0.
When Dawn divorces Gator and has him fired from the salon after catching a young hippie chick riding his face, he goes to Detroit to be close to the auto industry(!), sending Ida into a vengeful tizzy, as she splashes our heroine in the face with disfiguring hydrochloric acid.The Dashers convince Dawn her hideous face is the embodiment of true beauty, abducting Ida and imprisoning her in a giant birdcage in Dawn's new digs.As Davenport chops off the elderly woman's hand, the Dashers feverishly snap away, paparazzi-style.Meanwhile, Taffy(Mink Stole), not content to spend her mother's money playing car crash with bloodied mannekins in the living room anymore, has grown into an annoying Hare Krishna after avoiding both Gator's and Earl Peterson's sexual advances(she stabs the slobbish perv/birth father to death with a condiment-stained steak knife), and selflessly giving Ida a hook for her bloody stump.Dawn strangles the shit out of her until she's dead for her spiritual awakening.With exhibitionism flowing through her veins, Dawn puts on a filthy stage show for a cheering seedy backalley crowd where she deep throats a fish, and flops clumsily around in a playpen before exclaiming excitedly, "I blew Richard Speck!" then opening fire on the crowd and killing her fans for art.On trial for murder, she soon finds all of her former entourage willing to testify against her to save their own skins.Finally, she's walked to the electric chair, delusional to the very end, treating her own execution as the ultimate press opportunity.Bzzzzt.The end.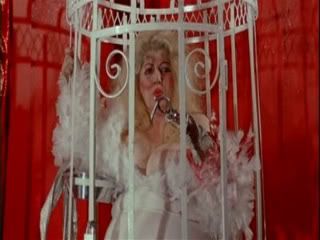 "Let me out of this cage, little Taffy...and I'll give you a cookie!"
Waters, who
almost
smokes as much as this guy over here, would follow this one up with 1976's Desperate Living, a deliriously twisted fairy tale, before moving on to more mainstream friendly fare like the Odorama
epic
, Polyester(1979) and Cry Baby(1990).For those who've championed the Earl of Puke from his humble 8 mm backyard beginnings in the mid-sixties, his current Hollywood acceptance is especially satisfying, and though his newer films may not revel and frolic in bad taste as they once did, you can usually catch a quirky line of dialogue or two that reminds you that
he
hasn't forgotten where he came from, either.Personally, I think tonight's review might be my favorite John Waters movie of them all, at the very least, an excellent introduction for novice filth mongers looking to get acquainted with his disturbed, side-splittingly hilarious cinematic visions.On the scale, Trouble scores a perfect four Wops as it proudly strangles its viewers in a finely-woven noose of filth, for art's sake.Highest recommendation.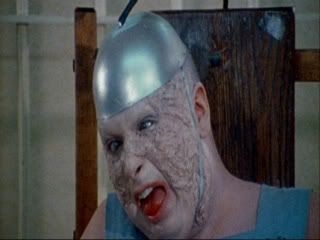 "They say I'm a skank, But I don't care... Go ahead, put me In your el-e-ectric chair!"