When last we left the lucrative-but-erratic Friday the 13th series and their indestructible murder-minded mongo in the iconic goalie mask, they'd just laid the time-tested tongue-in-cheek sixth installment on us, turning Mr. Voorhees into a homicidal zombie via lightning rod to the uproarious rapture of Jason-junkies worldwide.With renewed popularity abound, they handed the next installment over to John Carl Buechler, the man in the director's chair on movies like The Dungeonmaster(1984), Troll(1986), and Cellar Dweller(1988), as well as special effects technician on Ghoulies(1985), Troll(1986), and The Garbage Pail Kids Movie(1987), who'll probably be remembered for putting stuntman/actor/juggalo(!) Kane Hodder behind the mask for the first time after working with him on Prison a year earlier, a role he'd reprise four times to date.Hodder, in turn, would allow himself to burn controlledly on camera for something like forty seconds straight in the production, setting an impressive stunt record that stood for years in the industry.As was the case with most of the movies in the series, the censors were merciless to Buechler's entry, excising much of the gut-busting, eye-piercing, head-pulping effects that the director had lined up for audiences in part seven, leaving a mostly bloodless, incoherent mess in their wake.To any discombobulating fans inexplicably championing this entry out there, rest easy.I'm not gonna call Pt. VII the worst movie of the series(Friday the 13th Part VIII: Jason Takes Manhattan) or even the second worst(Jason Goes to Hell: The Final Friday), but
third
worst isn't at all outside the realm of distinct possibility here, while respectfully recognizing the epic levels of suck generated by Friday the 13th Part III in 3D, of which I've still got the original special goggles you can still catch a whiff off of.Onward.
See the senseless siren somniferously slain and shivved to a sapling.
We meet ten year old Tina as she bears audio witness to her alcoholic father slapping her mother up like a favorite smack vein, as the psychological damage of said dysfunctional event proves to be a catalyst for the young girl's intrinsic psychokinetic powers, also sending her mother-denting dad to an icy death at the bottom of the Crystal Lake drink in the process.Four years later, with her mother(Susan Blu) and doctor(Terry Kiser) springing her teenaged guilt-laden ass from the nut house and revisiting the scene of the crime, Dr. Crews secretly hopes to harness Tina(Lar Park Lincoln)'s mental abilities and exploit them by keeping the teen's stress levels through the friggin' roof.On vacation right next door is an eighties Benetton ad's worth of stupid kids:There's the glasses-grilled wallflower Maddy(Diana Barrows), blonde sex kitten Robin, Eddie the sci-fi dork, David the burnout, Russell the prep and his girlfriend Sandra, Ben and Kate, the token pair o' dark skins, Melissa(Susan Jennifer Sullivan) the upper crust snotbag, Michael the birthday boy and Nick, his cousin-who's-got-the-hots-for-Tina-next-door.Ya know, while an emotionally overwrought psychic is focusing her powerful mind on the lake in attempt to ressurrect her dead father, I hope she doesn't inadvertently free Jason Voorhees, who's been chained to a boulder in the murky depths, instead.Wouldn't you know it?Tina tries to explain her mentalist faux pas to her mother and doctor, but naturally, neither of those motherfuckers are buying a yarn like that.Making up for lost time, Jason's folly quickly turns to homicide.Michael and his girl get tent spiked the fuck up, while nearby campers Dan and Judy get neck snapped/ beaten repeatedly against a tree in a sleeping bag, respectively.Carrie Wh-, uhhh, Tina doubts her own sanity after having bloody visions of the murders when she sends Dr. Crews to investigate, unaware that the shrink is busy covering up evidence, concerned only with his coming fame and fortune.
"Wake up!WAKE UP!You're gonna miss out on my flapjacks n' scrapple breakfast!"
Meanwhile Jason feeds Russell an axe, drowns Sandra naked, and when Maddy gussies herself up for some of David's attention, she gains Jason's instead, and he nails her wrists to a tree and gives her an extra mouth with a sickle for her troubles.Ben gets his domepiece smooshed, while Kate gets a noisemaker shoved headlong into her skull via the eyesocket.David gets shanked in the labonza and is relieved of his dome while Hockey-puss chucks Robin out an upstairs window.Tina and Nick are busy doing 'couple things', discovering bodies in the woods together, while Crews is bravely using the girl's mother as a human shield, eating tree saw-administered gut-splatter death himself, for his treachery.Tina stumbles upon her mother's lifeless form, then the neighbors' remains, and, to add insult to injury, Jason himself.The zombified mongoloid gets himself well clobbered by Tina's mind-driven items, including a porch(!!), but the net-minding psycho proves more difficult to dispatch than that, axing Melissa in her snobby mush, before the girl can mentally hurl the brute into the cellar, where she redirects furnace flame to ignite the gasoline she's just doused him with and set him ablaze like so many shut-off notices in Smith-tips' Bonfire of Irresponsibility.Of
course
to a reanimated maniac like Voorhees, this is a mere momentary setback, and he proceeds to KTFO Nick when Tina somehow manages to resurrect her dead father from the lake(!!!), and the waterlogged drunken wifebeater binds Jason in his chains and pulls him back into watery slumber, just in the nick of time.Tina later boasts of her latest quality Dad-time to Nick as they're both sped off in an ambulance.A hockey mask, broken in half, is found at the crime scene...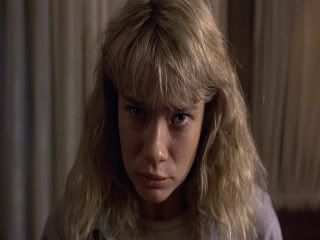 Lar Park Lincoln!Audiences loved her in this and House II:The Second Story(1987) aaaand uh...
This was the first Friday the 13th that I skipped out on seeing in the theaters, probably due to the impending waves of pleasure my teenaged lungs would have gotten out of the three packs of smokes I could have gotten with the ticket price, had I not gone.No-brainer, really, even back then.This would be Buechler's only Friday, as he moved on to helm Ghoulies III:Ghoulies Go To College(1991) next, seriously.Terry Kiser would follow his effort here with his career-defining turn as a partying cadaver in Weekend at Bernie's(not to be confused with the later Queers album) a year later.You may
not
have known that he also lent his image to Mannequin Two:On the Move(1991), but you do now.Most of the rest of the cast you could probably shell out mere sawbucks for signed 8" x 10"s and insincere Polaroids with, at the nearest obligatory horror con, if you wanted to.Hodder would portray Jason in the eighth, ninth, and tenth movies in the series, as well as roles in 2007's limp Ed Gein: The Butcher of Plainfield and Hatchet(2006)/Hatchet II(2011)'s Victor Crowley character(I've only seen the first thus far, with no great desire to catch the sequel in the near future, though Danielle Harris sure is swell to gander at).As far as Part VII goes, it's not likely to convert you into a Friday nut, but it probably won't send you running for: a)bucket b)box of tissues or c)nearest handgun with a clip fulla vengeance either.Sure, it sucks, but you knew that going in.It gets stamped with a single Wop of indifference.Flip a Wednesday evening coin.
"Whattaya mean you want your three fifty back?!!?"