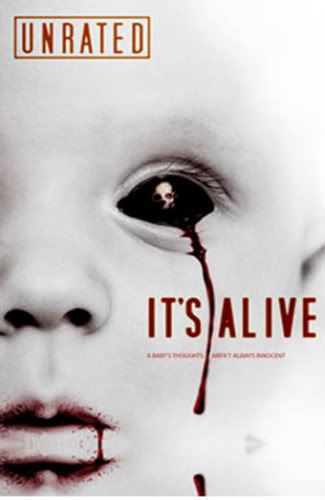 To the the wake that includes the two sequels that followed Larry Cohen's minor horror hit, It's Alive(1974), you can now add one pretty bad remake, courtesy of the man who was a second unit director on the legendarily pungent 1998 American Godzilla.Cohen himself gave the Rusnak production a seething review, saying, "It's a terrible picture. It's just beyond awful.".He ain't just whistlin' Dixie, either.Besides the little homicidal mutant, there's little discernible common ground between the movies save for the inconsistency that plagues both productions, with this one played completely straight with no comedy...or at least no
intentional
comedy therein.The imdb listing for Bijou Phillips, who's the female lead here in case you were wondering, calls the actress "multi-talented" and I'm gonna go out on a limb here in guessing her equestrienne, singing, and modeling skills far outweigh her acting chops.I honestly can't remember her in her other genre roles in Hostel:Part II(2007) or the Wizard of Gore remake(2007)(Okay, I haven't bothered with the latter one to date, sue me).Director Rusnak doesn't do much to hoist the production out of the gutter, generating no suspense whatsoever with his pedestrian style, further hindered by a mutt of a script that chucks logic and reasoning out the nearest open window.As much as I openly despise the vast majority of horror remakes the industry has been otiosely churning out in recent years, I really wanted to dig this one, but everything about it sucks like getting arrested the day after Christmas, and uh, yeah, I've experienced
that
, too, for those of you out there keeping score.Downward.
Safe to say, Shane MacGowan wasn't suckling at this particular teat.
Somewhere in New Mexico(
or
Bulgaria, if you happen to be paying attention), pregnant collegiate Lenore Harker(Bijou Phillips) skips out of her classes before the semester's end to have her baby with architect/beau Frank Davis(James Murray) and his invalid brother(Raphaël Coleman) at his disjunct little bungalow in Larkspur(again, Bulgaria, for anyone with eyes), amidst the protests of her bestie, who figures she's just gonna drop out of school once she's immersed in child rearing.After an abnormally rapid prenatal growth spurt and one strawberry preserves-splattered delivery room full of mutilated neonatologists, obstetricians, and nurses later, the unsuspecting parents take their new bundle of joy(deformed monster in some shots, completely normal looking toddler in others) home amidst the bustle of clueless investigators and police dogs.When the snaggletoothed little bastard isn't perforating his mammy's tits while breastfeeding, he's sneaking out of his crib off-camera to hungrily hunt, kill, and devour a pigeon.Even after Lenore catches him feeding on a cat, she throws the battered carcass into the trash and reprimands the baby for his predatory bloodlust like he's crayoned up a wall or something.It's only a matter of time before little Daniel re-expands his food chain to include eastern bloc extras with names that end in "ova" and "eva" who've had their voices ADR'ed to sound more American.The wheelchair-bound Chris returns books to the school library and interacts with classmates in head-scratching subplot sequences that look to have been mostly excised and left on the cutting room floor.What purpose does he serve in this movie, again?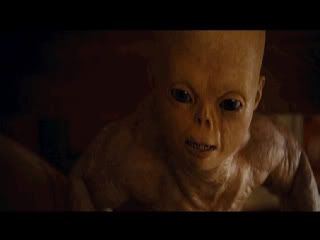 Then the buggy-eyed rubber baby bumped her...
After growing increasingly concerned about Lenore when all her attempts to call her go unreturned, Marnie decides to pay her old friend a visit, earning her a CGI-baby fist punch through her facepiece after she discovers her boyfriend's remains in the back of a pickup truck full of Christmas trees(He eats hot baby-powered CGI death just off-camera during a smoke break).When Lenore stumbles upon the carnage, she merely hides the corpses in the basement before her husband, who seems disinterested in any of the goings on(or maybe he's just not a good actor), gets home.After Sgt. Perkins'(Owen Teale) investigation leads him to take a deputy out to the Davis place, getting to meet the pint-sized purveyor of polishing off face-to-face while in his unofficial-looking squad car.Not only equipped with a ravenous propensity for flesh n' blood, Daniel can also apparently shrink to the size of a pea, saving the effects team a lot of unnecessary headaches in trying to depict the child's fiendish murders, which greatly resemble a Tazmanian Devil cartoon whirlwind.Somewhere along the line here, Lenore confesses to Frank that she took an abortion pill upon becoming pregnant, but the guilt of her actions led her to pray that the baby somehow survived, despite it.Some acting would have helped here.After a tensionless square off in the darkened basement, Frank manages to trap Daniel in a garbage can(!), but after dragging it off into the woods, he can't bring himself to shoot the infernal thing, and when he pulls the lid off, his son makes minced meat out of his labonza for the effort.Lenore fetches her child and returns to their burning house with it, as Frank and Chris marvel at the horrendous CGI flame effects from outside.Eighty minutes?Felt like
two
eighty, ferchrissakes.
CG-Ay yai yai.
As you may remember, we stamped a single Wop upon the
Larry Cohen original
, while the remake with the 'advantage' of all the advances in technology and filmmaking techniques that have come in the past thirty-four years
still
somehow manages to earn the same marks as its predecessor.Deceiving really, since the Cohen movie is infinitely more entertaining with its grindhouse charms and muddled effects than this recent puddle of abysmally-paced sludge, showcasing some unapologetically lazy cgi(whether you're talking the continuity-defying creature effects or greenscreened scenery outside moving vehicle windows, it's
all
pretty rotten) and lifeless acting performances whose 'suck' is intensified by some flaccid dubbing that rivals an early eighties Godfrey Ho production.It's a pity, too, because, in the right hands this one could've improved upon the original, instead of existing as yet one more crappy remake that insults the intelligence of horror fans worldwide.As promising as monster babies may seem for genre freaks, you're gonna wanna abort this one in the first trimester, folks, trust me.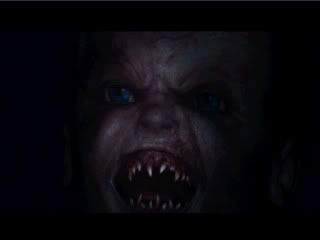 "I warned you about building a diversified portfolio, but you didn't listen to me!"