It gives me great pleasure to painstakingly peruse through one of my fave Fulci flicks of all-time for you here, tonight, a deliciously bleak and violently misogynistic giallo, oft-shrouded in a swirling vortex of conservative controversy over its frank portrayals of violence against women.I shouldn't have to mention this, but such aggression towards chicks is
only
cool during zesty boudoir roleplay between two consenting deviate adults.Don't kill anybody.Now that we've gotten
that
outta the way, back to tonight's review.Papa Lucio also co-wrote the De Angelis production, known internationally as "New York Ripper"(as opposed to the
Pennsylvanian variety
), with Dardano Sacchetti and two others, hiring the late maestro Francesco De Masi to handle the soundtrack duties, while Rosario Prestopino, Franco Di Girolamo, and Maurizio Trani tackled the uber-graphic splatter effects abound in the film.To dress his grim stage this time around, Fulci enlisted the talents of Jack Hedley and Howard Ross, as well as familiar Italian names like Andrea Occhipinti, Alexandra Delli Colli, Zora Kerova, and Daniela Doria, while saving cameos for director Michele Soavi and himself, as always(this time he's the chief of police).Fulci's seedy vision was set upon almost immediately by censors' razor blades worldwide, with an uncut version
still
unavailable in
puritanical
Dear Old Blighty(even Blue Underground's bluray and Shameless Films releases have at least thirty-two of the nastiest seconds excised from their respective prints).In being a giallo that sinks unflinchingly lower into perversity than most others of its ilk, Ripper also stands as a cinematic record for all-time of the grittily glorious Forty-Deuce in midtown Manhattan, its porn parlours and grindhouse theaters now a mere memory for those who may have trudged its dirty sidewalks regularly(ahem)during the era.Don't
judge
me, you dicks...
Must be a cadav-rador retriever.Sorry, kids
.
At the base of the Brooklyn Bridge, an old man's dog fetches the disembodied, decaying hand of a murdered hooker instead of the stick he threw, leading Lt. Williams(Jack Hedley) to interrogate the ex-streetwalker's busybodied landlady, who claims she eavesdropped on a phone conversation a week earlier between the whore and one of her johns, who spoke like a duck.Meanwhile, a young bicyclist(Cinzia De Ponti) looking to vandalize the car of an angry motorist aboard the Staten Island Ferry, instead bumps into a mysterious stranger who quacks like a duck as he guts her like so much human tilapia with his trusty switchblade, leaving her eviscerated body in the vehicle for authorities to discover on the other side.After catching heat from the chief(Lucio Fulci) for leaking the threat of a serial killer to the newsmedia, Williams is informed that someone sounding like a duck called and asked to speak with him.Williams enlists the services of Columbia University's own leading psychotherapist, Dr. Davis(Paolo Malco), to help profile the brutal woman-hating murderer on the loose in the Big Apple.That night, a raincoated well-to-do New Yorker(Alexandra Delli Colli) watches a live sex show while tape recording the lovemaking sounds of the couple on stage, while in turn being watched by an eight-fingered undesirable(Howard Ross) who's sitting in the same row.Backstage, the female performer(Zora Kerova) takes a broken bottle from a quacking assailant to her vagina, and is slit open long ways, to her abdomen.Yiiikes.Williams is awoken from the arms of a prostitute named Kitty(Daniela Doria) by a phone call from the quacking ripper himself, confessing that he's struck again.Elsewhere, Dr. Lodge(Laurence Welles) approves of his wife's latest tape recording, settling in to listen to it, as she takes advantage of their open living arrangements to be goaded and sexually harrassed by young hispanics who big toe her pantiless pussy at a bar in a bad neighborhood.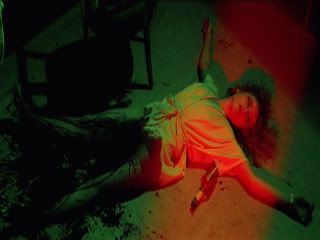 Quack!Quack!Quack!Quack!He broke a bottle and stabbed up her crack.
On the subway, Fay Majors(Almanta Keller) struggles to avoid the creepy advances of the same eight-digit creep from the stroke parlour, only to be attacked by the titular fiend in a dark alleyway, getting her arms and leg slashed in the process.Her boyfriend Peter(David Bunch) is surprised to hear that she imagined him to be the switchblade bearer in her groggy delusions when he visits her in the hospital the next day.Lodge's wife has taken up with the pervert with the incomplete mitt for some hotel room-based sadistic sex when she overhears a radio deejay talking to the 'New York Ripper' while describing the scumbag who's fallen asleep and left her tied to the bed(!).She manages to free herself and slip out unnoticed, only to be gutted by the real killer for her troubles.Williams and company are sure this porn-addicted Greek lowlife is their man, despite Davis' reservations that he doesn't fit the highly intelligent profile that he's built for the Ripper-at-large.Williams receives another phone call from the killer, who boasts that he's about to dedicate a murder to the lieutenant.The police trace the call to a remote phone booth where a two-way radio has been strategically placed, as the Ripper takes a razor blade to Williams' frequent trick, Kitty, splitting her nipples and midsection open before bifurcating her open eyeball with it(!!).Williams arrives just in time to find her mutilated body, but too late for the killer.When the eight-fingered pervert turns up eight days dead, a victim of suicide by suffocation, the authorities deduce that he couldn't have been the killer, since Kitty bought the farm only four days ago.We're then introduced to Suzy, Fay's boyfriend's daughter from a previous marriage, who suffers from a rare bone malady that has caused doctors to amputate her left arm and right leg.The cops speed to Fay and Peter's place, where duck-like phone calls are received and overheard.Fay slashes her beau with a kitchen knife, causing him to start quacking maniacally(ah-HA!), but before he can add her to his growing list of victims, Williams blows most of his grillpiece away with a well-placed bullet.In the ambulance, Davis explains Peter's underlying hatred for promiscuous women, since his ailing daughter would never be able to grow up and enjoy such freedoms herself.From the hospital bed, a tearful Suzy calls out for her daddy to answer the phone...
Waxing or laser removal might be a less painful option.Just sayin'.
I can still remember my next-door neighbor showing up at my patio door with a freshly rented Vidmark pan n' scan VHS tape, and the two of us heartily laughing it up at the quacking, in between gasps at the visceral midsection jabs dearest Lucio took at his audience in delivering radical blame to the very genre medium he happened to be working in here.Ripper is by no means a very nice movie, but it is extremely well-made(perhaps
too
well) and a neccessary evil for collectors of such savage cinema.Ignore the film's many nay-sayers and detractors, lacking the hindsight to see where Fulci was going with this one, and check it out for yourselves.You'll probably like it nearly as much as I do.On the scale, New York Ripper earns three vividly gory B.W.s, truly a one of a kind film as realized by a master of exploitative cinema.Highly recommended.
"La violenza è arte italiana!"