You might know of Richard Jobson as the front man for Scottish seventies punk outfit, The Skids, and if you do, then tonight's review, his 2003 directorial debut, might not surprise you all that much. What a well-crafted film he's presented on the other hand, both artistically stunning and thought-provoking, very well might. Based upon both his own childhood experiences, and those of his older brother, 16 Years masterfully tackles the interpersonal relationships of one character (ably acted out by Kevin McKidd, a recent favorite of mine), scarred permanently by a cycle of abuse and alcoholism, and the hope that can sometimes change one's perspective of things, poignantly framed against the working class backdrop of Edinburgh.
Walkin' round the streets and wondering what to do, these victims of a dole queue line...
We meet Frankie Mac (McKidd) as he's being kicked to death in a back alley by a couple of hard cases, before a flashback to his childhood shows us how the whole tragic story began. When his idol and father (Lewis Macleod) turns out to be little more than an adulterous pub warbler who goes up and down in alleys more than the trash collectors, young Frankie seeks solace in half-finished glasses of booze lying around his abandoned, loveless home. With alcohol as his co-pilot, he grows into the droogan leader of a small gang of traditional skinheads who kick up smart-assed bartenders and bully record shop clerks into playing Desmond Dekker instead of Roxy Music, clearly the stuff that hairdressers listen to. As Miller (Stuart Sinclair Blyth) delights in homo-erotically punking out rival freshcuts in the disco bathroom with his stiletto, Frankie takes notice of Helen (Laura Fraser), and begins to look for kicks of a different, less violent nature. Miller misinterprets his buddy's growing maturity for weakness, and a scrap between the two in the center of town yields Frankie a knife to the gut for his troubles. Life as a couple proves tougher than expected for Frankie when his ignorance and jealousy drives Helen away for good, and when Miller later makes the scene for round two, Frankie lets his booze-fueled demons loose, and bites a chunk of his former friend's face off in the melee. Maybe you should stop drinking altogether, Frank. Just a thought.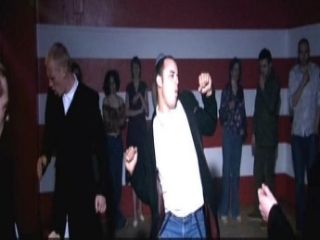 Skinheads say Paki's dem ah can't reggae. This fellow should look in a mirror, sometime.
While fighting to stay sober, Frankie meets and quickly falls for Mary (Susan Lynch), a fellow recovering alcoholic in his support group, who encourages him to take up acting as a hobby and helps him stifle the fallback urge to knock 'em back, one by one. When the acting troupe visits a pub one night, Frankie's old feelings of deception and betrayal emerge, as he wrongfully accuses the director of sleeping with his new girlfriend, and rejects her for a familiar glass of scotch. Before he can get it down his neck, he realizes the destructive path his past has taken him down, and calls Mary to apologize, but alas, he's spotted at the phone booth by his former gang, who chase him down the first reel alley to the same ignoble end: death by boots, and the cold, hard concrete.
You aren't giving Helen (Laura Fraser) the type of 'short, controlled bursts' she's looking for, Frankie (Kevin McKidd).
Bleak and beautiful, bittersweet and stylish, this is one that
anybody
with a love of good movies will want to snag a copy of, even if just to witness it once, as a rental. Some cynical readers (translation: trolls) might accuse me of inflating the film's rating score, due to subject matter I haven't exactly been the least unfamiliar with throughout my own personal life, but that's simply not the case here. It
does
go down like this, though, for a lot of people, who've replaced their own feelings and emotions with the contents of a bottle, and I can vouch for the film's honesty, having known too many friends and family members that never made it back from the brink of self-destruction, and having nearly done myself in the same way, on countless occasions. Highly recommended.
A lot of R's are being rolled here. I think it's called a 'Scottish accent' or something.