I can't imagine a more terrifying prospect to the self-engrossed "in crowd" of the late seventies than to discover one's feathered back 'Eight is Enough' 'do disaffiliating itself with their dome, due to some minor hallucinatory indiscretions from a decade earlier. That giant back pocket comb would be worthless, man, think about it. Jeff Lieberman of 'Squirm' and 'Just Before Dawn' fame knew the world didn't wanna boogie with wigged-out eggheads, and thus, tonight's review, an exemplary freak-out flick seasoned with laugh out loud camp, heavy Cronenberg vibes, and Hamill-coiffed disco dollies abound.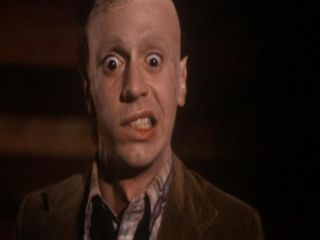 "Aaargh! What the hell happened to my Chachi haircut?"
A party at a cabin the woods goes sour when Frannie (Richard Crystal) gets his postiche pilfered in mid-Sinatra tune (what you trying to
say
over there, Jeff!), causing him to throw screaming girls into the fireplace like a real nut. When Frannie's buddy Zipkin (Zalman King) ends his zany antics by shoving him him in front of an eighteen wheeler, he's compelled to dramatically run around, acting like Columbo and looking like the kosher Sean Penn in uncovering the real reason behind his friend's impromptu homicidal schitz, instead of turning himself in and letting the cops deal with it. With his disco sweetie Allison (Deborah Winters) keeping the detectives at bay and a suit borrowed from an old doctor pal (Robert Walden), he ties the increasing number of baldy murders to a shady local politician named Edward Flemming (Mark Goddard), whose wife has been experiencing headaches and hair loss, herself, of late. The follicles may be thinning, but the plot thickens...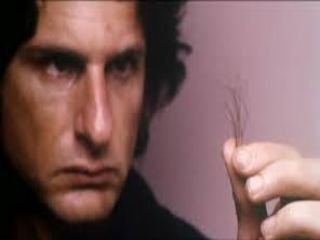 Toupee or not toupee? That is the question.
It seems that while all parties involves were enrolled at Stanford U, Fleming doled out some bunk chromosome-altering acid called "Blue Sunshine" that causes the dose-dropper to lose his locks, become aggro at loud noise, and in the end, homicidal. Before the whole delirious tale is hastily wrapped up with on screen character updates a la 'Animal House', you'll see crazy eggheaded broads chasing little kids around with butcher knives, burly Irish sportos-turned-enraged-lightbulb-heads hurling horrified groove thang-shakers through the air, polyester first, at an indoor mall discotheque (!!), Sinatra and Streisand puppet shows, and Zipkin rescuing Allison from the disco booth with an air gun full of tranquilizers. You might feel as though you've tripped your face off, yourselves, by the time the end credits roll here, so you might wanna check your collective hairlines in the mirror. You never know...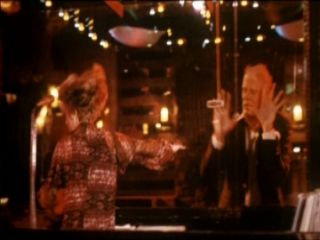 "...but you gotta play 'Night on Disco Mountain' for me, lady!"
It's really pretty amazing how engaging this one ends up being, despite the ridiculous mad baldies premise. I, too, was skeptical prior to my first viewing, it having been the last of Lieberman's films of the era I hadn't seen, but I came away impressed as usual, and it might be my favorite of his films, to date. I dunno, JBD holds special golden slasher era memories for me. We'll have to call it a toss up for now. On the scale, a Three wops triple-dipped blotter for your mind's eye . Recommended.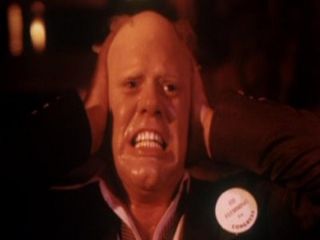 I'm the same way when I miss a spot, believe me.