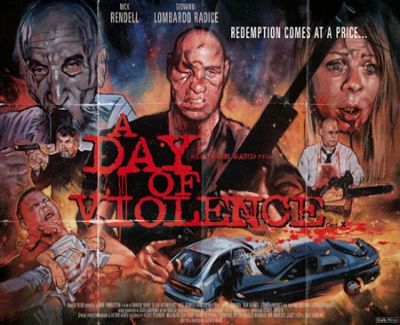 If crime drama was nourishment you could grub on, then British newcomer Darren Ward would be the equivalent of a back street cuisinier splashing the viewer's palate with bloody good eats, indeed. His second full-length feature plays like a low budget variant of his country's popular recent gangster epics like Snatch, Sexy Beast, or Gangster No. 1, but with a generous pinch of tribute to the Italian poliziotteschi of the seventies and eighties and a
dash
( this should read "lid fell off of container, entire contents dumped haphazardly into mixture", really) of Big S und Big V*, for that downhome genre gusto. Though some of the dialog circumvents the power of the film's splattery reveal in the end, Violence is a pretty engaging piece of urban thuggery with a solid performance from Nick Rendell in the lead, and a welcome appearance by the legendary Johnny Morghen himself as a bong-reefing deadbeat crud.
The ol' "Bbbbllllblllllbllbbbbllll plus tax" does 'em in every time.
We meet Mitchell (Rendell) as his body bag is unzipped in the morgue, his hulking, lifeless body with a middle piece missing; his voice providing the narrative for the circuitous tale of how he got there in the first place, which starts just twenty-four hours earlier...after some lengthy spirited fuckage with his bird, he pays a visit to the dilapidated porn-papered digs of Hopper (Giovanni Lombardo-Radice), a vulgar derelict who owes him some money, but discovers significantly more cash stashed away in the beanbag chair than he's been leaning hard on his mark for. Having already pinned the pleading transient to the counter top with a steak knife (!), the burly bonebreaker decides to blag the extra bucks, slashing the neckpiece of the stoner and making the dash. Ironically, he seeks employment from the very crime lord he's only just robbed, a cold cunt named Boswell (Victor D. Thorn) who bases his criminal organization out of a print shop(!!).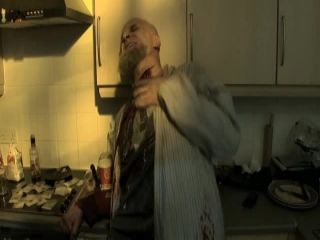 They went easy on you compared to the old days, Johnny.
Unbeknownst to Mitchell, Hopper captured his slayer's sticky fingers on a cell phone vid, which ends up in the hands of one of Boswell's cartoony bald thugs, who all seem to have dainty nicknames for some unknown, yet convivial reason. Having just escaped some eye-watering-ly remorseless torture at the mitts of the boss' skin-pated brutes, he returns to his lover's, ready to deliver the blood money over for motivations that I'll leave un-discussed here, so that you readers might be able to better appreciate the claret-splashed climax for yourselves.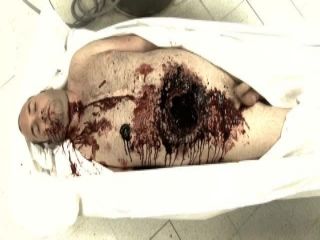 "At least he din't suffah."(Tony Soprano voice)
A stylized, nihilistic vision that's brimming with exploitative sex and violence for the gorehounds in the audience, and surely a sign of many more good things to come from this young director, who I'll be keeping my eye out for, as should you. On the scale, Violence earns a sterling score of tre wops. Recommended.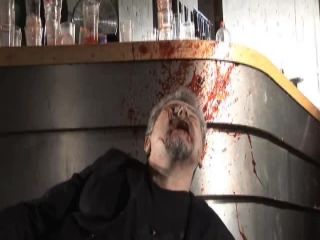 Faster than you can say Bob's your uncle and Fanny's your aunt, it's the new Pasta Slingshot...only from Montco.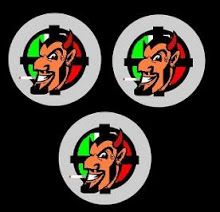 *Sesso e violenza, naturalmente.