Oh yeah, you can definitely hand over to me any vintage seventies groovy gothic mystery, Italo-Spanish style, with all fucking speed... like tonight's review, sort of a live-action Scooby Doo episode with jet-setting, chain-smoking, cerveza-swilling Spaniards instead of Scoob and the gang, as co-directed by F. Lara Polop and Pedro Lazaga, and the complaints will almost always remain minimal. Enjoying the classic "spooky old house" formula are the likes of the eye-catching Ida Galli (as Evelyn Stewart here), and the fiery Analia Gade, as well as Franco Fantasia, who you've seen before in Umberto Lenzi's Mangiati vivi (1980).
"Don't scratch my paint job!", warns Mr. Porter (Franco Fantasia) to the cameraman on the hood.
After a rousing round of road hog reveals that a cocky young fella's motorcycle is the preferred mode of transportation to hot brunette hitchhikers over goateed, flask-swigging, weak-hearted gents in driving gloves with Mustangs, a molto foggy shortcut leaves a group of travelers, an unstable redhead named Elsa (Analia Gade) who's prone to lengthy flashbacks, Fred (Andres Resino) the biker and his dark-haired ride-thumbing prize, Laura (Analisa Nardi), Mr. Porter (Franco Fantasia) the Mustang-whipping showoff, and a married couple called the Tremonts, all stranded together at a dark and mysterious mansion with adjoining creepy graveyard overnight until the treacherous fog lifts.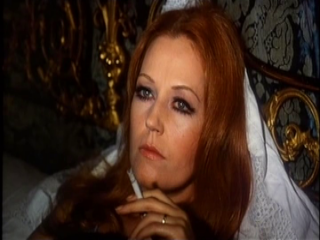 Don't mind if I join you in one, baby. That next puff, with the teetering ash, is gonna be so delicious.
The estate is owned by a shadowy creature named Martha Clinton (Evelyn Stewart) who boasts of an ancestor two generations removed being a vampire, or witch, or maybe both, and just so happens to be a dead ringer for the woman in the portrait hanging on the wall, who died thirty years earlier in a limousine accident, along with her chauffeur, both of whom have been inexplicably spotted by members of the group earlier that same night...Then there's that desperate scratching coming from behind the big heavy door that's bolted shut that Martha refuses to open, dismissing the noises as rats in the cellar. What unfolds next is a dizzying tapestry of superstition and investigation, deceit and homicide that assures the viewer that less people will see the following morning's first light than originally settled in for the night...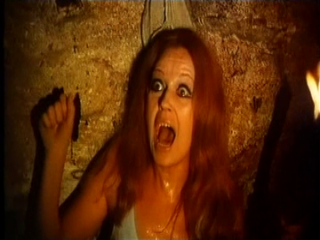 "This could be my last cuchi-cuchi!" screams Maria del Rosario Mercedes Pilar Martinez Molina Baeza (Analia Gade, and not really Charo).
This one turned up as the late, late movie once in awhile on local NY/NJ stations when I was growing up in the seventies, and I always fought back the sleep to watch it when I could. Genre nuts, be forewarned, though: The moody, minacious affair is certainly not bogged down by blood or sex, like many of its more radical European complements of the era, and the only genuine scare I experienced was a moment around halfway through where I thought I'd run out of cigarettes (perish
that
fucking thought, eh?), but to the filmmakers' credit, the retro-style ambience that's ladled on in their stead nearly compensates for the missing elements here. On the scale, a pair of Wops lurch forward out of the fog, worth a peek.
File under 'Worse even, than getting shot': Getting shot and falling backward, as your head lands in the fireplace.