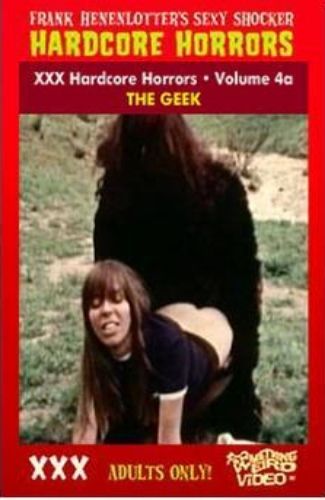 Tonight, I figured we'd gaze upon a double dip of exploitative shorts from the seventies, one's a forty-seven minute Bigfoot porn from San Francisco, the other's a sixty-five minute showcase of buxom brunette bombshell Erica Gavin, of Russ Meyer (Vixen, Beyond the Valley of the Dolls) fame, courtesy of Gary Graver, the cinematographer-turned-porn-director (as Robert McCallum) who supplied such carnal classics as 3 AM (1975) and The Ecstasy Girls(1979). Neither of tonight's films is particularly effective or well-executed, but Erica's monumental assets are always easy on the eyes, under any circumstances. And to call The Geek a bad movie is tantamount to calling Sophia Loren good-looking, retaining a nanoparticle of entertainment value with it's cheap, laughable fun.
"
Oof! I can't tell where your dirty nipple ends and the carbuncle begins..."
After some cunt with a posh British accent provides us with a half-baked sasquatch (or, as he's also known for this particular stag loop's intent and purpose, and
nowhere else
, "The Geek") back story narrative, three pairs of unsavory-looking couples (Ric Lutze, porn performer and longtime partner of sex queen Rene Bond, is in there somewhere) pull up in a white Volkswagen mini bus, backpacking over flat, rolling hills (and flat stock music), looking for Bigfoot and not afraid to whip their ugly hippie junk out on camera and have graphic sex that's as unsexy as it is repugnant to behold. As if the smell couldn't have gotten any worse, the titular horny Geek makes the scene, only he's less sasquatch than he is lanky hillbilly moonshiner in a fur coat with shoe polish on his face, hands, and feet. Of course, that doesn't stop him from fumblingly showing a couple of the hippie broads the joys of interspecies rear penetration. Not even Bigfoot can maintain an erection in this mess. And if you thought the sex sucked, wait 'til you get a load of the climactic fight scene between hippie menfolk and a three-times-horny Geek that makes a vintage Santo punch up look like Drunken Master II. "Someday I'm going to get that filthy animal!", exclaims one of the wounded campers, no less a filthy animal, himself.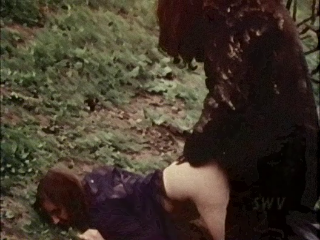 What an autographed copy of La Sexorcisto might have cost for a White Zombie groupie back in '71.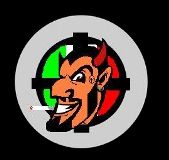 and our second feature...
During the intermission, where the ordinary lumber off to the concession stand for greasy snacks, watered down soft drinks, and those glow-in-the-dark footballs for late night sporto/meathead fun on the beach that they sold back when Kojak was king, and the extraordinary would be tagging into backseat dibs on bong packin'/sixer crackin'/honeydip mackin' action during the second feature, I just figured I'd take the opportunity to tell you that we offer zero of the aforementioned distractions of yesteryear here, as a movie review blogsite, and not an actual seventies style drive-in theater. Just to avoid any confusion...
Nevermind chuckling at the checkers, Wop'd drop the dimples between those swollen pimples.
The cooling calm of the ocean's rushing tide often inspires Erika (Erica Gavin) to strip naked and stretch her ample-assed curves in the sun, to the strains of a poor man's Bobby Gouldsboro, crooning a folky guitar tune about the brunette with epic ba-zooms. Then there's the resident cocksmith/erotic photographer named Steve (Walt Phillips) whose boobs out-style leads to several loose Lucys easily seduced into giving up the caboose, with hilarious X-rated piped-in pillow talk, to boot. When Erika socks it to him, though, her earthy pussy nearly blows the cat's mind, leaving his stable of go-go gals-on-the-side feeling less than appreciated, under the circumstances. The whole groove gets abruptly disturbed before the credits can roll, by a trademark seventies downer ending.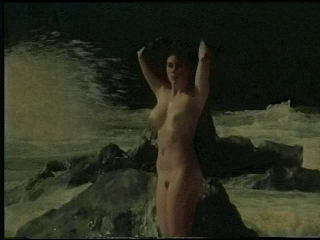 With those natural buoys, aquaphobia was only a fear ongoing to Erika's lovers.