Once upon a time, before the advent of interstate serial killers, teenage girls often took to the roadside, flashed some cleavage, and flipped up a thumb to get where they were going. Of course, the unwritten hitchhiking commandment was something like, "Gas, grass, or ass. Nobody rides for free.", so every excursion was a potential adventure waiting to jump off. In tonight's review, we document the madcap hijinks of a pair of hippie chicks, Sandra Peabody/Cassel, who you'll remember as the sweet young thing who gets her chest stiletto-autographed like a high school desk by Krug Stilo, in Wes Craven's seminal shocker, Last House on the Left (1972), and Chris Jordan, who broke into movies four years earlier in a production called Piss Orgy (1971), as they set out to do just that.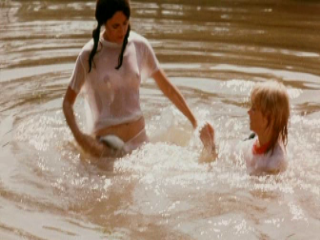 "Just look at that halitose halibut...and there's a fish in there, too."
We follow the misadventures of a perky pair of hippie ride-thumbers named Bird (Sandra Peabody) and Mouse (Chris Jordan, as Kathie Christopher) as they hitchhike their way towards liberation, sexual freedom, and total independence, finding fleshy fun and tumbling into titillating trouble along the way. They get picked up by a camperful of zooted dirt merchants, and when it looks like they have designs on jackrolling the girls, they sing a rancid hippie folk song instead, and proposition them to a life of groupiedom. The girls splash around in a stream, and Bird catches a trout with her panties. At a roadside diner, they get topless and embarrassingly go-go dance off beat in their drawers for food, which they don't even get, and rightfully so, they're horrible dancers.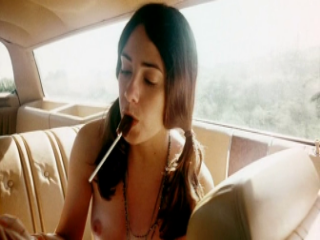 This particular Bird (Sandra Peabody) is fogging up my spotting scope.
Before the end credits roll, these two take turns balling a bald-headed travelling salesman, interrupt a crazed, escaped rapist as he's about to force his way onto a chick in a backwoods meadow (sheesh, there was a whole
lotta
raping going on in movies back then) by stripping down themselves and critiquing his form(!) before okie-doking his ass and tying him to a tree. A wealthy lesbian also succeeds in sapphically seducing the hitch-sisters before the whole zany affair comes to a head at a far out hippie orgy, with thrusting bodies strewn about the pad like mad, Dad. In the end, we see them hitching a ride once again, but when a male driver stops to give them a lift, they run to their convertible, and speed off, giving him a playful bird. Oh, those teenage hitchhikers.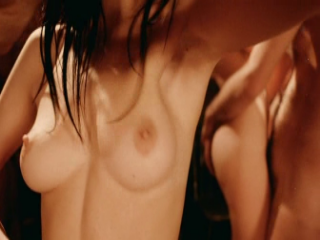 Though the groovy hippie orgy is semi-simulated, bouncy nipples like these will surely leave you stimulated.
This would be the last film appearance for the sweetly sexy Sandra Peabody/Cassel, who walked away from the industry to produce children's television and teach drama, after having scored seedy credits in things like Love-In 1972 (1971), Voices of Desire (1972), and Filthiest Show in Town (1973). Getting tortured/raped/murdered by David Hess turned out to be her high water mark, cinematically speaking. Chris Jordan, who was once married to porn star Eric Edwards (who scores an uncredited cameo in the hippie orgy scene, by the way) also co-starred with Peabody in 1973's Massage Parlor Hookers, and banged out (ahem) soft and hardcore work up until the mid-seventies in movies like NY sexploitation king Joe Sarno's Confessions of a Young American Housewife (1974) and Misty (1976), before passing away in 1990. Claire Wilbur, you'll recall seeing in Radley Metzger's Score (1974). On the scale Hitchhikers thumbs it's way towards a pair of Wops, worth a look if you dig this sort of thing.
"We've got our own transportation now, so, like, down with you, maaaaaan!"