Hearing Jack Palance repeatedly say "Chuku", the name of the African idol he worships and murders for in tonight's review, in his inimitable breathy Anthracite coal country whisper through nicotine-stained teeth, is probably reason enough to give this, director Freddie Francis' second 1974 effort (the other being a comedy called Son of Dracula, with Harry Nilsson and Ringo Starr), a viddy, for any fans of the late actor's work. For those that do seek out this groovy British tale of witchery and human sacrifice, there's a mixed bag of actresses/victims that ranges from Miss Nroway 1962, Julie Ege and Italian genre favorite, Suzy Kendall, to former British sex symbol and femme fatale, Diana Dors, as well as cameos from Trevor Howard and Hugh Griffith. There's also a wooden fork-holdin' bruh in the basement you're gonna wanna check out for yourselves...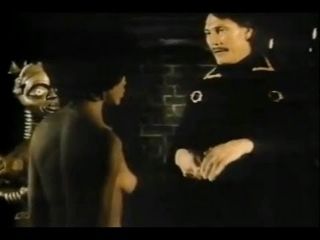 "After you finish your zany interpretive nude dance for Chuku, we could go out...for pierogies..."
Neal Mottram (Jack Palance) runs a quaint little curio shop in London, with the help of his young protege', a former rent boy, named Ronnie (Martin Potter). He's also the head of a groovy coven of witches who worship a wooden statue of an African god named Chuku in the shop's basement. When an ousted spellcaster shows up claiming ownership of the idol, Neal goes loud and aggro, shoving her onto the large sharpened fork the yellow-eyed statue holds. After dumping the corpse in a nearby river, he finds a hidden drawer full of gold coins in an old desk he's about to sell off, and naturally attributes the sudden good fortune to Chuku and his impromptu sacrifice to the wooden brother. He burns a bit of sacrificial crumpet (Julie Ege) that he picks up in a club, in the furnace downstairs, after she refuses to dance for Chuku, and sells a pair of Ming vases he previously couldn't give away, prompting more weird alone time in front of the statue. Empowered with the belief that the god is protecting him and making him wealthy, he concocts an elaborate alibi involving broken down vehicles, drugging an old flame named Dolly (Diana Dors), throwing on tennis sneakers, and tube hopping, all to provide his idol with another sacrifice, this time, his elderly aunt, who he stakes in the neck in her front lawn after scaring the shit out of her with a rubber Halloween mask.
"Nevahmind dese boolshit-ass sacrifices...put some honey barbecued pig ribs on dis fork heah!"
With the Bill convinced that the antiques dealer is the main suspect in the growing list of ritualistic murders, but unable to make the collar, due to Neal's attention to intricate detail, the detectives lean on Dolly and Ronnie for information, resorting to gay bashing the young associate, who descends into a mire of double scotches at the pub while being tailed. Meanwhile, Neal's set up another sacrifice to Chuku (take a dramatic pause...then whisper along...Chuku) in the form of a call girl named Sally (Suzy Kendall), who he pays twenty quid to choke the fuck out. With the cops closing in, Ronnie tries to take an axe to the idol, earning himself a bloody grill from a furious Neal, who promptly lifts him over his head and chucks him out the shop window in broad daylight (!). If you thought Palance was unhinged before, wait 'til you catch him in the film's finale, spinning around like an axe-wielding top, screaming at the top of his lungs at oncoming policemen, before finally offering Chuku (...Chuku...) one last sacrifice. Roll 'em...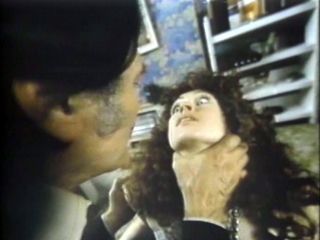 Off to Bedfordshire wiv 'yer: "I choke you for Chuku...he's cuckoo for cheeky muff..."
Francis would follow this one up with things like 1975's Legend of the Werewolf and The Ghoul, while Kendall appeared in such genre fare of the day as Psycho-Circus (1966), The Bird With the Crystal Plumage (1970), Torso (1973), and Spasmo (1974), among others. Venicia Day was an actress whose roles ascended from "2nd African girl", to "2nd Black girl", to "African Girl", to "Dancer", here. Former Bond girl Ege would also appear in Legend of the Seven Golden Vampires and The Mutations, the same year. Diana Dors had to be one of the most beautiful blondes of the 40's and early 50's in my estimation, but she'd come a long way from that era by the time of this movie. Still always great to see. Craze is packed with Palance, pretty girls, painful seventies gear, and bright red stage blood and makes for a pretty good time if you're into it. Three wops.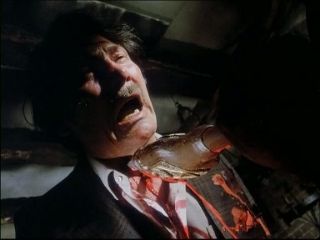 "I couldn't find your... ribs... a slab of Ukranian ham, seasoned in Lattimer Mines...will have to do..."