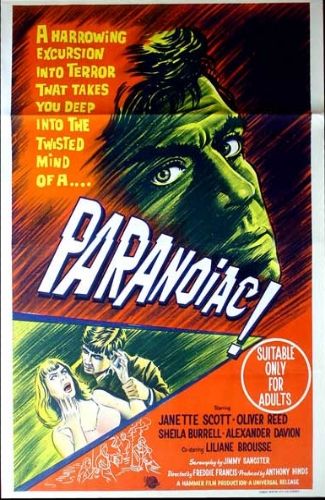 Tonight, we'll examine Freddie Francis' first effort in the director's chair for Hammer Studios, a tightly wrapped psychological thriller starring the always excellent Oliver Reed, as well as Janette Scott of Day of the Triffids (1963) fame. Closer in look and feel to the director's later film, The Elephant Man (1980), than the color-splashed genre romps the studio would come to be known for, Paranoiac wears a shroud of Hitchcock-esque deceit in weaving its potent parable of madness and money around Francis' richly framed black and white shots. They don't make 'em like this any more...
"We're out of brandy, Williams. I should think that you'll order eighty-four more cases immediately..."
We meet the affluent Ashby family as they attend a memorial service at church for their deceased parents, when Eleanor (Janette Scott) is struck with a sudden vision of her dead brother, Tony, who may or may not have committed suicide some eight years prior. Her brother, Simon (Ollie Reed), is a devil-may-care posh sot, who's taken to driving his E-type Jaguar through the estate's lush flower beds and drunkenly dart-fencing poofs at the pub, when he isn't downing brandy's and/or Eleanor's busty nurse, Francoise (Liliane Brousse), that is. It seems that Eleanor's grip on reality has been steadily slipping since her brother's untimely demise, so much so, that she even tries to copy him, jumping blindly from a cliff out of misery, only to be saved by...her dead brother, Tony (Alexander Davion)? Well this certainly fucks Simon's chances for an inheritance pay out in three weeks' time, doesn't it?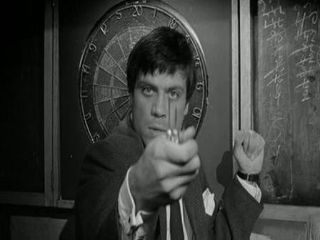 "The flights on these...I believe they're crooked."
Of course, as is usually the case when dealing with a taut British thriller like this, nothing is as it seems at first glance. Eleanor's condition improves with Tony's arrival, but Aunt Harriet (Sheila Burrell) and Simon aren't at all sold on the man's identity, calling in the family attorney Kossett (Maurice Denham) to test him with family trivia, which he passes with flying colors, thanks to a thorough prepping from Kossett's son, who's been skimming cash from the family funds for quite a while. It's a good thing that he's an impostor, too, as Eleanor seems to have fallen in love with him somewhere along the way, and incest is the kind of scandal that might ruin the family name. His extravagant, drunken lifestyle forever nipping at his heels in the form of debt collectors and magistrates, Simon cuts his returned brother's brake line, nearly removing his recovering sister in the process to narrow down the division of his inheritance, and drowns the nurse when she realizes too late who the real family mental case is. If you didn't know, seeing a mysterious depiction of Oliver Reed on the release poster as you walked into the theater might have tipped it off for you, I dunno, anyway, it's Simon. But the shocks don't stop there, no sirree.
"Is that "Summer Holiday" by Cliff Richard and the Shadows? I bloody love that track!"
Scott went on to appear in The Old Dark House (1963) and Crack in the World (1965) while Sheila Burrell who had a long stage career, was Sir Laurence Olivier's cousin, no less. One of my favorite Hammer movies, hands down, and easily just as enjoyable as Christopher Lee leering with fangs displayed, at Veronica Carlson's technicolor tits, or a post-surgery Peter Cushing straining to wipe away brow sweat with a hand doused in bright stage blood. Sure, it's a British Psycho-clone like several others of the era, but one that's been masterfully handled by Francis and his crew, with solid performances from the cast, Reed's being the notable standout, of course, and thus, the sum of those excellent parts is full of enough suspense, mystery, and atmosphere to merit four Wops on the scale. A true classic. See it now.
Would you look at the state of that... Impossible to hire good clean up staff these days, 'innit?