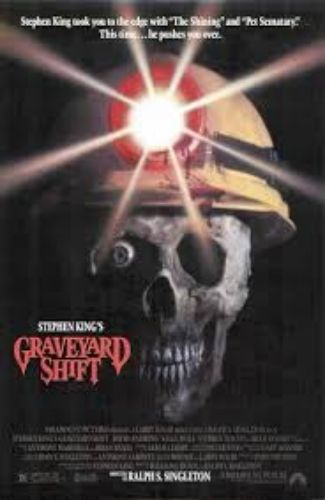 Props go out to the Doctor, whose timely suggestion of Stephen King fear fare the other day provide us with some reviews of his cinematic creature content that we've yet to examine here at the Wop, starting with this 1990 entry, based off of his short story o' the same name. Lead baddie and Philly native Stephen Macht has also shown up in things like Nightwing (1979), Galaxina (1980), and The Monster Squad (1987). Interesting to note, Ralph S. Singleton's other directorial credit to date, has been a pair of episodes of Cagney and Lacey, and though I've never seen either one of them (or any other episodes of that specific show, thankyouverymuch), I'd wager that they've got more bone-chilling jump scares than this movie. Onward...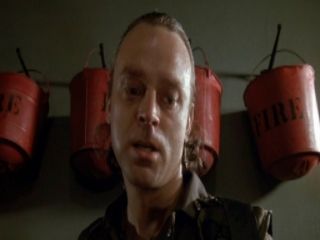 "I'll be providing extermination services and laughable Vietnam facsimiles of Quint's U.S.S. Indianapolis speech...", notes Tucker (Brad Douriff).
A driftah...errr, drifter named Hall (David Hall) finds himself seeking employment in a skeevy New England textile mill overbrimming with rodents, and overseen by a fascistic, misogynist of a boss named Warwick (Stephen Macht), who pays off inspectors to keep his plant open and bullies his workers into gritty graveyard shifts when he isn't laying the female ones down on the work couch for some horizontal side-boppage, despite secretly being married. While Warwick gloats over and mocks his sweaty, exhausted staff relentlessly at every opportunity, they seem to be meeting gruesome ends, whether by unsafe, antiquated machinery or something
else
entirely, as witnessed by the thousands of rats that overrun the mill. To alleviate matters, drop one-liners, and keep the health board off of Warwick's back, is a cartoony Vietnam vet-turned-exterminator named Tucker (Brad Douriff) and his trusty rat terrier, who's been prejudiced towards the little furry bastards since he's seen the Vietcong force live ones into the abdominal wounds of captured prisoners during his tour of duty, as he so dramatically relates to fellow characters and audience alike, a single tear streaming down his cheek.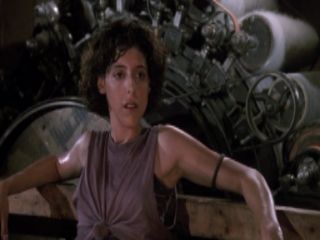 ...and Kelly Wolf as the hard luck, blue collar mogambo.
There's also a lass of earthen, salty beauty named Jane (Kelly Wolf), a former conquest of Warwick's that takes a shine to the new guy in town, much to the dismay of their over-the-top supervisor, who jealously rewards the new couple with a week of overtime graveyard shifts cleaning up the basement of the mill with a skeleton crew of miscreants that include an unhinged fatso named Brogan (Vic Polizos) who screams like Rambo as he blasts scrambling rats with a power hose, Carmichael (Jimmy Woodard), the token black guy and his ghetto blaster, and Danson (Andrew Divoff), a mullet-topped crybaby. But hey, who's turning down double pay in this economically stressful time, I ask you. When Hall discovers a trap door amidst the old waterlogged garbage, he leads the crew into a subterranean Hell, inhabited by a giant bat that hasn't gone hungry in ages, judging by the massive piles of bones in its cavernous home. At least Warwick hasn't gone mental, shaving down the payroll one employee at a time, letting them stumble into the winged freak's clutches, with sewer-caked mud all over his face, though. Might have spoken too soon, there, honestly.
"Yoah lovebehd is a slampig for shoah, a biddie with an empty pockabook!", exclaims Warwick (Stephen Macht).
Make no mistake. There have been a few decent big screen adaptions (and a made-for-television example, I don't mind adding) of Stephen King's work over the years. Look no further than Carrie (1976), Salem's Lot (1979), The Shining (1980), or even Creepshow (1982) for quantifiable validation of that statement. Beyond that, his stuff is really hit and miss, and the films born from it are even more so. This one in particular is a silly, sloppy, shambles of sweat and shrill New England accents culminating in a limp yield of latex, stage blood, and improbable motives that insults the intelligence of anyone bearing witness, save for the "horror for horror's sake" set, who'll watch and like anything with a genre stamp. I've never been that guy, and one Wop on the scale ought to reinforce that statement for doubters. Watch at your own risk.
"Ah-yuh! Wheyah does a fellah go for a decent grindah down heyah?"