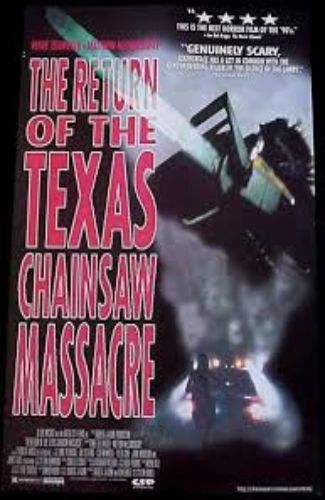 In 1994, Kim Henkel, who co-wrote the original Texas Chainsaw Massacre (1974) with director Tobe Hooper, would write and direct the fourth movie focusing on the cannibalistic family of unemployed cattle slaughterers, and specifically, everyone's favorite hulking, chainsaw-wielding lunatic, Leatherface himself. The sequel in question, basically an imprecise remake, made the festival scene before being shelved for three years, until its two young leads, Matthew McConaughey and Renee Zellweger rose from obscurity with roles in A Time to a Kill (1996) and Jerry Maguire (1996), respectively; after which the film was re-cut, re-titled, and re-released as Texas Chainsaw Massacre: The Next Generation (1997) to precious little fanfare. I'm not about to sing its praises here tonight, either, but read on, anyway...
Don't squeeze the trigger, Renee (unless you want to, and really, you'd be doing us all a favor...).
We follow the post-prom exploits of four Texas teens, including the pot smoking wallflower, Jenny (Renee Zellweger) and her faux airhead pal Heather (Lisa Marie Newmyer), who blow the negative vibes of the formal clambake in favor of dark, winding, dirt roads only to be targeted by the latest bellicose brood of the infamous Slaughter family (weren't they the Sawyers? Mehhh.). There's Leatherface (Terry Jacks), who's taken to wearing full drag, and the wrecker-driving, point and shout-happy Vilmer (Matthew McConaughey), who's got a robotic leg brace that's controlled by television remotes, and Walter (Joe Stevens), who drops an endless array of quotes from famous people (and little else). There's also the execrable insurance agent Darla (Tonie Perensky), who flashes her augmented breasts at passing cars when she isn't contentedly enjoying her mutually abusive relationship with the aforementioned shouting tow truck driver she calls her boyfriend. When the teens' car slams into an oncoming car in the night, leaving its driver unconscious and in need of medical assistance, the couples split up to find help. What they find, instead, anybody can see coming from a mile away...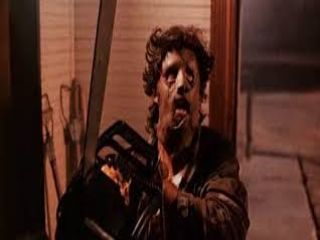 Leatherface (Terry Jacks) or Bobby "Bacala" Baccalieri, you be the judge.
It isn't long (or perhaps it's entirely too long, who can tell at this point?) before Vilmer is exaggeratedly driving over one prom date in his tow truck and snapping the neck of the unconscious crash victim, while Leatherface is clobbering the stuffing out of the other male prom goer with a familiar mallet, stuffing a screaming Heather in a cooler before ploinking her down on a nearby meat hook. Jenny is taken captive by the family, forced to look with horror upon a taxidermized family at the dinner table, while Darla comically dislocates her beau's bum kneecap with the press of buttons on a tv clicker. Vilmer points and shouts a lot, slashes himself repeatedly with a straight razor, and is dispatched by the propeller of a low flying Illuminati airplane. Did I mention the Illuminati? Yeah, a fellow in a suit named Rothman shows up at the dinner party, disappointed by the family's inability to breed terror in its victims (sort of like this whole movie), and he ultimately drives Jenny to safety in his stretch limo while drag Leatherface does the spinning, whirling "She got away!" chainsaw dance on the highway. Sound familiar?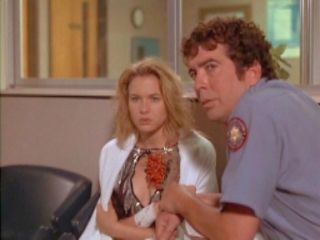 "Relax, Miss Jones, we'll locate your diary for you, alright.", exclaims Cop (John Dugan).
On a positive note, the film features three blink-and-you'll-miss-'em cameos from the original cast, John Dugan (Grandpa), Paul Partain (Franklin), and Marilyn Burns (Sally), though she's billed as ANONYMOUS in the credits, and "Queen" Debra Marshall, Stone Cold Steve Austin's ex-wife, also makes an appearance in there. This would be Henkel's only directorial credit, though he's got at least fifteen as a writer, most of which are Chainsaw Massacre-related, apart from The Unseen (1980) and Tobe Hooper's own Eaten Alive (1976). Amazingly, there's very little blood letting in either cut of this effort, sparse deaths, and zero scares. If it classified as your least favorite TCM sequel, or the least fun to watch, nobody could consciously blame you for it. It'd be nine years until they'd reboot the series with a remake of the original, which I also didn't care for, as if you couldn't have guessed. Single Wop city here.
...and Ann Nonymous as Sally Hardesty.