Simply eighties-tastic.Thankfully,they don't make 'em like this anymore.
While working for a now-defunct corporate music chain in the local mall in 1988,the thumbnail for this release in a catalogue of newly released video titles caught my eye,and in a righteous moment of insubordination,I ordered it and several others for the store without proper clearance from the supervisor.I ended up scoring my copy from Barry Kaufman at Video Mania a few months later,after I was permanently relieved of my duties one summer day,walking home several miles in the sweltering heat with a fucking tie and nametag on.I was relieved I would never have to endure eight hours of "What Have You Done For Me Lately?" again(that's right,eff you,Janet),but bummed that I got the chop before I could hoard my box of new movies.When I finally sat down to view this shot-on-video splatter opus,filmed entirely in Chicago's Ukranian Village,I chuckled to myself at the thought of my ex-employers picking up the tab for a boxload of crap like this.Score one for the bad guys.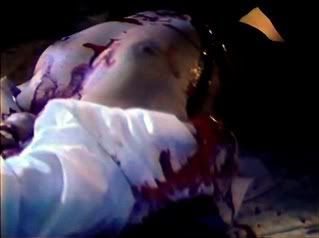 Blood and boobs,the stuff a thirteen year old's dreams are made of.
What if you filmed "Blood Feast"(1963) twenty-five years later,on video,with a more assinine storyline,less acting,poorer effects,and an equally dismal soundtrack,in and around the Ukranian district in Shit-cago?Well,sadly enough for you,you wouldn't be H.G. Lewis,the Godfather of Gore,and pioneer of the "splatter film",you'd just be Wally Koz,producer/director of the SOV cheapie,"555".Hot pink box aside,there's really not a lot to enjoy here.The movie feels like a mid-80's porn flick with all the porn removed.I'm not being kind to mid-80's porn at all.At least the adult film industry had Ginger Lynn,Hyapatia Lee,underaged Traci Lords,Seka,and Taija Rae to keep the viewer glued to the screen back then."555" has Mara-Lynn Bastian,whose acting is only underpassed by her saggy body and forties-esque jowls.I'm embarrassed that not only was she asked to get her bozos out on camera,but that she willingly did.Poor woman.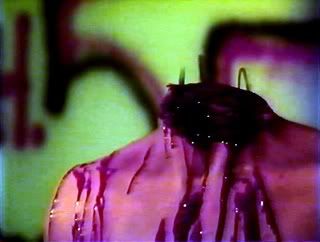 What's worse,the prosthetic neck or the graffiti in the background?You decide.
Every five years,within five days,unsuspecting couples are brutally murdered by a psychopathic hippie killer in a floral print shirt.Nice touch.Local scruffy,balding detectives(the aptly named Greg Kerouac)with unibrows who wear powder blue blazers that are too short in the arms,are clueless.Fellow detectives(Greg Neilson) resemble adult film star Peter North.The police sit around a sparsely decorated room with a desk and verbally spar with an over-the-hill newswoman(Mara-Lynn Bastian) and Captain Luca(the voice of Wally Koz himself)over the speakerphone.Their only suspect is an elderly gent named Colonel Wayne(Charles Fuller)who spaces out and flubs his lines a lot under direct questioning.Meanwhile,the misogynist Mansonesque maniac murders many.
Effects budget:One latex rubber head.
Our killer has a propensity to interrupt young couples as they lie around topless and kiss uninspiredly on awful sets.After doing in the males,he ties the females down and stabs them repeatedly with Home Shopping Network serpentine knives that a mulleted metal-teen would totally have on display in his room,next to his Tobaccomaster bong and poster of Phil Anselmo.Sometimes over the piped-in screams,you can hear the knives cutting into styrofoam wig heads.After the dastardly deeds are done,he mounts the dead girls' bodies and rides them to pleasure,rocking back and forth with his pants still fully buttoned and zipped.Before he can finish his unexplained "five" ritual with his fifth set of victims,the cops make the scene and shoot him dead.It wasn't the kindly old Vietnam vet afterall,it was the detective who looked like Peter North.You never can trust a guy who looks like a porn star,afterall.Chicago is safe(?) once again.
No,no,no!You're TERRIFIED,not laughing hysterically,you idiot!
This one disappeared into obscurity almost instantly after its release direct to video,thankfully sparing us all a sophomore effort from Mr. Koz,although it is said the one-time director haunts the internet searching for dvd bootleggers,who are trying to make a buck off of his awful movie,to threaten.Perhaps he's planning a two disc special edition twentieth anniversary release on Criterion...maybe he's justifiably embarrassed by the whole affair and wants to let it die an ignominious death already.With titles like "Woodchipper Massacre" and "Cannibal Campout" receiving special edition dvd treatment these days,I'd tell him to sell the rights to somebody and cash in while he can.Whatever the case may be,this movie is laughable garbage,that may or may not deserve one screening,depending on your tolerance level for stupidity.I just know that once brain cells die,they don't grow back.Keep that in mind.
You can relax now,Mr. Fuller,your eighty minute acting career is finally over.