The best movie you've never seen.
If I could coax you into watching
any
movie at all,this would be my first choice,hands down.A bold statement,perhaps,with the veritable ocean of excellent films that have been made since people started making films,but I hold firmly on this one.Though it seems to have slipped through the cracks over the years,it served as a unforgettably gritty introduction for such top notch actors as Tony Musante,Martin Sheen,and Beau Bridges,as well as a showcase for Ed McMahon(yes,THAT Ed McMahon),Donna Mills,Ruby Dee,Victor Arnold,Mike Kellin,Jack Gilford,Thelma Ritter...in fact,
everyone
in the entire production puts in a valiant performance.It's THAT good.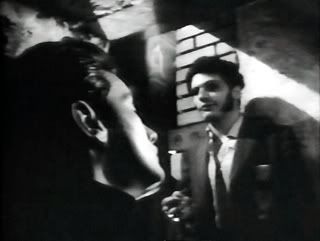 Joe(Tony Musante) scoffs at Artie(Martin Sheen),who likes pigeons more than dames.
Enter Joe and Artie(Musante and Sheen,in their first roles),two troublemaking, wisecracking bastards looking for kicks on a Sunday night in the city.After some late night billiards,they drunkenly stumble into the street,scolding a terrified couple,who run in the opposite direction."Don't be offended,baby!I just dig your jugs!Hahaha!"says Artie.Soon afterwards they score themselves a pigeon,in the form of an old man they drag into a back alley and rob before forcing him to take his pants off,then knocking him out cold for his trouble.With eight stolen bucks to their name,they head to Times Square,in search of more thrills.
Subway kicks:Joe and Artie harrass a homosexual.
One by one,we learn the stories of the other players in tonight's urban drama as it unfolds:Ken,a rejected homosexual,Doug,a recovering alcoholic,Pfc. Teflinger and Carmatti,two soldiers on leave,the Beckermans,an elderly couple,the Robinsons,a pro-black activist and his wife,Alice and Tony,a young couple,the Wilks,a middle-aged couple with their sleeping daughter,and the Purvises,a henpecked teacher and his social climbing wife,all end up on the same late night subway car,when the two young thugs board in a drunken frenzy.At first,their target is a sleeping wino,who gets a hotfoot from Artie,until the alcoholic Doug speaks up,probably seeing parallels in the downtrodden man's life and his own.Joe muscles in and quells the alcoholic's protests,while Artie plays the lonely homosexual for a fool.Joe quickly joins in,and both men leave the passenger emotionally drained and cowering in a corner seat.
Joe ain't prejudiced.He racially intimidates a militant black passenger and his wife(Brock Peters and Ruby Dee).
The men then pick on the elderly couple,and strongarm them from exiting the subway car.Mr. Beckerman wonders why no one will stop the two troublemakers from terrorizing the passengers.A good question,indeed.Joe then turns his attention to Tony and Alice,and suggests that the young man share his girlfriend,to which Tony's tough act that he used to gain Alice's interest is replaced with cowardice.Pfc Teflinger is then goaded into a fight by Ferrone,but declines,as his arm is in a cast.His fellow soldier says nothing.When Robinson snickers at the men and their antics,he is racially humiliated by Ferrone.Joe coaxes the black man to stand and fight,but when Artie grabs his wife and threatens to break her arm,the once militant anti-white passenger is reduced to tears.Mrs. Purvis threatens to inform the police,but her husband makes a spectacle of her,claiming she stood up to be revaged by both men,on purpose.They violently slap each other,to the delight of the hools.Ferrone decides to pick on the Wilks' sleeping young daughter,Teflinger decides finally,that enough is enough.He fights Ferrone and is stabbed by the hooligan's switchblade,but he manages to knock him out with his cast,then bashing his face to a pulp with the plaster weapon.Artie,terrified that his loudmouthed friend has been rendered helpless,takes a well-placed kick to the berries.The soldier,though graciously thanked by everyone,is disgusted with the entire group's apathy.When the car stops,police rush on and ironically subdue Mr. Robinson,before being pointed toward the true criminals.As the car empties,the still-sleeping wino falls off his seat and to the floor.
Ed McMahon,you're the winner of the "Drunken Hooligan Harrasses Your Sleeping Child on the Subway" sweepstakes!Hiii-yooooo!
The BBC twice rejected a release of the film in 1968,and it was never resubmitted for review.All scenes inside the subway car were achieved through a studio mockup as the NYC Transit Authority refused to grant permission to film on its property,though the filmmakers managed to sneak cameras inside bags to steal some establishing shots anyway.An edgier drama,a truer tale of human nature you may never find.Musante,always one of my favorite actors,is at his evil best throughout this film.You may be surprised by Martin Sheen's antagonist turn here,as well.Whatever you do,see this movie.It's one of my all-time favorites,and it'll be bound to be one of yours.I give it my highest rating:
Joe Ferrone(Tony Musante) and the porkchop sideburns that roared.