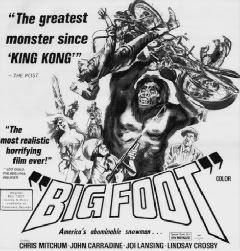 More like,the corniest monster suits since "Goliathon/The Mighty Peking Man"(1976).
This isn't the worst Bigfoot movie ever made,but only because "Curse of Bigfoot"(1972) exists.Mildly entertaining,mind you,due to the various cult aspects abound within(John Carradine,Haji,groovy campfire dancing,horny hominids kidnapping buxom beauties for mating purposes,etc.),but the damned thing drags like Kharis' bandaged right foot across the floor in any mummy movie worth its moxie.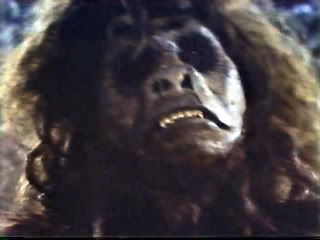 What was that tagline in the poster about "realistic and horrifying"?
Joi Landis(as played by Joi LanSING) does what any top heavy blonde did for kicks back in the sixties,she pilots a piper cub airplane unconvincingly.When the control panel proves too much for her tiny mind to comprehend,she parachutes out,into the northwest woods(of Big Bear Lake in California),or a Hollywood backlot set,depending on how keen you are to spot these things.She immediately climbs out of her pilot jumpsuit,realizing a skimpy mini with plunging neckline might be better suited for the rough woodland terrain.As she wanders around,Bigfoot,long recognized as a boobs man by the local tribal folklore,puts the moves on her and carries her off,screaming and kicking.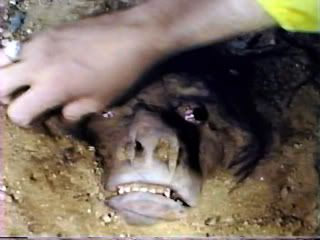 Next on treasure hunt list:half-buried dimestore latex gorilla mask,check.
Jasper and Elmer(Johns Carradine and Mitchum) are two junk dealing travelling salesmen just passing through,when car trouble forces the bumpkins to seek help from the local mountain folk at the general store.Meanwhile out in the woods/set,a young dirtbiking gang with guy nicknamed things like "Wheels" and "Dum-Dum"(!), is throwing a groovy campfire shindig with go-go dancing and beer.One of the couples decides to explore the set/woods on their own,and stumble foolishly onto Bigfoot burial ground,where Bigfeet lazily bury their dead(or cheap latex rubber gorilla masks,depending on who you're talking to)less than an inch from the surface,inspiring screams from the biker's bikini-clad chick.Where there's D cup breasts in an outta sight bikini,Bigfoot is sure to be found,boobsmith that he no doubt is.He lumbers onto the scene,and knocks the young man out with a wild haymaker(!) and drags his screaming chick off into the blackness.
Cleavage shots a'plenty in Bigfoot country.
When the kayoed thrill seeker comes to,he phones Cyrus,the sheriff,who laughs off the boy's wild tale of libidinous primates with "Deputy Hank",his trusty deputy.Jasper and Elmer overhear the story and volunteer to help the biker find his lost girlfriend,with ulterior ideas of capturing the creature and exploiting it for money.Back at Sasquatch's digs,the pole-tied prickteases deduct that Bigfoot is mating with human women and producing hybrid offspring,judging by the children in cheap ape suits curiously sniffing around,much to the dismay of the female bigfeet/women in cheap ape suits.The rescue party ends up getting captured and pole-tied,Bigfoot beats up the biker's motor pals out looking for him,and the sheriff decides to take the numerous call-ins seriously for a change and forms a posse to investigate.In a less-than-thrilling finale,the men manage to seal the giant alpha Bigfoot in a cave with dynamite and life on the mountain returns to normalcy.The end.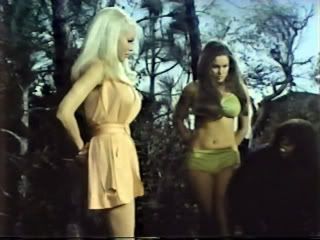 "They're practically sub-human, except that they still live like animals!" deduct our befuddled bimbos.
Besides the sub-par performances,pathetic script and special effects(and perhaps the degree that Carradine's arthritis had already twisted his hands into at this point),there's not much "horrifying" stuff to fill you in on here.Worth a look for laughs,it merits only: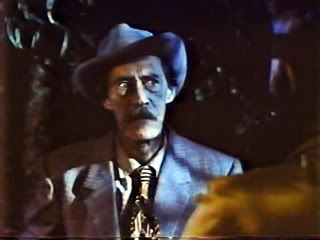 The late John Carradine as Jasper B. Hawks,earns yet another paycheck.