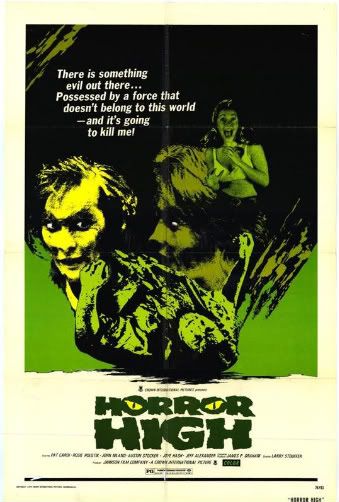 The groovy 70's high school version of Dr. Jeckyll and Mr. Hyde.
Also known as "Twisted Brain",this entry was a late night television favorite for years.Basically an updated version of the familiar Jeckyll and Hyde story,it is a veritable smorgasbord of acid rock guitar riffs,hideous floral print wide lapelled button down shirts, and gruesome-but-light comeuppance for enforcers of the high school pecking order/caste system(which I'm told no longer exists,damn you,political correctness!).
Mince no words,Vernon Potts(Pat Cardi) is a big fucking dork.
Vernon Potts,at first glance, looks like your average everyday nerd.But this chemistry whiz is on the threshold of tapping man's inner beast,his baser instincts brought to light.In the meantime,everyone loves to shit on the poor guy.From his teachers,to classmates,even the lowly janitor picks on Vernon at every juncture.His estranged father even wonders what the hell his problem is,as he sips mixed drinks at poolside with his young concubine.Ah,no matter,he's got his science experiments,his guinea pig,Mr. Mumps,and the attention of Robin,who feels pity at his ineptitude and attraction at his gentle nature and intelligence,to the dismay of her jock boyfriend,Roger,who calls Vernon "Creeper".Heh heh,that's a good nickname.
Robin(Rosie Holotik)tells Vernon that ugly,socially inept science geeks turn her on.No really.
When the janitor,Mr. Griggs forces Vernon to drink his own formula,after Mr. Mumps,zooted on the stuff effs up the man's pet cat,Vernon transforms into a pigeon-toed crepe wool-faced maniac,and dumps the old man into an industrial sized 55 gallon drum of acid.Cue acid rock guitar lick.Vernon cleans up the lab,but when one of his classmates discovers the liquefying skeleton in the vat,a local jive-talking black detective is on the case.Move over,Shaft.Realizing his new-found power,the teenager soon embarks on a mission of bloody retribution,chopping his math teacher up with a paper cutter,his gym teacher(Dallas Cowboys' John Niland,one of a handful of football pros of the day in supporting roles in the film)stomped and shredded with a pair of metal cleats.Good stuff.
Griggs,the janitor,or what's left of him after tangling with Serum-variant Vernon,who rolls + 5 crit damage:acid .
In the finale,Potts is so close to his Utopian situation,he can taste it.Robin kisses him,Roger is taken into custody for the murders,but he can no longer control the evil aggressive half,which begins to take hold of him while in Robin's company at the high school,where he pigeon toes down the dark halls after her.The authorities are on the scene,though,in the nick of time,and shoot the teenaged monster before he can hurt anyone else.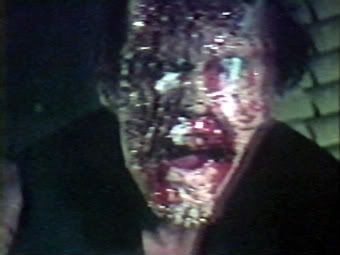 Acid plus mean old janitor's face equals not at all sexy.
Personally,I fully advocate the high school pecking order,as cruel and harrowing as that may be to homely wallflower chicks and zit-faced geeks.Most of the time,the preps and sportos at the top of the food chain never amount to much once school is out,forever awaiting the next high school reunion and hoping to regain a fleeting taste of their lost popularity.Oftimes,the picked-on dorks transform into highly successful businessmen,and the ugly broads get hot,with no secret formula or potion to help the transformation.Of course,some of them stay the same,but such is life.But for me,a life of infamy is the path I've always chosen,and here I sit,infamously,at your disposal.This one merits:
May I please have my chemistry notes back NOW?!!?