Call me a grit-eating freak over here,but I've always held Dante's lycanthr-opus in higher regard than Landis' "An American Werewolf in London".For all of Rick Baker's creature FX mastery,his four-legged moon beast came off like an angry teddy bear that moved like Angillas(from the Godzilla movies)in a wheelchair.Rob Bottin,given the work by Baker himself when he bowed out to work on American Werewolf, won the werewolf battle in my mind.Overall,Dante's flick was a bit funnier,paid more tributes to the genre,had stronger,more unsettling gore,and had a stronger cast.Which is not to say I'm not a fan of Landis' movie,I just think "The Howling" may very well be the best modern werewolf movie to date.
Before there was Stargate for Robert Picardo,there was Moongate.
Karen White(Dee Wallace) is a news reporter in contact with a sadistic serial killer named Eddie(Robert Picardo) who horribly mutilates women.They arrange to meet in a porn parlour beat-off booth on Hollywood Boulevard so that he can give Karen the scoop on why he kills.Eddie begins to transform into something before Karen's eyes,but is riddled with bullets by the badge boys in blue who have been tailing her.Her nightly bad dreams about the incident bring her to her headshrinker,Dr. Waggoner(Patrick Macnee)who suggests she and her husband,Bill(Christopher Stone) take a therapeutic vacation at his hideaway he calls "The Colony".In the meantime,Karen's friends Chris and Terry(Belinda Balaski,of Dante's earlier "Piranha"(1979))turn up evidence in Eddie's apartment that he might not have been barking up the wrong tree.Sketches of beast-men and women,wolves,and a retreat by the sea force the duo to delve deeper into Eddie's manias.
At The Colony,Karen meets a colorful crowd of the Dr's patients currently staying there,including a grizzled old man named Erle Kenton(one of John Carradine's last roles) who tries to throw himself into the fire at a bonfire/pig roast the first night.Karen's husband is taken by the feral beauty of Marsha(Elisabeth Brooks),who wears animal skins and bone necklaces and carries herself like an alley cat in heat.
As tempting as it may look,fellatio from Marsha(Elisabeth Brooks) might be a bad idea.
At night,Karen is now plagued by howling wolves in the distance to go with her nightmares and husband's wandering eye.Bill goes hunting with the boys,gets scratched by some sort of wild animal, and bags several rabbits,which Marsha's hunchbacked brother suggests he deliver to their shack in the woods,so she can skin and cook them for him.Later that night he rendezvous with Marsha by a fire in the woods,where both turn into werewolves as they fuck.Back home,Eddie's body goes missing from the morgue as Terry decides to meet Karen out at The Colony.When she arrives at the doctor's office,she notices the similarities between Eddie's landscape sketch and the Colony itself.As she digs through the doctor's case files,she is interrupted by a snarling werewolf who abruptly picks her up by the neck and tears it out with one bite.Back home,Chris is stockpiling silver bullets from a curio shop(run by the one and only Dick Miller!)and heading out to the Colony himself.Karen stumbles upon Terry's mutilated body,and is greeted by Eddie,still riddled with bullet holes,who digs into one of them to give her a piece of his mind(literally)as he begins to transform into a werewolf.She throws acid in his face and escapes to find Chris has come to her rescue.Will they escape intact?Will they rid the countryside of murderous Wyle E. Coyote looklikes?Does Dick Miller deliver anymore one liners?You'll have to see for yourself...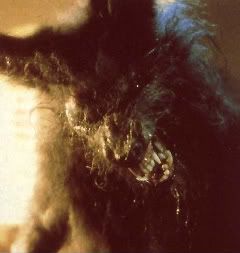 This coyote doesn't need ACME gimmicks to mess you up.
Cameos in the film include Roger Corman,writer John Sayles, and the late, great Forrest J. Ackerman,holding issues of his own Famous Monsters(# 24 with Werewolf of London cover is clearly visible,har har!)in the bookstore scene.All sorts of visual gags and references to earlier were-movies are spread throughout the production,including characters named after previous werewolf movie directors,adding to the tongue-in-cheek appeal of the film.If you havent seen this by now,where the hell have you been for the past nearly thirty years??I bestow upon it my highest rating of:
Crime is about to take a bite out of Belinda Balaski.