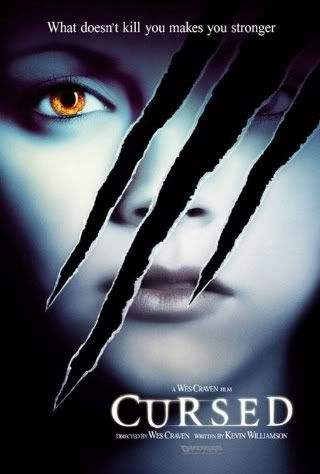 Wes "Last House on the Left" Craven directs,Rick Baker and Greg Nicotero/KNB handle the creature and gore effects,and adorable cutie pie Christina Ricci is the female lead.That's a pretty good lineup on paper.So why is this not a better movie?It's certainly a passable ninety minutes worth of light entertainment,but it really should have been so much more.I've racked my brain on this perplexing puzzle quite a few times by now,and this is what your humble N comes up with.Ricci does an admirable job with her material,and is gorgeous,as usual.The werewolves look good,if not a bit CGI-heavy a la Underworld.Nicotero is criminally underused on the gore end thanks to the inevitable PG-13 chop,but his crimson contribution is enjoyable,as always.Besides the myriad of problems Craven had to wade through just to have the film released(three years after production began),the movie suffers from Kevin "I Know What You Did Last Summer" Williamson's goofy,airheaded script.It feels like a horror movie made by people who neither enjoy horror movies,nor understand what goes into making a good one,and a thinly-veiled vehicle for hot young stars of the moment to strut attractively across the big screen,like the "I Know" series was nothing more than.What a shame...
That's nothing,Ricci,you should see the infernal thing when it's erect.Hahaha!
Two bubbleheads as shallow as a wading pool for kiddies enjoy a fair on the pier when they decide to pay the fortune teller(Portia de Rossi) a visit.The gypo sees moon-based danger in their palms,but the girls cluck disgustedly that the soothsayer fails to notice their Korean French-tipped manicures,or something equally vapid. Enter Ellie(Chistina Ricci) and her embarrassingly nerdy brother Jimmy(Jesse Eisenberg) driving home that night,only to hit some animal with their car on the winding mountain road,ploughing into another vehicle,causing it to flip over the guard rail and into the woods below.When the siblings try to rescue the airhead(Shannon Elizabeth)trapped upside down in the driver's seat,a werewolf snatches her up as prey and effectively puts the mark of the beast on both of them.Jimmy immediately believes they've been affected by a werewolf,trudging through his comic books and crypto websites to map out a course of action.Ellie works for the Craig Kilborn Show(!),and her increasingly wolfish traits become so apparent,she's soon catching Scott "Chachi" Baio's eye while scheduling his appearance on the show(!!).Meanwhile back in high school,it's the plight of the nerd for Jimmy.He's attracted to a girl,who dates the head of the wrestling team,Bo(Milo Ventimiglia),an abrasive sporto meathead who constantly accuses Jimmy of being a homosexual.Ellie is also having problems of the heart with her boyfriend,Jake(Joshua "Dawson's Creek" Jackson),who's opening a Hollywood club filled with horror movie-themed mannekins and a hall of mirrors right out of the
New Scooby Doo Movies
.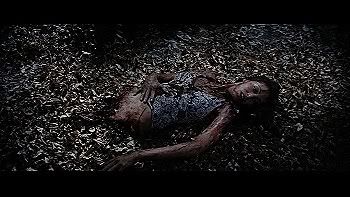 Leaving your dinner half finished when there are werewolves starving in Romania?Come on!.
After defeating Bo and his jock buddies in a wrestling match in the gym,Jimmy is visited by the defeated meathead,who confesses his
own
gayness to him(!!!) as they escape the attacks of Zipper the dog,who was infected with lycanthropy when he bit Jimmy on the night of their car crash.You following this?Soon the other member of the bopsy twins from the pier turns her toes up after clashing with a ravenous werewolf in the parking garage.Jake tells Ellie that he's a werewolf,but before he can explain further,she speeds off.At Jake's club,the two boys try to rendezvous with Ellie,but are foiled by a werewolf in the hall of mirrors.At this point I expected to see Shaggy and Scooby disguise themselves as barbers and set the wolfman up for a shave in the chair.But I digress.It turns out this skinny,sassy bitch with massive Vince Vaughn-esque bags under her eyes that Ellie works with completes the were-puzzle,infected with the curse when she herself slept with Jake,killing off female competitors for the alpha male of the pack.In full transformation,she flips the bird to cops before they blow her brains out.Not even Landis would have went there.The shaggy denoument finds Ellie shovel-blading off Jake's head after plunging a silver cake server into his chest,breaking the curse for the siblings and their pooch.Jimmy gets his girl,Bo is the homoerotic third wheel,and Ellie is left to clean up their mess of a house.Cue trendy music as the end credits roll.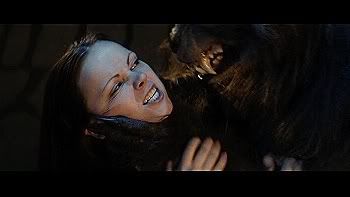 So friggin' cute,even werewolves wanna smooch her.
Yeah,it's definitely the script.Personally,I don't think Craven's done much of anything merit-worthy since Last House on the Left(and that was a LONG TIME AGO,kids),and this furry Gilmore Girls episode didn't do anything to slow his artistic slide into the Hollywood septic tank.Overall,it succeeds as a Wednesday night time waster,if sandwiched between two movies you might have actually
wanted
to see.Chug several cautionary beers beforehand,and you may get your jollies from the always attractive Ricci and/or Nicotero's on-screen grue.A Wop each for those two factors alone is all I can award this yuk-fest in good conscience.The makers of this film should thank the heavens that the collective ghosts of Larry Talbot and Waldemar Daninsky haven't showed up during the lunar cycle and waffled them for this effort.
Baker/KNB's upright lycanthropic vision ultimately unveiled.