Because nothing screams originality like a REMAKE.
Nothing exceeds like excess.And no name greater personifies that word than Dino De Laurentiis,synonymous at one point with overblown,big budgeted cinematic flops.If you asked me what I thought about this first remake of the 1933 classic after first seeing it in the theaters as a six year old,I would have exuberantly rambled about its greatness exhaustively.Thirty-three years later,I have a markedly different outlook about it.It's not FX wizard Rick Baker's collaboration with Carlo "Alien" Rambaldi,it's not the star-studded cast,peppered with cult faves like John Agar,Dennis Fimple,and even Forrest J. Ackerman,and it's certainly not Jessica Lange in her introductory role as Kong's bubbleheaded hand candy.For all the publicity and hype this flick generated in its day,it just hasn't held up very well over time.Enraged simians tend to fling poop,and the finished product here smells no differently.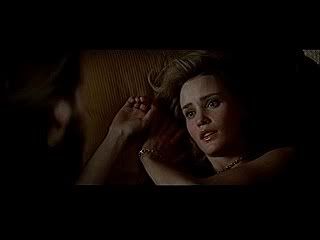 Jessica Lange gawks at the idea of a future sex scene with Jack Nicholson.
Petrox Oil executive,Fred Wilson(Charles Grodin) heads an expedition to an uncharted island in the South Pacific that is believed to hide a depository of oil and is hidden by a permanent low-lying cloud bank.A scruffy primate paleontologist named Jack Prescott(Jeff Bridges) stows away on the ship,busting in during a slide show to warn the crew of a seldom heard history of impending danger on the island,which according to legend is guarded by a monstrous god named Kong.His efforts land him a gig in the brig,but as he's being escorted down by Wilson's shiphands,he glimpses a liferaft afloat off the starboard bow,which,when retrieved by the oceanliner reveals an unconscious half-dressed starlet inside(my favorite kind!).When Prescott brings the dingbat around with smelling salts,it's painfully obvious the crew should have left her floating on the ocean indefinitely.Dwan(Jessica Lneag,I changed a few letters in her name to make it sound more memorable,ya know?)was on a pleasure cruise to Singapore aboard a yacht, peddling her fleshy wares to score herself a part in an upcoming movie,but was spared when she refused to stay below to screen "Deep Throat"(!)as the vessel exploded.The men try to tune out her bubbly airheaded personality and focus on her smokin' curves as they send a recon team into the fog bank towards what they think is the motherlode.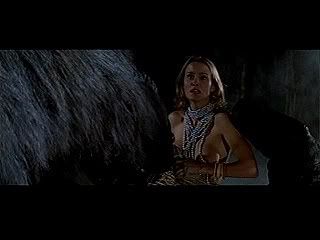 Kong gets to second base with his not-so-eager-to-please shipwrecked squeeze.
After managing to strike out on the oil gamble,fudge up the island natives' symbolic wedding rehearsal,and let Dwan get abducted by aggro Island Abos right under their noses,the rescue team arrives at the Skull Island wall too late,left to track a set of six foot wide footprints.Elsewhere on the island, Dwan is having the first date of a lifetime.Kong(Rick Baker) fluctuates back and forth from mesmerized at the blonde's natural beauty,to thoroughly disappointed that she can speak.After being screamed at,punched,and accused of male chauvenism,the poor brute probably looks forward to getting shot off a New York skyscraper already.As the ape wrestles with a giant-sized constrictor,Prescott arrives on the scene and rescues the bimbo. Wilson decides to slip the monstrous monkey a massive mickey and claim him as an advertising gimmick for the oil company.Back at the unveiling in New York,the saavy exec chains and cages the towering simian inside a mammoth gas station pump,and to add insult to injury,puts a cheesy enormous crown on his head.The things a henpecked guy'll put up with in the name of love,eh?During the glitzy reproduction of the native ceremony,the press people get too close to Dwan,and Kong abruptly breaks the fuck out like chickenpox.Cue metropolitan devastation.Before reuniting with his little bubblehead,the ape stomps New Yorkers(face it,most of 'em had it coming!),derails a train,and makes a general nuisance of himself.Once he's got Dwan,he heads for the buildings that most resemble his happy place back on Skull Island:The World Trade Center.Only happiness proves evasive due to soldiers equipped with flamethrowers and combat choppers who machinegun our tragic hairy hero until he rolls off one of the towers to the street below,leaving the New Yorkers to return to their Soho coffeehouses and Greek midotwn electronic stores.Moral of the story:Women...If they couldn't cook,we'd hunt them for their pelts.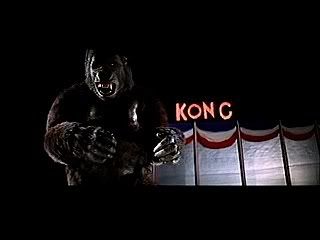 Snubbed for a cab ride,The King of Skull Island goes bananas in the Big Apple.
Nevermind the fact that Rambaldi built a forty foot high 1.7 million dollar robot(which occupies exactly ONE MINUTE of screen time.No typo.)for this trainwreck,or that Mario Bava refused to leave Italy to helm the directorial chair(which was also turned down by Polanski and Peckinpah,and even Spielberg was considered early on),or Baker's long-time dissatisfaction with the suit's realism on camera,or seventies sex kittens Bo Derek and Britt Ekland turning down the role of Dwan,or the fact that there's more blue screen here than in a local news weather forecast segment.Just be thankful we weren't forced to endure Barbra Streisand in the female lead,as she was considered at one point in pre-production.I shudder to think upon what might have been if she had taken the role.Of the three Kongs,this one is the weakest by far,but it does have a fun cult element about it that renders it watchable.Jessica Lange probably scored herself second place on my childhood crush list because of this turn,directly behind Farrah Fawcett-Majors.Jessica,whose parents Al and Dorothy probably want to murder me for incorrectly tying their daughter to the unrelated Hope Lange, proved afterwards,she too,is a great actress,Dwan aside.King Kong Lives was the atrocious sequel with the ridiculous storyline and dated suitmation effects that nobody asked for ten years later.Don your ceremonial monkey mask,dig the voodoo drums,as they beat out a Wopsploitation score of: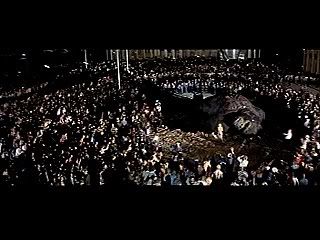 The great ape plays dead to avoid thirty thousand swarming Manhattan squeegee bums.