Involuntarily skipping out on the St. Valentine's weekend festivities,save for third wheeling it at the local Johnny Rocket's grease pit with my roommate and his girlfriend(You wanna know who pumped a pocketful of nickels into the jukebox and tortured the entire establishment with "Chantilly Lace" by the Big Bopper on an endless loop?Look no further,bastards.),I found myself reflecting upon which macabre movie morsels I was going to serve up to my virtual valentines here in the emperor's kingdom,and though I was unsure at first,I knew there oughta be a good deal o' red.
Not my favorite Hammer film of all time,though one would think it's possessing of enough classic elements to merit that much-coveted top spot;excellent setting in jolly old Victorian E',more red stuff than I ever remember seeing on the screen in any other Hammer movie off the top of my head(and they always upped the ante in the blood sweepstakes in those days to begin with),lippy east end whores in a cage(I live for such smashing visuals!)sterling performances by the late Shakespearian actor Eric Porter and the lovely Angharad Rees adding to the sombre tone of the film,but in the end,the whole family values of Saucy Jack the Ripper angle left me more than a little drained,no pun intended.
Constable Crepewool,about to spring his adamantium claws into action.
The Whitechapel Ripper is a multitasker at heart,we find out,early on.When he's not out ripping whores,he's a family man,tending to his wife and young daughter,Anna.By tending to,I mean shanking his soulmate in the labonza and psychologically twisting his little girl's subconscious into mental taffy.More than a decade later,we find his daughter living with a phony medium-cum-madam,and when she's not faking voices from the ethereal afterlife,she's entertaining slimy cocksmiths like mr. Dysart(Derek Godfrey),who flashes gaudy baubles at the teenager so that she might allow him to get his bloody end away already.When Dr. Pritchard(Eric Porter)bursts in to investigate screams of terror from the medium's humble abode,he finds the psychic impaled on the bedroom door,and Anna staring off blankly as Dysart hastily exits stage left.The doctor,a self-proclaimed student of Freud,does not implicate the flesh hound during questioning by the old bill,deciding to take in the ubiquitously unhinged urchin to his own home,for something frightfully new to Victorian England, called psychoanalysis.He then blackmails Dysart to use his influence to discover anything he can about Anna's shadowy past,and rescues the girl from a jailcell full of unclean,mouthy slappers,planning to break the news to his son and his blind fiancee when they arrive from the train station.
After being ripped,Dolly(Marjie Lawrence) makes folly of being able to swally,by golly.
Anna repays the good doctor's kindness by smashing a hand mirror and planting it in the neck of the physician's maid.It seems that the combination of reflective light and a kiss,whether amorous or platonic,sends Saucy Jack's daughter off in her famous father's footsteps,evacuating the life out of whoever's foolish enough to be that close in the first place,dammit.She then wanders out in her subconscious trance to the red light district,where the cliched "hooker with a heart of gold" takes her in,only to wind up dead on the cobblestone with multiple hatpins through her hand and into her neck and eye.Rather than turning the young murderess in to the authorities,Pritchard,still of the opinion that he can cure the girl's madness, takes her instead to Madame Bullard,another psychic,at the request of Dysart.The woman identifies the troubled young thing as the ripper's daughter,but when she kisses the girl,she ends up stabbed dead.Pritchard himself finds himself on the wrong end of a sword to the kidneys,but innovatively uses a door handle to un-skewer himself so that he can rush to stop Anna before she does any harm to his son's love interest at the whispering gallery inside St.Paul's Cathedral.Does the bleeding Brit save the day?Or is the blind belle to be brutally butchered by Pritchard's obtuse-of-mind-but-not-of-blade obsession?Get your hands on this ripper to find out.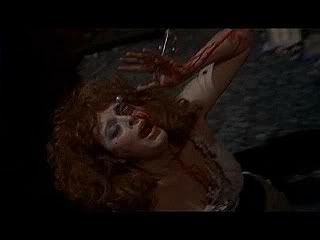 Prostitute Long Liz threads the eye of the needle on her night off.
The Hungarian-born director Sadsy was responsible for a myriad of Hammer-based horrors,such as Taste the Blood of Dracula(1970),Countess Dracula(1971),the rarely-seen Nothing But the Night(1973),as well as several episodes of Hammer House of Horror in 1980,any or all of which I enjoyed a great deal more than this entry,despite being anxious to see it as far back as I can remember after seeing the British marquee poster above in a hardcover tome on horror films as a child.Eh,whattayagonndo.The character of the pincushioned prostitute,Long Liz,was actually named after one of Jack the Ripper's real life victims.There's enough here to keep the average Hammer-head glued to the screen for just under an hour and a half,but of all the classic genre fare the studio churned out in the seventies,this one just seems to fade into obscurity in comparison.Definitely worth a look,despite my personal beefs.On the scale,I'll have to rate this ripper:
Anna(Angherad Rees) doles out my kinda valentines,that's for sure.