Ah,it's good to be home again,kids.I'll pretend to cherish these crude crayon scribble-drawings you made for me while I was away,magnet them to the fridge,and then shoot a three-pointer from the top of the key into the wastebasket while you're sleeping.Of course I'm kidding,Daddy loves your feeble attempts at artwork very,very much.What's next on the agenda?A very popular little movie,indeed.Nazi zombies have long been a popular movie baddie,as minor cult classics "The Frozen Dead"(1966),"Shock Waves"(1976),and to a much more forgettable degree,"Oasis of the Zombies"(1981) and "Zombie Lake"(1981),have proven.There's just something about a reanimated corpse in a German WW2 uniform.This latest spin on sieg heiling gut-munchers comes from Norway,which was occupied by a Reich commission and pro-German puppet government from 1940 through to 1945 when the German forces were finally capitulated in Europe.History lessons and half-nazi Lebensborn like ABBA dancing queen Anni-Frid Lyngstad aside,this low-budget formulaic horror comedy does serve up some spirited splatter and a few laughs despite its glaring plot-farts.I'd heard so much gushing praise for director Wirkola's effort from nearly everybody whose opinions mattered to me on such matters,that I was eager to finally screen this damned thing for myself.And when I did that very thing...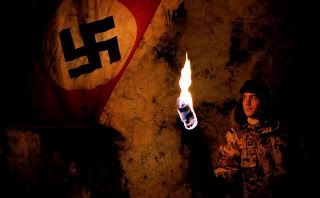 While searching for Sara,Vegard stumbles across an underground ice bunker luridly garnished with the big,black spider of German nationalism.
It seems this chick Sara is running for her life in a snow-blanketed Norwegian forest.Varg Vikernes has been behaving himself these days,so we've gotta rule him out.No,it's a squadron of vengeful SS soldiers ressurected from their icy graves that corner and munch this dame like so many sandbakkels.Enter seven vacationing collegiates that include the obligatory pre-med student who suffers from hemophobia(I suffer from doctorbillophobia,but that's just me),the greasy,overweight horror cinephile(don't look at me,guys,I didn't write it),a white broad with dreadlocks(Phish broke up,go take a bath,bitch),and a hot chick with the propensity to fuck random fat horror nerds in frozen outhouses(the day that forking over thousands of your greenbacks at a Ramada horror-con, to get delectable dishes like scene sirens Jewel Shepard or Dai Green to de-pants you,actually
works out
for you,I'll eat a whole raw onion in a room full of bare geryatric diabetic feet).They hike and snowmobile out to a remote cabin in the icy mountains near Øksfjord(wouldn't it have been easier to have taken the Hurtigruten?sheesh.)to party,drink,and be obnoxious,until a grizzled old hiker interrupts their decadence with a cautionary Quint-esque tale about the region's former occupation by a particularly cruel and evil force of Einstazgruppen,as opposed to the SS troops who rescued kittehs from trees and carried groceries for elderly Jewish women,who retreated into the snow-covered mountain range clutching gold treasure that they'd pilfered from the local peasants,where they ate frosty avalanche-death,but the region retains the evil Aryan ambience,etc,etc.You get the idea.That night,the camping hiker gets himself gegessen by gruesome goose-steppers in his tent.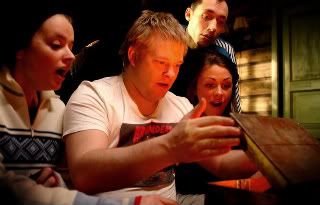 The vacationers unwittingly discover a hidden stash of ABBA gold records.
Vegard,the adventurous snowmobilist of the group,sets out to find his missing squeeze the next morning,falling through the ice to reveal the nasty nationalists' bunker-cavern hideout.Meanwhile,back at the cabin the students party mindlessly,until they manage to find of box of stolen gold coins underneath the floorboards.Then people start getting eaten by nazi zombies.It seems that head heiler,Herzog(They love you,Werner!)is driven by goldlust more than hunger,and reigns terror over all foolish enough to stray into the region until his gold is returned.(You hear that,Blake?I'm the seventh conspiritor,Father Malone...oops,wrong movie)A lot of neck-biting,molotov cocktail-chucking,snowmobile-mounted MG 34 lead-inflicted death,self-inflicted chainsaw arm amputation by chainsaw,head-stomping,entrail-dangling goodness,and a lone instance of pinko product placement(one of the last remaining survivors crosses a hammer and sickle before attacking a group of zombies with said implements,is it any wonder hefty lefty Michael Moore digs this flick?).When all is said and done,Martin,the last of the student Smörgåsbord,finally realizes the gestapo just wants its gold back,returning the booty to Herzog and company,then making for the getaway vehicle.As a forgotten doubloon falls out of his pocket,he's alarmed to notice the long-dead Standartenführer smashing out one of the car windows.Ooops!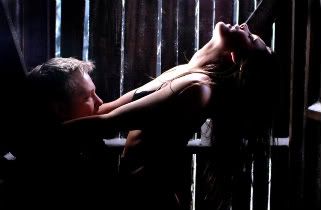 Highly unlikely,dorks.Don't get your hopes up.
Admittedly,I got more than a kick or two out of this entry,and plan to revisit it once or twice in the near future,though something like Fulci's Paura nella città dei morti viventi(1980)'s place on my favorite list isn't threatened in the least here,and Edgar Wright's "Shaun of the Dead"(2004) is pretty safe at the top of the "zomedy" list as well.The effects are on par,if a little cgi-heavy for my tastes,the cinematography shows off the lush settings relatively effectively,and the performances don't hinder the production at all.I'd certainly be willing to sit down to Wirkola's next effort,even if it
is
entitled "Kurt Josef Wagle og legenden om fjordheksa"(2010).Standard,but enjoyable zombie fare.Give it a look.I'm thinking of rocking an animated feature once a week like days of olde,what say ye,lads?Let me know.
Klink,Schultz,and company leave the confines of Stalag 13 to search for Hogan and his heroes.

Share