From a technical standpoint,the films of the late comedian/actor Rudy Ray Moore are
baaaad
in the most caucasian sense of the word.Visible boom mics,obvious stunt doubles,atrocious acting,cheap,gaudy sets,horrendous wardrobes,glaring continuity errors,you name the cinematic commandment and it's been kicked up the ass by silver disco platform heels,motherfuckers.From an entertainment angle,on the other hand,nearly every frame of celluloid this bad motherfucker has had a hand in,is pure
gold
.Moore was never one to try and hide his shortcomings on the big screen,instead he
revels
in the motherfuckers,can you dig it?I triple dog dare you to sit down to any of his movies(this entry included)with the alcoholic beverage of your choice,though a forty ouncer of Coqui 900 is recommended,and NOT laugh out loud at the outrageous antics that unfold before you.You won't be able to do it.And somehow,I think,'ol Dolemite knows this,and wherever the afterlife finds him,he's probably glad of his accomplished mission.Though others may have done a more admirable,less exploitative job making black movies in the seventies,Rudy Ray IS/WAS/EVER SHALL BE the face of the Blaxploitation sub-genre.
Often attacked,but never subdued,even car jackin' junkies step up to get

kung fued

!
During several stock footage clips of what's supposed to be "that great Florida storm",Mrs. Wheatstraw gives birth to a watermelon.Then she gives birth to an eight year old kid in underwear,who proceeds to beat down the doctor for slapping him, AND his father for disturbing his womb-rest every night.Thus begins the life of Petey Wheatstraw(Rudy Ray Moore).While fighting off some kids in a dusty ghetto alley,young Petey is taken under the wing of a homeless bum/martial arts master(or,as the credits would have you believe,"marshall arts") named Bantu,who teaches the boy to hack watermelons to pieces with a Samurai katana,as well as other fruit less popular in the African-American community.After completing his training,Petey tells Bantu he'd rather skip the whole grandmaster routine and become a comedian.Cut to present day,where rival comedians,Leroy and Skillet have just borrowed a significant amount of money from Mr. White(he's caucasian,get it?) to finance a thrilling revue of blue ethnic humor coupled with disco bands and singers at a Tardis-esque joint that could hold two thousand patrons,or fifty or so,depending on who you're talking to.Their plans are disrupted by the arrival in town and concurrent comedy show plans of Wheatstraw.Both comedy acts advertise their forthcoming gigs with markered-up posterboard fliers.When Leroy's pleas for Petey to cancel his upcoming dates fall upon deaf ears,he enlists Scarface Willie,who guns down first the twelve year old brother of one of Petey's workers("This sho nuff good!",the boy is told during a front stoop watermelon snack that Willie interrupts),then the boy's entire funeral procession,Wheatstraw included,with a Thompson machine gun,in broad daylight.Scarface Willie don't fuck around.
The dime store budget and shoddy directing didn't grab me,but Rudy,where you get that happenin' red satin cabbie?
Luckily for Petey,the Devil himself happens to be walking by,and feeling charitable,offers Wheatstraw his life back if he agrees to marry Lu's hideous daughter and sire a grandson for him.He complies,which cues a magnificent and expensive effects seque...the Devil rewinds the film itself,giving the gunned down funeral goers their lives back.With the help of Satan's cane,Wheatstraw exacts revenge on Leroy and Skillet by forcing them to insult their opening night audience,then destroying the club with at least twenty-five dollars worth of fireworks....err,umm magical special effects.His vengeance complete,Petey uses the cane to make a fat woman skinny,to transform a family's broken down car into a luxurious sedan,to save the life of a small nappy-headed child chasing his ball into the street(he punishes the boy by combing his naps out,sending him into tear-drenched hysterics),and finally whirling around in circles while no less than seventy-five dollars in ones falls from the sky in slow-motion.Wheatstraw,not particularly excited to marry Satan's ugly daughter,injects a wino with hard drugs and then slips a latex Petey mask on him to trump the dark lord and master while the comedian and his friends skip town.When this fails,an angry Lucifer sends his hell-spawned minions,decked out in dime store capes,makeup,and theatrical leotards to capture his future son-in-law,culminating in a massive chase/kung fu fight on the top of an urban building.Finally,Ol' Scratch tricks Petey into his limousine,where,upon getting first glimpse of his wife-to-be,he screams his fool head off,as the credits roll.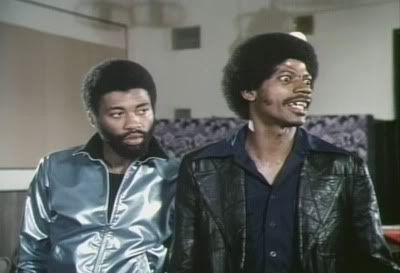 Scarface Willie is a despicable fuck,he shoots ten year old kids and blows up watermelon trucks.
I don't know if I've ever seen so many watermelons in a movie before.Seriously.Also,look for fellow comedian Wildman(The $6,000 Dollar Nigger) Steve as the club owner. Anyway,all the usual elements are in place for a very enjoyable screening,and if you're a Moore fan or any of this sounds appealing to you,then you oughta hunt this title down and check it out.Not quite as memorable as either of the Dolemites or Disco Godfather,Wheatstraw still manages to deliver the cheap laughs,just the same.Recent genre entries like Black Dynamite owe their existence to Rudy Ray,often borrowing entire sequences directly from his low budget classics in homage.His early "party records" were often recorded at his home,with close friends doubling as the audience,thus coining the term.He stayed active in films and music up until he lost his battle with diabetes in 2008.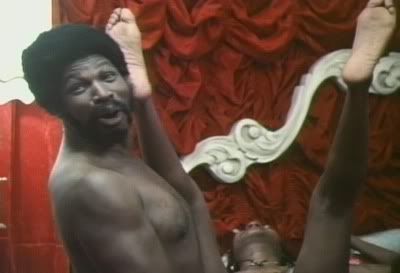 The devil's walking stick?Petey'll flaunt it.Eight demonic bitches later,he still PUTS HIS WEIIIIIIIGHT ON IT!
Share