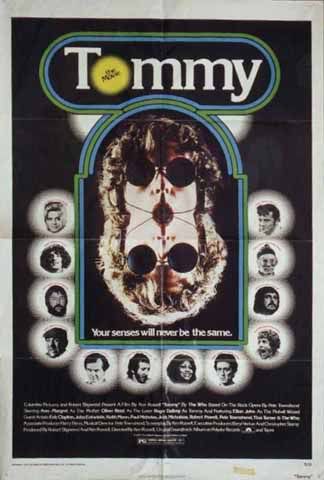 Those of you who've been around here longer than a minute might remember me tackling Russell's other 70's mindfuck
"Lisztomania"(1975)
,so it's only part of a delicate Libran balance to go after rock supergroup,The Who's "Tommy"(1975),next,no?Forget the Broadway musical,forget the 1969 stoner epic double lp parlayed into a groovy live performance at dirty hippie-fest Woodstock,the fact is you've never experienced Tommy,until you've seen it through the eye/lens of visionary kook Ken Russell.It's a feature length music video full of cult cameos that's so brilliantly demented,visually astounding,and so blatantly over-the-top that after seeing it,you may swear off blotter acid for good.Yeah,right.And I'm Meher Baba.All of the familiar anthems off the groundbreaking album were re-recorded,and in some cases drastically reworked especially for the film,both by The Who themselves and by the celebrity-laden cast which includes Eric Clapton,Tina Turner,Oliver Reed,Ann- Margret,and Jack Nicholson.I'll just let that sink in for a second.Oliver Reed and Jack Nicholson belting out Who classics.You can bet that guitarist Pete Townsend's partial deafness/tinnitus must stem from hearing saucy Jack painfully cackle "Go to the Mirror" at close range.In the cable box days,I'm not sure which I sat through more times:"Day of the Animals"(1977),"Meatballs"(1979),Where The Buffalo Roam"(1980),or
this
.
Nevermind being raped by Uncle Ernie(Keith Moon),Tommy's(Roger Daltrey)obviously catatonic from having to hear Oliver Reed sing.
By the time Nora(sex kitten Ann-Margret)gives birth to her son,Tommy,her husband,a fighter pilot(Robert "Jesus of Nazareth" Powell)is shot down in battle and believed to be deceased.She raises the podgy-faced little bleeder alone until she meets "Uncle Frank"(Oliver Reed) at a holiday camp,a slick talking snake oil salesman who succeeds in seducing the scarlet-haired siren.One particularly ominous,stormy night,Tommy has a nightmarish dream about his scar sporting pop returning home,but when he runs to his mother's bedroom for comfort,he finds Uncle Frank adding the proverbial genetic cream to Nora's cup of gynecological coffee,if you catch my drift.The trauma,paired with an appalling rendition of a classic Who tune "sung" by Margret and Reed,sends the boy into a psychological self-imposed sensory deprivation tank,making him deaf,dumb,and blind to the outside world from that moment on.Kind of the same effect that watching the Last House on the Left remake,beginning to end, would have on your humble narrator over here,but I digress...Years pass by,and Tommy matures into a frizzy-headed thirty-one year old hippie(Roger Daltrey),though Nora and Frank hardly age during that period.Nora is wrought with guilt over her son's inability to react to external stimuli,and turns to several questionable sources for help with his mental problems; a garish Marilyn Monroe-based cult,led by guitarist Eric Clapton,where the service-goers are fed alcohol and pills as a form of eucharist(there's a religion I could wholeheartedly get behind),a crazed black prostitute/witch doctor/acid queen named Gypsy(Tina Turner),who puts Tommy in a psychedelic iron maiden full of hypodermic needles while she quivers,shakes,and frenetically dances in a red mini-skirt(see:
bad trip
),and a doctor(Jack Nicholson)who's more interested in sheathing his sex weapon inside Nora's panty purse than curing what ails poor Tommy.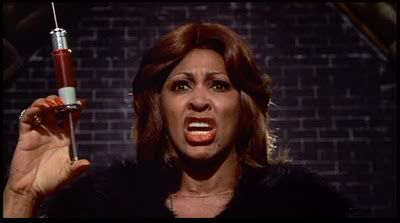 Tina Turner as the Acid Queen,the last broad I'd ever drop blotters around.
Nora and Frank,exhausted of hokey cure ideas and eager to get out on their own, leave Tommy first with Cousin Kevin(Paul Nicholas),a nazi biker who tortures the easy prey,and then filthy,perverted Uncle Ernie(Keith Moon) who rapes the poor guy,before ultimately leaving him to blindly stumble around an old junkyard(!)where he discovers the healing powers of...pinball,which he's
naturally
adept at,you know,being deaf,dumb,and blind.Word quickly spreads of his gaming skills,and a championship match between Tommy and the "Pinball Wizard"(Elton John),a jagoff who wears four foot high cherry red Doc Martens and is followed religiously by a throng of yobbo-bootboy clones,is scheduled.Tommy wins,sending his mother off into a truly disturbing penthouse fantasy where she writhes orgiastically and squirms about in a sea of beans,chocolate sauce,champagne,and soap bubbles.No,I'm not making that up.He rises to messianic status while the family cashes in on his popularity,but when the new pinball guru tries to make the adoring throng see the world the way he has,by putting on eyeshades,earplugs,and a cork in their collective yap,they become a lynch mob,revolting against their leader,and smashing everything and everyone in sight,leaving Tommy with a much greater sense of self-awareness as the sun rises amidst the burning holiday camp and dead family members.Groovy.I totally get
it
,maaaaan.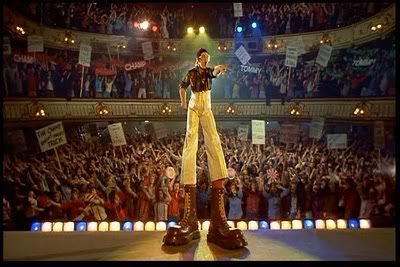 Elton John as the Pinball Wizard,wearing a pair of four and half foot high Cherry Red Doc Martens that are virtually

unjackable

!
Say what you will about Russell,but his body of work,that includes The Devils(1971),Altered States(1980),Gothic(1986),Lair of the White Worm(1986),and even Whore(1991)which pretty much ended his mainstream career once and for all,is peppered with several beloved cult classics.His brilliance is hit-and-miss at times,but he's always serving up thought provoking imagery.I highly dig the grand old bastard.Whether you're an enormous Who fan or not,and really,who isn't(besides McBeardo),you ought to score yourself a copy of this trippy,self-indulgent visual assault,originally released in theaters with a quintaphonic soundtrack,which may or may not allude to an extra center channel speaker for spoken dialogue,at this point who can tell for sure.Russell makes a cameo in the faith healer segment as a cripple(what else?).Margret was nominated for an Oscar and also received a Golden Globe for her performance here,and probably went home and assaulted the statuette between her
own
golden globes while crying hysterically,still in character from the film.I'm joking,of course,though I can definitely draw out that mental picture in my mind.Tommy comes highly recommended from ole Wop,as going to the mirror remains one of my favorite pasttimes to this very day.Speaking of which,think I will.Well,hel-lo,you sexy bastard.
I fondly recall our weekend in the honeymoon suite.The beans...the chocolate sauce...the soap bubbles...the smashed television....the nervous breakdown.

Share