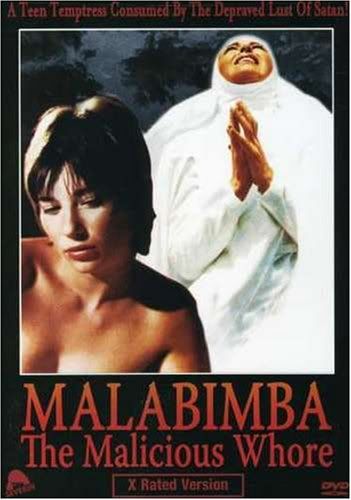 Just when you thought Italian sleaze king Andrea Bianchi couldn't get any sleazier than fare like "Le notte del terrore(Burial Ground)" or "Nude per l'assassino(Strip Nude For Your Killer)",he out-sleazes himself,shooting a superlative slab of cinematic sleaze so sleazy your whole body'll be itchy hours after screening it.You might even feel the need to slip an extra fiver in the collection plate on Sunday.A mostly forgotten Mediterranean paen to The Exorcist,Malabimba focuses not on the strengths of its tribute;plot and strong character study,but in a scathing attack against religious beliefs,moral fiber,and family values, pushes the envelope right to the goddamned post office.In tonight's entry the director replaces black-gloved killers and bobbler-biting midget zombies with oversexed teenaged girls,boatloads of profanity and blasphemies,and inserted penetration shots and on camera fellatio.If directors were gauged on how many shots of pubic wool they could fit into eighty-eight minutes,Bianchi'd have rendered himself Ingmar Bergman here.Where other directors might have passed on or at least gently handled sensitive,potentially shocking subject matter like this,he cuts to the chase,and rolls the fuck around in it like a prize hog in the smelliest trough.In other words,you won't wanna miss this one!
Bimba(Katell Laennec)browses her own bobblers.
Damned seances.Always shattering the tranquility of otherwise normal families,or so it seems.Tonight's story focuses on the once rich,always morally bankrupt family of Andrea (Enzo Fisichella),who can't afford his castle payments anymore.Give me some of those problems,buddy. Wracked by memories of his dead wife Daniela, he makes arrangements for a seance(Cazzo no!) to contact her spirit,but the medium (Elisa Mainardi) instead ressurects a foul,dick-crazed banshee named Lucrezia,who abruptly rents out the soul of Andrea's sixteen-year-old daughter Bimba (Katell Laennec). Andrea's mother encourages him to marry the curvaceous and sensual Nais (Patrizia Webley),a former prostitute and the wife of his bed-ridden paralyzed brother Adolfo (Giuseppe Marrocu),so they can continue to live the life of Riley on poor Adolfo's lira once the burden of his care is lifted by the Grim Reaper.Nais,a creation paste queen of the lowest order,willingly carries out the plan,blue-balling Andrea while simultaneously sexing up her shaft-on-the-side,Giorgio (Giancarlo Del Duca).Think Young and the Restless,if Satan was a recurring character...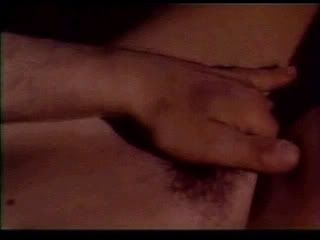 Errr,my class ring...seem to have lost it in here...somewhere...
Speaking of young and restless,Bimba bungs her chastity down the lavvy at this point,turning into a blasphemy-spouting,junk grabbing,crotch displaying bundle of hormones.Her family's doctor slags it off as a sex disorder,but Lucrezia's
in
there,just like Prego sauce,if Prego suddenly made you display your hairy crotch to your guests while calling your granny an old whore at the dinner table(save talk like that for the parlour,young lady!),fuck your stuffed animal collection(I hear the Christmas elf knows how to pound a vadge),or suddenly tongue kissing your father(!) while jostling him by the berries(!!).It seems Lucrezia's spirit has a hard on for old Adolfo's nurse,Sister Sofia.You can probably figure out where this is going.After Bimba slinks into Uncle Adolfo's room,strips,shows the old boy her hairy bush and budding hardbody,she takes out the cripple's cock and sucks him off(!!!),which kills the poor bastard.After watching some appropriately hairy inserted hardcore segments with the possessed young girl,the nun does the only thing that will save her immortal soul.Did you guess lesbian sex?Give yourself a pat on the back.The horny succubus then transfers into the nun Exorcist-style,which causes the sister to chuck herself from the castle to the pavement below,rather than walk the earth forever rubbing her own fun circles,like some Madonna video.The young girl and her father reunite,and this time,nobody's junk gets rubbed.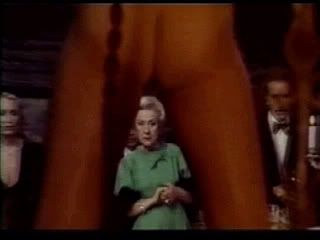 "There's enough wool there to knit an afghan!" says grossed-out Granny.
Some of you out there might be appalled at the nakedness in a few of tonight's screenshots(frankly,they might be the first bit of womanhood some of you might have ever seen,sad effers),and really,after watching this one,you might find yourself running for the nearest bible,dildo,or both,if I know
one or two
of you.Tonight's entry is available through the superior
Diabolik DVD
,and Severin Films did a smashing job restoring most of the sleaze on display here,although the deleted scenes look to originate from a grainy video at the bottom of some pervert's underwear drawer somewhere.The optional English subs really don't do any justice to the steady stream of verbal Italian filth spewed throughout the production,so learn some Italian,dammit.You won't find Dick Smith-level possession makeups here,or
any
makeup,which is a tribute in part to the acting skills of Laennec,who didn't do anything else,sadly.Mariela Giordano was also in Giallo a Venezia,Patrick Vive Ancora,and of course,famously in Le notte del terrore,among a slew of other genre pics.Though the hardcore sex and blasphemy might be a little tough to get through for some(nobody I know or wanna know,trust me),and I've given the film just one BW,on a good night it merits two scented handiwipes and six or so ounces of moisture locking lotion,as well.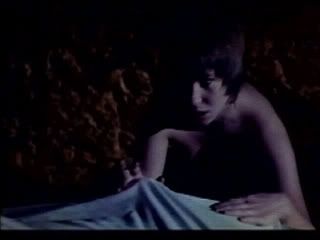 That ain't bragiole in those drawers.