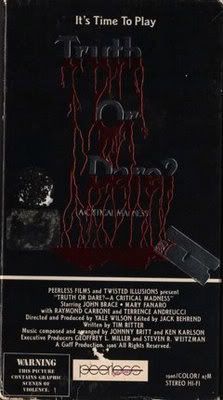 Tonight's piece is an unintentionally hilarious stroll down Memory Lane for me,dating back to movie nights in my parents' parlour during the VHS rental days of yesteryear.If I had a dime for every time I,or one of my old friends quoted or referenced this movie,I'd currently be on a hundred foot yacht in the Bahamas in the midst of a caviar and champagne-induced bender,listening to the Amboy Dukes and blowing puro shneezers off an eighteen year old model's glistening,tanned fun circles.It's pretty safe to say that nobody involved with this production is currently doing that,unless they stowed away on someone else's boat. Make no mistakes,this is one pungently rancid piece of shit,but it's a legendarily good/bad time to be had by all.Hilarious dialogue delivered straight-facedly,glaring continuity errors,a horrendously inappropriate synthesizer soundtrack that rivals Blood Feast(1963)as one of the worst(the ballad,"A Critical Madness",which uses soundbytes of dialogue and rolls over the end credits has to be heard to be believed).Where else can you find drive-by chainsaw killings,a psychiatric hospital that lets its patients work in metalshop,bumbling beer-bellied detectives burning innocent winos to death,getaway cars with an arsenal of weaponry (some medieval!)in the back seat,and mowhawked Asbestos Felt blowing his own head off with a grenade,all in the same movie??Nowhere but here,I tell you.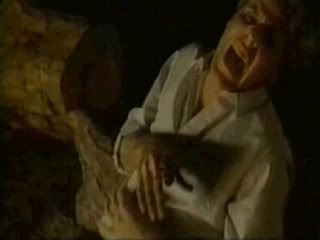 If I cut off mine own finger whilst playing Truth or Dare,do I not say "Ahtch"?
Mike Strauber(John Brace)comes home early from work to find his wife Sharon(Mary Fanaro)in bed with his friend Jerry.He rides off in his gold Trans Am,picking up what looks to be a tourbus groupie for Vinnie Vincent's Invasion,and decides to camp his mate's infidelity out of his system.Around the campfire a friendly game of Truth or Dare turns ugly when the stakes are raised from throwing wallets on the fire to cutting off fingers("Ahtch!"),carving open chests,and pulling tongues out.The ranger shows up to find a bloodied,disfigured Strauber by himself mumbling "Truth or Dare" over and over again.Upon release from the mental hospital,he heads straight to his ex-wife's place,where he kills Jerry,but gets carved open by his intended victim,leading him directly back to the same mental hospital he was just released from.While his doctors openly discuss his case with one of the orderlies(!),he pulls a survival knife from his hospital gown("...and they didn't even catch it.")and engages two inmates in the titular game.He dares the elderly one to cut his own arm off(which he does),then produces a hand grenade(!!)from his gown and instructs the other loonie to put it in his mouth and blow his head off(which
he
does,in true ridiculously fake headed splendor,after Strauber,who's just ripped his own face off,tells the orderlies to wait for the explosion).Months later,after our anti-hero has fashioned himself a nifty copper mask(that breathes a lot like latex rubber)in the hospital's metalshop for the criminally insane,an orderly stumbles across a framed picture of Sharon...somewhere...and gives it to the killer as a joke.While he berates a fellow black orderly about flapping lips and jive music,Strauber wrecks his cell,and escapes,shoving a pencil in the guard's eye.Outside the hospital,he stages a fantastic swashbuckling escape,punching and kicking guards,before driving off in a car chock full o' weapons.No,I'm not making any of this up.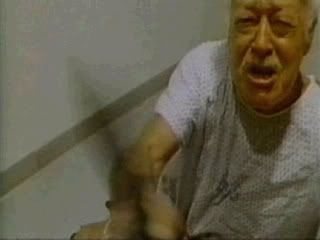 Mr. Hooper looks pissed.
As Strauber lines the highway with random bodies in broad daylight(he machine guns people at a bus stop,drive-by chainsaws a random kid walking on the side of the road,and plays chicken with a drunken biker,whose car explodes,and when the road hog topples out engulfed in flames,Strauber pops out of the roof of his car with a machine gun,shooting the flaming scumbag as he crackles!!!),Detective Rosenberg already has his hands full with his podgy partner(in a cabbie and Hawaiian shirt,no less),who's just mistakenly blown up a shack with a sleeping wino in it,thinking he had Strauber cornered.You won't learn
that
in your Act 120 class.Suddenly,it dawns on Rosenberg that Strauber is probably out to murder his ex-wife,so he phones ahead to the doctor(makes sense,right?)before embarking on his epic showdown with copperface.Strauber pulls in at Sharon's place,knocking over a garbage can,which causes a non-stop verbal barrage from an old neighbor in a moo moo as he's arming himself with an impossible stockade of weapons from the back seat of his stolen car,which includes a medieval morningstar(WTF!) that he uses to bat the yappy bitch in the mouth with,before plodding towards his adulterous ex's digs.After noisily chainsawing the front door in half,he makes his way to the shower only to be shot multiple times by his soaked,pistol packing doctor.When the doc calls to Sharon to come out of hiding,the cheating bitch falls out,already dead(?),and Strauber dispatches him with bullet-laden frenzy.Rosenberg finally shows up on the scene,and talks the wounded killer down with a game of...what else?Yup,you guessed it.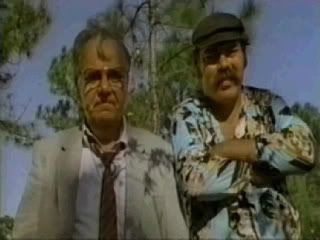 These are the cops.Oh yes,they are.
Mary Fanaro,whose bobblers get a lot of screen time here,went on to act in television roles on shows like Miami Vice and Matlock before falling off the radar around 1999,while John Brace did one episode of Cheers.Director Ritter went on to the equally hilarious Killing Spree(1988)with Asbestos "Warty Man" Felt in the lead,Creep,Dirty Cop No Donut,and Wicked Games(1994),Screaming for Sanity:Truth or Dare 3(1998).That's right,TWO sequels,which I've got to sadly inform you,I haven't seen yet.If they're anything like the original,I'll purchase a pack of Depends and some cheddar cheese popcorn in advance.Seek this one out.It's a real pisser.
When you're plagued by mouthy old neighborhood hags while trying to get your murder on,a nifty morningstar'll do the trick.